Social and ecological crises: solutions from living nature

Overview
This interactive course presents a new approach to team management and organisational behaviour. Participants learn how to use lessons from ants to reveal new resources, manage complexity or uncertainty and avoid problems. Such skills are applicable in management, engineering and in everyday life.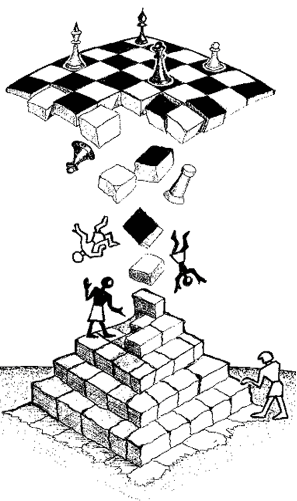 The current ecological crisis arose as a result of the long technocratic development of the human civilization causing many local social crises. Current attempts to the resolve numerous problems of the crisis by technological means only clearly show that such an approach is insufficient. A new inter-disciplinary approach is needed to secure our long-term survival in the destabilized ecological conditions on our planet.
There are some observable similarities between economy and eco-system functioning, but we cannot afford to ignore the differences and incompatible features of the two. Technology appeared to help us to conquer nature, so from the very beginning the interests of economy and ecology did not align.
Revealing conflicts and their win-win resolution will be the focus of the discussions during this workshop.
Colonies of social insects are almost immortal due to that fact that they create their own artificial environment, just like we do. In a changeable world they manage to develop mechanisms for adaptation of whole societies to dramatic changes of the environment (usually caused by human activity). The way they manage environmental crises offers a potential method for the sustainability of human societies.
On the other hand, artificial environments create super-optimal conditions for the growth of a society. Such growth provokes social instability and various crises. Through interactive exercises we will investigate the common nature of the mechanisms that cause social instability.
Game exercises will model social and environmental instability to find out whether human groups react similar to how animals respond to crises. You will also learn how ants and bumblebees deal with social and environmental crises and explore the potential for getting inspiration from these ideas for human societies.
Participants get course materials both in a hard-copy and in electronic form and Certificates of attendance.
Programme details
9.45am Registration
10.00am Circular Economics: advantages and obstacles
Dr. Nikolay Bogatyrev
10.45am Our habits vs novelty
Dr. Olga Bogatyreva
11.15am Coffee/tea
11.35pm Interests of a person vs interests of a society. Productivity (r-) vs production (K-)
Dr. Nikolay Bogatyrev
12.30pm Why Biology is so attractive for circular economy?
Dr. Olga Bogatyreva
1.00pm Lunch
2.00pm Ant rules for social crisis management: leadership requires a new style
Dr. Olga Bogatyreva
3.00pm Tea/coffee
3.15pm Ant rules to deal with environmental crisis: what to do and what not to do
Dr. Olga Bogatyreva
4.15pm Lessons from biology for sustainability
Dr. Olga Bogatyreva
5.00pm Course disperses
Recommended reading
Bogatyreva O. & Shillerov A. Biomimetic management (Createspace, USA, 2015)
Lovins, A. B. von Weizsäcker E. & Lovins, H. L. Factor Four: Doubling Wealth, Halving Resource Use - The New Report to the Club of Rome (Routledge: 1998)
Accommodation
Accommodation is often available in Rewley House for those who wish to stay on the night before a course. Please contact our Residential Centre on+44 (0) 1865 270362 or email res-ctr@conted.ox.ac.uk for details of availability and prices.
Fees
Tuition Fee (incl. tea/coffee): £66.00

Funding
If you are in receipt of a state benefit you may be eligible for a reduction of 50% of tuition fees.
If you do not qualify for the concessionary fee but are experiencing financial hardship, you may still be eligible for financial assistance.
Tutors
Dr Thomas Hesselberg
Director of Studies
Dr Thomas Hesselberg is Departmental Lecturer in Environmental Science and Director of Studies for Biological Sciences at OUDCE . He is an experienced tutor in zoology and teaches face-to-face and online courses in zoology and statistics for the department. In addition he teaches and supervises undergraduate students. His research is on web-building behaviour in spiders.
Dr Nikolay Bogatyrev
Tutor
Dr Bogatyrev has a PhD in Biology, but is mostly interested in an engineering approach and ecologically sound architecture and design. He has more than 80 publications ranging from popular science papers to research articles and books. He is a founding consultant of the firm BioTRIZ Ltd. Applying a TRIZ approach to ecology and agriculture, Nikolay developed a set of rules for eco-engineering and published them in a book "Ecological Engineering of Survival". Since 2002 Nikolay has worked at the University of Bath (Mechanical Engineering Department).
Dr Olga Bogatyreva
Speaker
is a TRIZ consultant and coacher with a DSc in Complexity Theory and PhD in Biology. Her main field is organisational behaviour and group decision-making in which she has more than 60 publications. Olga teaches TRIZ at the University of Bath for undergraduate and postgraduate students and runs courses for Continuing Professional Development.