Successful RF PCB Design

Overview
Course full for the current intake. Be the first to know about future course dates. Click on the 'Notify me' button on the right - you must opt in if you want to receive updates.
Modern RF and wireless product design is a highly complex engineering task and the design and layout of the PCB is critical to success.
The PCB often contains circuits with conflicting requirements - for example extremely sensitive analogue stages such as RF receivers alongside extremely noisy blocks such as digital processors. The performance of RF components and the PCB substrate also set boundaries on what can be achieved in modern designs.
This intensive one-day course provides a thorough introduction to the principles of RF PCB design techniques in an intuitive and practical way.
This course is taught by two of the UK's leading industry RF PCB specialists, who have many years of experience in this field.
Programme details
Introduction
The challenges of modern RF PCB design.
Analogue RF Systems
Overview of blocks and components found in analogue section of RF systems.
Case study: A modern radio receiver.

Operation, susceptibility to degradation.
Digital RF Systems
Overview of blocks and components found in digital section of RF systems.
Case study: A modern radio receiver (continued).

Operation, sources and characteristics of digital noise.
Impact of digital noise on radio performance.
How impact of digital noise varies from system to system.
How signals cross couple between circuits
Cross coupling by conduction and radiation.
Minimising cross coupling, separation and screening techniques.
Minimising impact of digital noise
Origins of supply noise in digital CMOS circuits and its impact on circuit operation.
Techniques to achieve optimum supply decoupling.
Digital power plane - localised versus total board coverage.
High speed digital signal routing techniques.
Performance and limitations of physical components
Lumped circuits, Ls, Rs, Cs, transistors, self resonance, Q, parasitics.
Distributed circuits - microstrip, stripline, co-planar.
Interconnect - ground and power planes, transmission lines, vias.
Examples of simulated vs. real implementation.
PCB Technology
PCB technology capabilities (track, gap, vias).
Substrate materials, PTH, blind vias, buried vias.
PCB stack-ups.
Layer routing and component connections.
Design tolerances and cost implications.
Component assembly considerations.
Testability.
PCB layout
Decoupling.
RF ground plane.
Star earth configuration.
Current loops.
Implementation
Case study: A modern radio receiver (continued).

Labelling of schematics.
Design partitioning prior to layout.
Routing, order of doing it, guidelines.
Examples of potential layout problems

*Attendees should note that there is a small overlap between parts of this course and the Practical RF/Microwave Design course. This is necessary to allow each course to run independently.
Certification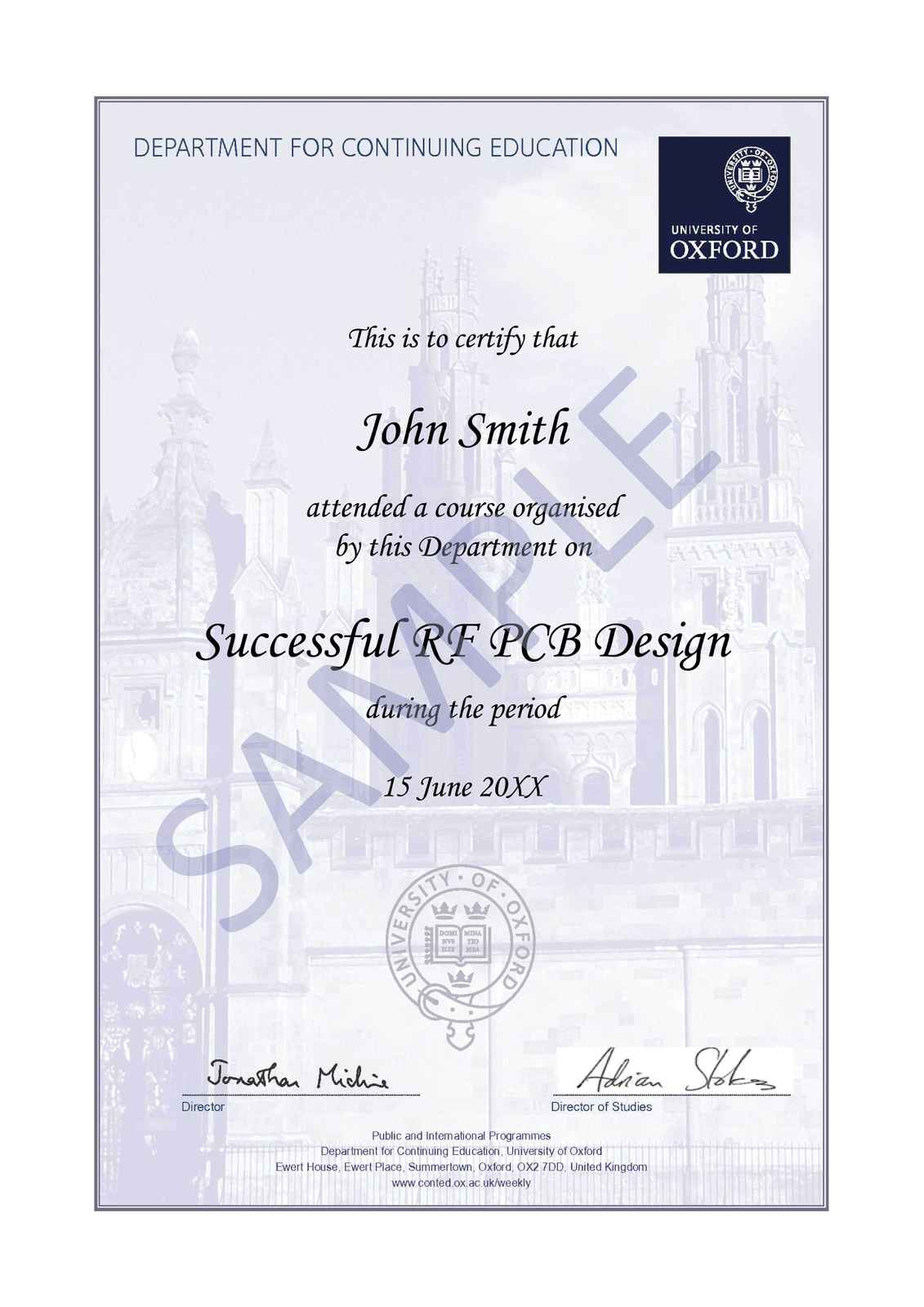 Participants who attend the full course will receive a University of Oxford Certificate of Attendance. The sample shown is an illustration only and the wording will reflect the course and dates attended.
Accommodation
Accommodation is available at the Rewley House Residential Centre, within the Department for Continuing Education, in central Oxford. The comfortable, en-suite, study-bedrooms have been rated as 4-Star Campus accommodation under the Quality In Tourism scheme, and come with tea- and coffee-making facilities, free Wi-Fi access and Freeview TV. Guests can take advantage of the excellent dining facilities and common room bar, where they may relax and network with others on the programme.
Fees
Course fee, RF/Microwave Design already completed: £345.00
Course fee, standard: £445.00
Discount package fee (add Successful RF PCB Design): £2240.00

Payment
Standard course fee for the Successful RF PCB Design course only is £445.00
Reduced course fee for those who have previously attended the Practical RF/Microwave Design course only is £345.00 (savings of £100)
Pay immediately online by credit or debit card
Click the "book now" button on this webpage to pay online with a credit or debit card
Pay later with your preferred payment method
Send a completed application form to the course administrator by e-mail or post, and choose:
Request an invoice
BACS payment
Cheque payment
Credit or debit card payment. Please do not send card details via email
Fees include course materials, tuition, refreshments and lunches. The price does not include accommodation.
All courses are VAT exempt.
Tutors
Speaker
Principal Consultant Engineer,
Plextek RF Integration, Plextek Limited
Tony Richards is a Principal Consultant Engineer at Plextek RF Integration, which is part of the Plextek Group. He was recruited for his experience in analogue and RF IC design and has since worked on several single chip radio system developments for multinational silicon vendors such as National Semiconductors, Sony Semiconductors and Frontier Silicon. Tony has also worked on the development of wireless meter readings systems, WLAN PC cards, Bluetooth hands-free car-kits and inductive tagging systems for livestock. Most recently he has been developing a short-range proximity detection system based on inductive coupling.
Prior to joining Plextek Tony was technical project leader with Philips Consumer Communications, responsible for developing highly integrated digital receiver Ics. In 1989 he helped design Philips' first commercially available single chip direct conversion digital paging receiver. He also worked for Philips Research Labs in Eindhoven and for Philips Radio Communications Systems of Cambridge. Tony graduated from Loughborough University of Technology in 1977 with a BSc in Electrical & Electronic Engineering in 1977.
Speaker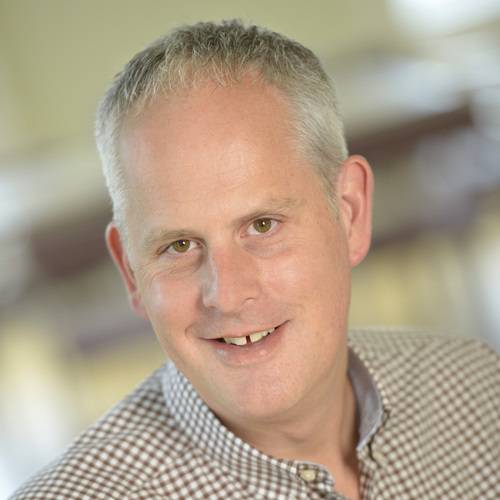 VP Operations,
CRFS Ltd
Steve Williamson has extensive experience in RF and microwave design. Prior to his current role at CRFS Ltd he was the Principal Engineer in the Radio Sensing Group at Cambridge Consulting Ltd.
Steve's work covers the whole range of the RF and microwave design spectrum, with particular involvement in the design of VCOs and synthesisers. Whilst working as a Senior Technical Consultant in the RF Integration Group at Plextek Ltd, he also worked on the development of various custom communication systems, several RFIC and MMIC designs and other projects including a multi-band GSM test set.
After graduating from Southampton University with a BEng(Hons) in Electronic Engineering, where he was sponsored by Marconi Radar Systems (Chelmsford), Steve returned to Marconi to become a member of their Microwave Design Team. Subsequent to this, Steve joined the RF Design Group at Philips - PMR (Cambridge) in 1995. Here he was involved in the design of the frequency generation used in the first TETRA handsets and base stations.
Application
If you would like to discuss your application or any part of the application process before applying, please contact:
Calista Meinert, Course Administrator
Tel: +44 (0)1865 286958
Email: electronics@conted.ox.ac.uk
Level and demands
RF engineers requiring a system level view of PCB design. RF PCB designers. Design engineers and technical managers requiring an overview of the principles of PCB design for RF applications. Designers and those with some RF experience but little formal training who wish to broaden their design skill base. Baseband and signal processing designers who need to be aware of RF issues.