Workplace Psychology: How to Make the Workplace Work for You

Sign up for course news to hear about future course dates.
Click below to join the waiting list.
Overview
This is a one-day course aimed at those interested in how we can make the work system work and create a more successful physical and psychological workplace.
How do we, as humans, make the work system work?
Are there things we can do which will lead to greater success?
In this course, key detractors to performance, and ways to manage behaviour to overcome them, are explored.
Recommendations for creating a more successful physical and psychological workplace, even given constraints, are discussed.
Finally an exploration of how we can use physical (or system) change, interpersonal change and culture, to build resilient and flexible individuals and teams.
This course builds on the 'Essentials to Organisational Behaviour' course, and the student experience may be enhanced by attending both, although this is not a requirement.
This course can be taken separately or as part of a weekly discount fee package.
Details of the discount registration for Week 1
Details of the discount registration for Week 2
Programme details
The aim of the course is to examine the workplace within the framework of a system between the physical environment (e.g. the open plan office, the part-time worker, the virtual team), and the people who make that system work.
Aspects of the physical environment - found in most offices - which interfere with human information processing, are explored.
Issues in diversity - how we each see the tasks ahead, and why we might see them differently, are discussed.
Finally we use this knowledge to explore managing differences, through physical (or system) change, interpersonal change and culture, to build resilient and flexible individuals and teams.
Key Themes:
Work as a system – humans as the flexibility in the system, what are the consequences on physical and emotional health? - and how to mediate those effects

The physical workplace: physical elements of the workplace drive behaviour – how can we use this to drive the behaviour that we want!

The human in the machine -"I can't think in here!" How to recognise an environment which is not conducive to the work, and what to do about it!

Diversity: we are all different. How does that affect our workplace behaviour? (simple strategies which are free or inexpensive, and cost effective)

Managing the culture: culture drives performance. How to change the culture to overcome workplace obstacles and change behaviour for good!

Building resilience and flexibility for growth - the ultimate aim: a team which is ready to respond to change
After taking this course you will be able to:
Build strategies for improving the workplace within your organisation
Improve the performance of staff
Manage aspects to improve the physical environment in your organisation
Build resilient and flexible individuals and teams
Certification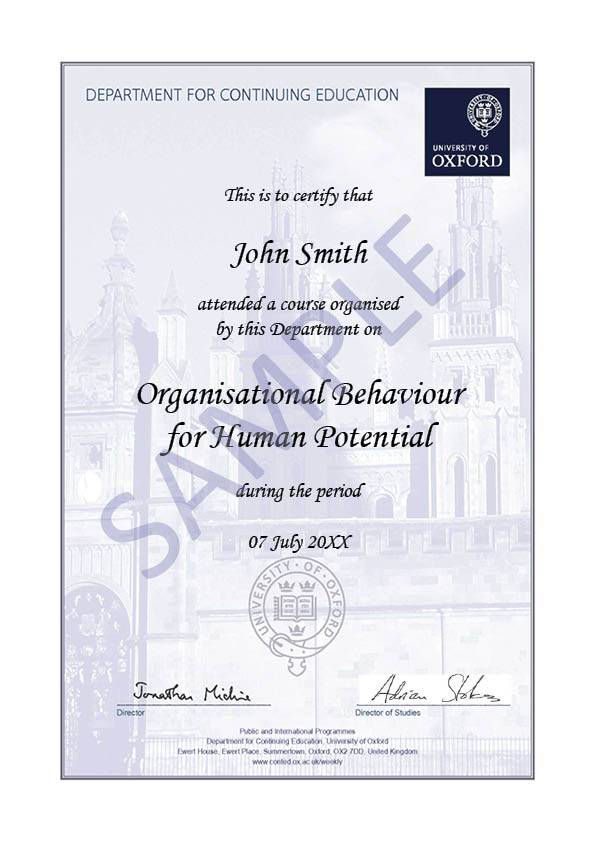 Participants who attend the full course will receive a Certificate of Attendance. The sample shown is an illustration only and the wording will reflect the course and dates attended.
Accommodation
Although not included in the course fee, accommodation may be available at our on-site Rewley House Residential Centre.
To enquire about a vacancy, about room charges or to make a booking, please contact the Residential Centre directly:
+44 (0)1856 270362
res-ctr@conted.ox.ac.uk
Fees
Course fee: £470.00

Payment
Fees include course materials, tuition, refreshments and lunches. The price does not include accommodation.
All courses are VAT exempt.
Register immediately online
Click the "book now" button on this webpage. Payment by credit or debit card is required.
Request an invoice
Send a completed application form to the course administrator by email or post. Please do not send card details via email.
Tutor
Course Director
Jane is a Chartered Psychologist, an Independent Consultant in Organisational Psychology, and a tutor and lecturer in Psychology and Statistics. She has a history of highly successful courses in both Psychology and Business streams, and takes a practical approach to a subject crucial to the success of people in Organisations.
Application
If you would like to discuss your application or any part of the application process before applying, please click Contact Us at the top of this page.