Commonwealth Scholarships bring talented Human Rights Law Master's students

Since 2012, we've seen an increasing number of students from developing Commonwealth countries in South East Asia and Africa.
This year we are very pleased to welcome ten new Commonwealth Scholars from these regions to our International Human Rights Law Master's programme - thanks to generous funding by the Commonwealth Scholarship Commission of the United Kingdom. These Scholars are actively engaged in fieldwork, tackling human rights abuses worldwide.
Achieng Akena, from Kenya, works with disenfranchised communities who are denied citizenship. Sanoj Rajan is a Law Professor who does pro bono work for the International Criminal Justice programme in Kinshasa, Congo. Khaled Saifullah monitors and reports freedom of expression violations against journalists and media workers in Bangladesh and South East Asia. Lydia Munyiva Muthiani advocating for victims of sexual and gender-based violence in Kenya. Swagata Raha lectures and works on behalf of children's rights in India. Sylvester Uhaa advocates for the rights and dignity of prisoners in Nigeria. High Court lawyer Maherin Khan works in Bangladesh, and intends to focus on women's and children's rights.
While the student named above are able to talk about the work they do, several others of our Commonwealth Scholars work with human rights abuses which are far too sensitive to speak about in a publicly available website.
Sanoj Rajan, who is Professor and Head of Department at the School of Law, ITM University, India and an Associate Faculty with Harvard Humanitarian Initiative at Harvard University, says, 'My career graph has always been a switch between academics and practice. Every time, I come out of a job, I come out not only with a wealth of experience and knowledge I acquired from it, but also with a realization that I need to update myself with the new developments in this field. My candidature in Mst. In Human Rights is a follow-up of this realization, where I hope to learn from the teachers, peers and practitioners I will come across in the next two years.'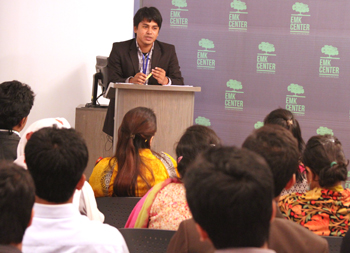 Khaled Saifullah (pictured) currently works with human rights organisation ARTICLE 19, in Bangladesh and South Asia on freedom of expression abuses against journalists and media workers. While at Oxford,' says Khaled, 'I look forward to building lasting connections with classmates as well as professors, all of whom are passionate human rights advocates from all over the word. I hope to learn innovative ways of human rights advocacy. Applying this learning, I want to establish a legal NGO in Bangladesh to tackle human rights violations using creative methods.'
In September 2014, Khaled wrote a policy brief advocating reforms in the vagrancy laws of Bangladesh. Previously, he worked as a researcher for the Rana Plaza writ petitions, which sought to prosecute those liable for the worst garment industry disaster in history, and consulted for the International Labour Organization and the United Nations Development Programme on safe migration and violence against woman. He also offers pro-bono research support to Bangladesh Legal Aid and Service Trust, a leading legal aid NGO in Bangladesh, for its human rights litigations.
This year we welcome two High Court lawyers - Maherin Khan and Lydia Muthiani join us from Bangladesh and Kenya respectively - along with a group of respected academics and researchers: Sanoj Rajan is Head of Department at the School of Law, ITM University, India and an Associate at the Harvard Humanitarian Initiative; and Swagata Raha is Senior Legal Researcher at the Centre for Child and the Law within the National Law School of India University, Bangalore.
We know from experience that this course promotes lasting connections between students and academics, and that the participants - whether they be lawyers, researchers, or practitioners from the field - a unique viewpoint from the world of human rights law. Faculty and students alike look forward to an exciting couple of years ahead.
For further information:
International Human Rights Law Summer School - over four weeks, faculty, participants and invited guests create an international camp where key contemporary challenges to the protection of human rights and dignity are placed into focus.
A student perspective on the course can be found in our Student Spotlight pages: read Guantanamo Bay detainees' defence lawyer Jason Wright's story.
Published 21 November 2014