Human Rights Law victory

It took seventeen years for Carolyn Patty Blum, tutor on our International Human Rights Law Master's programme, to see the fruits of her labour - but for Blum success is very sweet.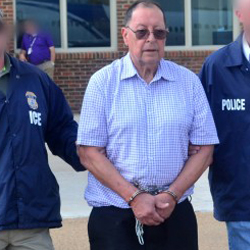 In April, the US deported back to El Salvador former General and Salvadorian Minister of Defense Eugenio Vides Casanova.
Casanova is linked to multiple cases of killing and torture by Salvadoran soldiers under his command, including the rape and murder of four American nuns in 1980. The crime has been called one of the most notorious by the Salvadoran armed forces of that era.
Tutor Carolyne Blum is Senior Legal Advisor to the Center for Justice and Accountability, based in California, and currently the Interim Director of the Cardozo Law Institute in Holocaust and Human Rights. The Centre has led a series of civil actions against individuals implicated in Latin America's so-called dirty wars. The deportation of Vides Casanova is a landmark victory.
'I have been working on cases concerning Vides since 1998 when we began to prepare a civil law suit against Vides and another defendant Jose Garcia (Minister of Defense prior to Vides) in the Human Rights Clinic at UC Berkeley,' said Blum. 'Seventeen years later - after winning our civil case and pressing for his removal from the US - the US deported him back.'
Vides Casanova is the highest ranking official from any country to be prosecuted under the United States' 2004 "no safe haven" immigration law. Mr Casanova was one among over 100 individuals from El Salvador returned to their home country in a mass-deportation by US authorities.
This victory was augmented for Blum and her team when they heard that another high ranking Salvadoran official, Colonel Inocente Montano Morales, wanted in Spain for his role in the killing of the Jesuit priests, had the request for his extradition to Spain filed in a federal court in April.
'We have been working over the past several years in particular to insure that Montano Morales would stand trial,' said Blum. 'This is the first, and necessary, step. It's been a very emotional time for all of us who have been involved in this work for so many, many years. It feels good to see the fruits of our labour.'
Learn more:
Oxford's Master's in International Human Rights Law: ihrlmst.conted.ox.ac.uk
www.nytimes.com/2015/04/09/us/us-deports-salvadoran-general-accused-in-80s-killings.html
www.independent.co.uk/news/world/americas/eugenio-vides-casanova-el-salvador-general-linked-to-rape-and-murder-of-four-american-nuns-is-deported-from-florida-10166107.html
Photo Credit: Former Minister of Defense of El Salvador Carlos Eugenio Vides Casanova, deported from the United States. (U.S. Immigration and Customs Enforcement, public domain)