New 'Rewley House' book series

May 2011 saw the launch of a new series of books - the 'Rewley House Studies in the Historic Environment' - based on the Department's weekend schools in architectural history.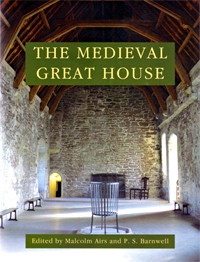 The first volume is 'The Medieval Great House', and completes the series of books on greater houses begun by Professor Malcolm Airs many years ago. The next volume, due in 2012, will be Country House Technology, and two volumes on places of worship in the British Isles are already in preparation.
The series, edited by Dr Paul Barnwell, Director of Studies in the Historic Environment, builds on a long tradition of publishing the proceedings of selected weekend schools. Each volume will provide an overview of a subject, and will make current scholarship available to a wider audience than can attend the weekends themselves.
The Medieval Great House is available through the publisher; you may contact Shaun Tyas by email at pwatkins@pwatkinspublishing.fsnet.co.uk, or by telephone, on 01775 821542.