MSc in Nanotechnology for Medicine and Health Care

Oxford's new MSc in Nanotechnology for Medicine and Health Care builds on the world-leading research in nanomedicine at the University's Institute of Biomedical Engineering and other departments in the Mathematical, Physical and Life Sciences (MPLS) Division and Medical Sciences Division. This advanced modular course is delivered by leading scientists and experts in this rapidly developing field and has been specifically designed for those who would value a part-time modular learning structure, for example those in full-time employment, both in the UK and overseas.
The MSc is designed to be completed part-time, normally over a two- to three-year period, and so provides a path to career development that is flexible and recognised within academia and industry. The programme comprises three online modules exploring the fundamentals of science and materials characterisation at the nanoscale, three intensive five-day face-to-face modules describing the clinical and commercial application of such science, and a piece of original lab-based research leading to the submission of a dissertation. This modular structure provides an adaptable approach to learning, and each module may also be taken as an individual short course.
There are opportunities to access and learn about cutting-edge research and current practice in a wide range of nanotechnology and healthcare topics from experts with experience of taking nanotechnologies from basic concept through clinical validation to market realisation. The tutor-led approach lends cohesion to the modular experience which is tailored for busy people in full-time employment who wish to minimise time away from the workplace to study.
Description
Nanotechnology is the production and application of devices and systems at the nanometre scale, which is of the order of one billionth of a metre. Developments in this area of technology are now coming to fruition, and increasingly impacting on our daily lives. In particular, nanotechnology is becoming a crucial driving force behind innovation in medicine and healthcare, with a range of advances including nanoscale therapeutics, biosensors, implantable devices and imaging systems. However, the pace with which this revolution is occurring has left even some of its leading practitioners lacking in aspects of the key fundamental knowledge or the information required to navigate the regulatory and clinical pathway to achieve market realisation.
The University of Oxford's MSc in Nanotechnology for Medicine and Health Care offers a detailed and cutting-edge education in this subject and builds on the successful Postgraduate Certificate in Nanotechnology, which was launched in 2006. The course is taken part-time as a mixture of online and face-to-face modules, meaning it can fit around the demands of those working full-time and can be studied by international students without the requirement to relocate. The course uses a blend of individual study of learning materials, together with group work during live online tutorials, conventional lectures and discussions and also requires the student to submit a dissertation reporting an original piece of nanomedicine-based research. The group sessions with tutors are particularly valuable because they offer highly focused learning and assessment opportunities.
Programme details
The MSc in Nanotechnology for Medicine and Health Care is a part-time course consisting of six modules and a research project and associated dissertation. The programme is normally completed in two to three years. Students are full members of the University of Oxford and are matriculated as members of an Oxford college.
The modules in this programme can also be taken as individual short courses. It is possible to transfer credit from up to three previously completed modules into the MSc programme, if the time elapsed between commencement of the accredited module(s) and registration on the MSc is not more than two years.
The course comprises:
three online modules giving a thorough introduction to the fundamental science of nanotechnology and the behaviour and characterisation of nanoscale materials;
three five-day modules taught face-to-face in Oxford explaining the scientific, regulatory, clinical and commercial aspects of the application of nanotechnology to medicine and healthcare
an original research project of approximately 18 weeks to be written up as a dissertation
The three online modules can be taken from anywhere in the world with tutors who provide online support and electronically replicate the famed Oxford tutorial system, whereas the three face-to-face modules offer intense, focused lectures from Oxford academics from a range of disciplines with expertise in this field. Assessment throughout the modules ensures that students can monitor their progress.
The course has a dedicated Course Director, Associate Director and administration team accustomed to supporting students undertaking distance learning and face-to-face courses. Students have access to staff at the University of Oxford's Begbroke Science Park and Institute of Biomedical Engineering, particularly the Course Director, Professor Robert Carlisle and the Associate Course Director, Dr Christiane Norenberg.
Throughout the course, students can use the University of Oxford's excellent electronic library resources to enable them to complete the assignment tasks.
Programme modules:
To complete the MSc, students need to attend the six modules and complete the assessed written assignments for each module, and complete a research project with dissertation on a topic chosen in consultation with a supervisor and the Course Director.
Who is it for?
The University of Oxford MSc in Nanotechnology for Medicine and Health Care is a part-time, modular course leading to a postgraduate qualification at the University of Oxford. The course is designed for students wishing to study part-time. It will appeal to those working in the commercial, research or healthcare sectors who use or develop nanotechnology in their work. Applications are welcome from biomedical engineers, materials scientists, biotech-entrepreneurs, medical practitioners, chemists, pharmacists, electrical engineers, project managers in related industries, patent agents, legislators, as well as those involved in commercial or academic research in this area of science.
Entry requirements
Please visit the MSc in Nanotechnology for Medicine and Health Care page on the University of Oxford Graduate Admissions website for details of the entry requirements.
Staff
Prof Robert Carlisle

Role: Course Director and Tutor
Robert Carlisle is an Associate Professor in Biomedical Engineering and head of the Drug and Vaccine Delivery group within IBME.
Dr Christiane Norenberg

Role: Deputy Course Director and Tutor
Christiane is the Nanotechnology HEIF Manager at the University of Oxford's Begbroke Science Park.
Accommodation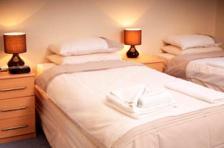 Accommodation is available at the Rewley House Residential Centre, within the Department for Continuing Education, in central Oxford. The comfortable, en-suite, study-bedrooms are rated 3-star, and come with free high-speed internet access and TV. Guests can take advantage of the excellent dining facilities and common room bar, where they may relax and network with others on the programme.
Payment
Payment methods

.
Tuition and college fees
The fees below are for the MSc in Nanotechnology for Medicine and Health Care for the academic year 2017/18. The annual award and college fees are payable at the start of each academic year. The module and dissertation fees become payable throughout the programme, before they are undertaken. All amounts are in pounds sterling.
Fee rates for the current academic year 2017/18
The fees listed are for the curent academic year: see note [1] below for fees for 2018/19.
Annual award fee: £3,825
Module fee: £1,795 (per taught module)
Dissertation fee: £5,385 (equivalent to 3 module fees)
Part-time college fee : £1,510

Illustration for direct entry to the MSc programme (assumes completion within two years[1])
2 x annual award fee = £7,650
6 x module fee = £10,770
1 x dissertation fee = £5,385
Total: £23,805
The total fees comprise a minimum of two annual award fees plus six module fees and a dissertation fee; a further annual award fee is payable for every additional academic year (or part-year) of attendance beyond the first six terms. With direct entry to the MSc, college fees are included within the total fee. [2]

Illustration for transfer to the MSc programme, having completed the Postgraduate Certificate in Nanotechnology (assumes completion of the MSc within two years of transferring[1])
2 x annual award fee = £7,650
3 x module fee = £5,385
1 x dissertation fee = £5,385
1 x part-time college fee = £1510
Total: £19,930
Students transferring to the MSc in Nanotechnology for Medicine and Health Care from the Postgraduate Certificate in Nanotechnology should normally expect to pay, in addition to the Postgraduate Certificate fees already paid, three MSc module fees, one dissertation fee, one part-time college fee, and then one annual award fee per year (or part-year) of registration on the MSc. (Please contact us before applying if you are considering this). No additional college fee will be due for registration beyond three terms.

Stand-alone module fees
Stand-alone module fee (face-to-face module): To be confirmed
Stand-alone module fee (online module): To be confirmed
Notes
[1] The fees listed are for the academic year shown, and you should be aware that these rates will increase annually, meaning that the total will be higher than is shown in the Illustration. The exact amount will depend on the fee rates set annually, and upon the years you are in attendance; these are normally published well before the start of each academic year, but for your own budgetary purposes you may wish to estimate a 5% annual increase on fee rates.
[2] MSc students are matriculated and are full members of the Collegiate University; college fees are included within the total fees and are paid to the college on a student's behalf.
Scholarships
Details of funding opportunities, including grants, bursaries, loans, scholarships and benefit information are available on our fees and funding pages.
Modules in this programme
The following modules can be studied as part of this programme:
** Please note the module links will take you to this academic years running of the module (so the dates will be for the current year).
Apply for this course
Applications for this course should be made online via the University of Oxford Graduate Admissions website. Please see the Graduate Course Guide and the Application Guide for more information on how to apply.
Early application is strongly advised. All applications must have been fully completed before the application deadline. Shortlisted applicants will be invited to video interview and asked to provide evidence of their funding for the programme.
Application deadlines are 12 noon UK time (midday) on:
Friday 19 January 2018*
Friday 9 March 2018
Later applications may be considered if places are available, the final deadline for applications being 12 noon on Friday 15 June 2018 (UK time). All supporting materials, including references, need to have been received by this date. Please contact the administrative team if you have any questions concerning the deadlines for the course.
*Eligible applications completed before the January deadline will automatically be considered for an Oxford Graduate Clarendon Scholarship.
If you would like to discuss the programme please contact the Course Administrator:
Tel: +44 (0)1865 286954/5 - Email: nano@conted.ox.ac.uk