MSc in Experimental and Translational Therapeutics

Oxford has made a major contribution to modern molecular medicine and our senior scientists have provided significant insights to our understanding of cancer, diabetes, and cardiac, haematological and infectious diseases. There is now an opportunity to harness these advances and translate them into therapeutic benefits for patients.
The Department of Oncology and the Department for Continuing Education's CPD Centre offer a part-time MSc in Experimental and Translational Therapeutics that brings together some of Oxford's leading clinicians and scientists to deliver an advanced modular programme designed for those in full-time employment, both in the UK and overseas.
The Programme draws on the world-class research and teaching in experimental therapeutics at Oxford University and offers a unique opportunity to gain an understanding of the principles that underpin clinical research and to translate this into good clinical and research practice.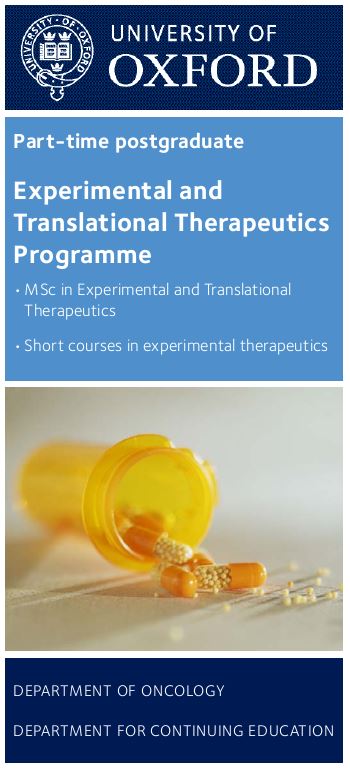 Programme details
Click here to download the Experimental and Translational Therapeutics brochure

.

The MSc in Experimental and Translational Therapeutics is a part-time course consisting of six modules and a research project and dissertation. The programme is normally completed in two to three years. Students are full members of the University of Oxford and are matriculated as members of an Oxford college.
The modules in this programme can also be taken as individual short courses. It is possible to transfer credit from up to three previously completed modules into the MSc programme, if the time elapsed between commencement of the accredited module(s) and registration on the MSc is not more than two years.
The programme modules are listed below. The dates shown on the module websites are for the current academic year. The dates for the modules in the 2018/19 academic year will be updated in due course:
Level and demands
The course will appeal to health professionals from a wide range of backgrounds, including:
qualified doctors
specialist registrars in clinical pharmacology or in training for other medical sub-specialities
clinical research fellows
pharmacists
nurses
graduates working in the pharmaceutical industry or in academic clinical trials


Accommodation
Central accommodation for visitors and students at the Department for Continuing Education