MSc in Surgical Science and Practice

The MSc in Surgical Science and Practice is a part-time, modular course completed in two to three years by surgical trainees.
Delivered in collaboration with the Nuffield Department of Surgical Sciences it is designed to prepare senior surgical trainees for life as independent specialists by providing key skills and knowledge essential for modern practice, which are not fully represented or are omitted from most postgraduate training curricula. The course is unique as its part-time nature is designed to allow students to fit their study around work.
The MSc in Surgical Science and Practice provides a foundation in some of the most important additional life long skills which the future leaders of the profession need to acquire. Surgeons in the future will work as part of multi-disciplinary teams in complex organisations, and will need to adapt and develop new skills and roles throughout their professional lives. Thus the syllabus covers management skills, quality improvement, leadership, teamwork and patient safety, as well as an introduction to the principles of medical education and clinical research methods. The knowledge gained during this course will stand students in good stead throughout their careers.
Please keep me informed about the Surgical Science and Practice programme.
Programme details
Download the latest Surgical Science and Practice brochure

.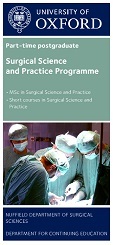 The MSc in Surgical Science and Practice is organised around six compulsory modules, plus a work-based research project and dissertation. The programme is normally completed in two to three years. Students are full members of the University of Oxford and are matriculated as members of an Oxford college.
The course features a significant component of online and distance learning, as well as one week of intensive teaching in Oxford per module.
* Modules:
Each module takes place once a year, giving students the opportunity to individualise their patterns of study.
* Please note the module links will take you to this academic years running of the module (so the dates will be for the current year).
During the course there is an exceptional opportunity for an introduction, with hands-on experience, to leading edge modern surgical technology such as the Da Vinci robot.
Taught by global experts, the modules in this programme can also be taken as individual stand-alone courses.
Entry requirements
Please visit the MSc in Surgical Science and Practice page on the University of Oxford Graduate Admissions website for details of the entry requirements.

Tutor Profiles
View the profiles of the MSc in Surgical Science and Practice tutors

Student spotlight: Jon Wells
Jon Wells is a Registrar at the Birmingham Children's Hospital, who studied with us to bolster his research fellowship position