Postgraduate Certificate in Nanotechnology
Course details
The University of Oxford's Postgraduate Certificate in Nanotechnology is aimed at professionals from a diverse range of backgrounds who wish to learn more about the foundations of nanoscience and nanotechnology, technological advances and the applications enabled by nanotechnology. There are opportunities to access cutting-edge research and current practice in a wide range of nanotechnology topics.
Beginning in October, the course runs for ten months and students take three online modules. At the end of the third module, students are required to attend a residential weekend in nanoscale materials characterisation based in Oxford. This takes place at the University of Oxford's Begbroke Science Park in June.
The course provides relevant, meaningful and up-to-date learning to enhance career development that is recognised and accepted within industry. A modular structure allows a flexible approach to learning and each module may be taken as an individual short course. The tutor-led approach lends cohesion to the distance learning experience which is tailored for busy people in full-time employment who wish to minimise time away from the workplace to study.
You may also be interested in applying for one of the modules from the Postgraduate Certificate in Nanotechnology as a short course.
Nanotechnology is the production and application of devices and systems at the nanometre scale, which is of the order of one billionth of a meter. Developments in this area of technology are now coming to fruition, and increasingly impacting our daily lives. However, it is recognised that there is a need for more people to understand the basics about this technology.
The course is taken part-time and online meaning that it can be taken from anywhere in the world by those seeking a solid foundation in nanotechnology, whilst having the option of working full-time. The course uses a blend of individual study of online learning materials, together with group work during live online tutorials, discussions and research. The group sessions with tutors are particularly valuable because they offer highly authentic learning and assessment opportunities.
Please keep me informed about the Nanotechnology programme.
Quick links
Programme features
Students study the Postgraduate Certificate in Nanotechnology over three modules that introduce the most commonly used and most important analytical, quantitative and experimental methods in nanotechnology. The course has the following features:
An online, part-time University of Oxford qualification aimed at industry;
Three modules giving a thorough introduction to nanotechnology and the behaviour and characterisation of nanoparticles;
The course is taken part-time so students can complete it whilst continuing to work full-time;
The course is taught online and can be taken from anywhere in the world;
Tutors provide online support and replicate electronically the famed Oxford tutorial system;
Assessment throughout the modules ensures that students can monitor their progress;
The course has a dedicated Course Director and administration team accustomed to supporting students undertaking distance learning courses;
Students have access to staff at the University of Oxford's Begbroke Science Park, particularly the Course Director, Dr Christiane Norenberg;
Throughout the course, students can use the University of Oxford's excellent electronic library resources to enable them to complete the assignment tasks.
Who is the course for?
The Postgraduate Certificate in Nanotechnology is a part-time course leading to a postgraduate qualification at the University of Oxford. The course is designed for students wishing to study part-time. It will appeal to those working in the commercial or healthcare sectors, who use, or expect to use, nanotechnology in their work. Previous students include electrical engineers, materials scientists, project managers, patent agents, chemists, medical practitioners, plastic surgeons and food technologists as well as those involved in manufacturing, research and legislation.
The course in detail
Course structure
The Postgraduate Certificate in Nanotechnology begins in October and runs for ten months. Students take three online nanotechnology modules. At the end of the third module, students are required to attend a residential weekend in nanoscale materials characterisation based in Oxford. This takes place at the University of Oxford's Begbroke Science Park in July.
The content of each module contains up-to-the-minute thinking and reflects the University of Oxford's world-leading research in nanotechnology. Each module has a different focus:
Please note the module links take you to this academic year's running of the module (so the dates will be for the current year).
Each module lasts for 7 or 10 weeks corresponding approximately to the University of Oxford's term calendar. Within each module, there are weekly live online tutorials lasting for one hour as well as assignments and problem sheets. Most students should expect to spend an average of between 10 and 15 hours per week on independent study in addition to the timetabled tutorials.
Course aims
By the end of the course students will be expected to:
Demonstrate a basic knowledge of the physical principles, mathematical methods and techniques appropriate for solving nanotechnology problems and be able to apply them to industrial problems through a critical comprehension of the relative advantages and disadvantages of these methods;
Demonstrate an understanding of some of the most common applications of nanoscale phenomena and how these relate to the solution of nanotechnology problems in industry;
Manage their learning and research and conduct independent and effective study;
Apply skills gained in analytical techniques from across the physical sciences.
Assessment methods
To qualify for the Postgraduate Certificate in Nanotechnology students must actively participate in the online modules to the satisfaction of the course director.
For each module, students must satisfactorily complete the coursework assessment. Assessed work will be a portfolio of assignments, including written reports, problem sheets and presentations, for each of the modules, totalling not more than 2500 words in length for Module 1, and not more than 6000 words for each of Modules 2 and 3. Assessment is based on individual research and group discussions, and is designed to consolidate the studied materials, and challenge and review questions, to encourage a deeper understanding and application of the materials. Assignments are submitted online.
Academic credit
Successful completion of Module 1 is equivalent to 10 CATS (Credit Accumulation and Transfer Scheme) points at postgraduate level. Successful completion of Modules 2 and 3 is equivalent to 25 CATS points at this level for each. The CATS points system is recognised by many UK higher education institutions as a method of quantifying credit for a particular course.
Each module can also be studied independently as a short course, with or without academic credit. It is possible to successfully complete one module (maximum) as a short course with academic credit and, upon successful application to the University of Oxford's Postgraduate Certificate in Nanotechnology to start in the following year, then apply to be made exempt from needing to complete that module again.
Students who successfully complete the Postgraduate Certificate in Nanotechnology with a mark of at least 60 and are subsequently admitted onto the MSc in Nanotechnology for Medicine and Health Care may be exempt from the need to complete those modules again.
Please visit the Postgraduate Certificate in Nanotechnology on the University of Oxford Graduate Admissions website for details of the entry requirements.
Student feedback
"I really enjoyed the module; in my academic and professional career to date I have had little exposure to the ethical and social science considerations of technology and so it was the first occasion I have had the time and opportunity to focus on the other aspects of technology development. The module content gave a good overview of the social, ethical, environmental and business considerations."
Dr Lorraine Byrne, Hewlett Packard
"Although my background is in physics by education and electronics by career, by taking this course it has been instrumental in me obtaining a research post at the National Institute for Nanotechnology, Canada."
Richard Hull, National Institute for Nanotechnology (Canada)
"The Postgraduate Certificate in Nanotechnology most certainly helped me making a start in the field and I was even invited to write an article for the Royal Society 350th Anniversary Year incorporating aspects of nanotechnology for drug delivery applications. I would have not been able to make such a contribution to the field without the training received in the course!"
Dr Sofia Pascu, University of Bath
Staff
Dr Christiane Norenberg
Role: Course Director and Tutor
Christiane is the Nanotechnology Programme Manager at the University of Oxford's Begbroke Science Park. She is the Course Director of the PGCert in Nanotechnology and Deputy Course Director of the MSc in Nanotechnology for Medicine and Health Care. Her interests and expertise are in the areas of surface science, growth and characterisation of nanostructures on surfaces, and nanotechnology in general.
Christiane also teaches nanoscience and materials science at undergraduate and postgraduate level and is running Begbroke Science Park's science and innovation schools outreach programme.

Professor Peter J Dobson OBE
Role: Tutor
Peter Dobson is very active in research and teaching in nanotechnology, healthcare and environmental technology, working with several universities, and he advises several start-up companies and corporates and sits on the EPSRC Quantum Technology Strategic Advisory Board. He has also worked in industry (Philips) as well as academia (Imperial College and Oxford) and was responsible for creating and building The Begbroke Science Park for Oxford University. He was awarded the OBE in 2013 in recognition of his contributions to science and engineering. He is currently a Visiting Professor at King's College London and UCL. Peter delivers courses at Graduate level in the areas of biosensors, nanotechnology, innovation, entrepreneurship and related topics and advises on innovation and assists inventors to commercialize their work.
Dr Victor Burlakov
Role: Tutor
Victor Burlakov is an Emeritus Fellow at Linacre College, Oxford, conducting research in collaboration with colleagues at the Mathematical Institute and Department of Physics. His current research interests are focused on modelling the fabrication processes and operation of new generation solar cells based on methylammonium lead halide perovskites. He is also interested in nanostructure self-assembly which includes the processes of phase separation, growth and coarsening (Oswald Ripening). His main concern in this area is understanding the role of particle-ligand and particle-solvent interactions in narrowing the particle size distribution
Dr Frank Dillon
Role: Tutor
Frank Dillon joined the Nanomaterials by Design Group in the Department of Materials, Oxford University in July 2008. The focus of his research was the development of the great potential of carbon nanotube-inorganic hybrids and show that new scientific horizons will be opened by material combinations and their synergistic functions, rather than optimization of one particular material. He began teaching at St. Gregory the Great School in 2017 and is now head of Chemistry.

Dr Keith Simons
Role: Tutor
Dr Keith Simons, a chemist by training, is currently the Principal Scientist for SHV Energy, an international company which markets and distributes LPG, LNG and other fuels. His role is to help the company transition from being a distributor of fossil fuels, to one which sells renewable energy products by 2040. Previously he was an independent innovation consultant who worked as an interim manager in business development and fundraising for high-technology start-up organisations. He also worked for regional, national and European governments in evaluation and monitoring of publicly-funded research.
Dr Neil Young
Role: Tutor
Neil is the Facility Manager of the David Cockayne Centre for Electron Microscopy and faculty member in the Department of Materials. He manages the Departments teaching and training in electron microscopy as well as strategy and daily operation of the facilities within the EM centre. He is particularly focused on developing expertise and applications in advanced TEM techniques such as HRTEM, STEM and electron exit-wave function restoration.
IT requirements
This course uses the Department's online assignment submission system and online courseware. In order to participate in the course, and to prepare and submit your course assignments you will need access to the Internet and a computer meeting our recommended minimum computer specification. Students of this course may use the student computing facilities provided in Departmental buildings.
Accommodation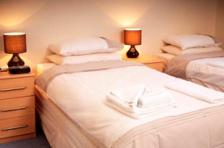 Accommodation for the residential weekend is available at the Rewley House Residential Centre, within the Department for Continuing Education, in central Oxford. The comfortable, en-suite, study-bedrooms are rated 4-star, and come with free high-speed internet access and TV. Guests can take advantage of the excellent dining facilities and common room bar, where they may relax and network with others on the programme.
Application details
Fees and costs
Fees must be paid in accordance with the 'Contractual and financial information' [see below] for this programme. All amounts are in pounds sterling.
Please visit the Postgraduate Certificate in Nanotechnology course page on the University of Oxford Graduate Admissions website for details of course fees and costs.
Sources of funding
Details of funding opportunities, including grants, bursaries, loans, scholarships and benefit information are available on our financial assistance page.
How to apply
Applications for this course should be made online via the University of Oxford Graduate Admissions website. Please see the Application Guide for more information on how to apply.
Later applications may be considered if places are available. Please contact the administrative team if you have any questions concerning the deadlines for the course.
Help us to help you. Apply early - if you submit your application early, the Graduate Admissions team will be able to let you know if any items are missing. Applications must have been fully completed by the relevant application deadline in order to be considered, so please ensure that you have gathered your supporting materials in advance and have given your referees plenty of time to prepare their references before the deadline. Click here for a recommended timeline for applications.
Shortlisted applicants will be invited to interview.
Please read our 'Contractual and financial information' before submitting your application.
If you would like to discuss the programme please contact:

Tel: +44 (0)1865 286955 - Email: nano@conted.ox.ac.uk
All the Department's Online Short Courses are developed by our Technology-Assisted Lifelong Learning (TALL) unit. To learn more, please see the TALL website.
Visas and ATAS Certificate Information
The PG Cert in Nanotechnology requires students to come to Oxford for a Residential Weekend at the end of Module 3. Visa nationals will need to apply for a short-term student visa, and non-visa nationals will need to request a short term student visa letter from the administrative team to show at Immigration Control.
You can also contact the University's student immigration team with specific queries: student.immigration@admin.ox.ac.uk
Both visa nationals and non-visa nationals willl also both need to apply for an Academic Technology Approval Scheme (ATAS) Certificate as a condition of entry to United Kingdom. More information about this will be provided to successful applicants.