MSt in Creative Writing

Oxford University's Master of Studies in Creative Writing is a two-year, part-time master's degree course offering a unique combination of high contact hours, genre specialisation, and critical and creative breadth.
Frequently asked questions

.
The emphasis of this postgraduate creative writing course is cross-cultural and cross-genre, pointing up the needs and challenges of the contemporary writer who produces his or her creative work in the context of a global writerly and critical community. The master's degree in creative writing offers a clustered learning format of five Residences, two Guided Retreats and one Placement over two years. The research Placement, a distinguishing feature of the course, offers between one and two weeks' hands-on experience of writing in the real world. Students may undertake their placement in a literary agency, a publishing house, the offices of a literary periodical, a theatre company, a screen production company, or other relevant organization. Placement organisations have included Macmillan, Initialise Films, Random House, the BBC, the Literary Review, AM Heath, Pegasus Theatre, the Poetry Society, and Carcanet.
The virtual open event for this programme is available to watch at cwopenday. The open event features acting Course Director Jane Draycott and course administrator Rebecca Rue, who discuss the programme, its requirements and the student experience. Participants' questions were texted in and answered during the event. A FAQ of all the questions and their answers is available at the top of this section.
The MSt has a blog, a resource for Oxford events, calls for submission, competitions, news, interviews and more, which is available at mstcw.
"The Oxford MSt enables you to fast-track your career in writing."
- Fortuna Burke
"… the freedom to explore and experiment… has been fundamental to my development as a writer."
- Clare Tetley
"The range and variety of the group … offers truly exciting opportunities for the kind of exchanges that really accelerate your development as a writer."
- Michael Schuller
"What does the course offer? Self-discipline, professionalism and confidence."
- Abigail Green-Dove
"My life has been so enriched and expanded. My writing evolves daily through the tools that you gave me. Not to mention the wonderful friendships formed throughout our two years together."
- Lindsay Moore
"The Masters in Oxford, while encouraging creativity, raised the bar on the quality of the finished work and gave me the discipline to be a professional."
- Bette Adriaanse
"I doubt there's a more suitable MSt in the United Kingdom for work which challenges boundaries and takes risks."
- Jennifer Thorp

Course brochure for MSt in Creative Writing

.
Students and alumni have won a wide range of prizes. These successes include winning the Gregory O'Donoghue Prize, the Writers' Village International Short Fiction Award 2014, the Parallel Universe Poetry Competition, the Martin Starkie Prize, the Heritage Arts Radio play competition, the Cascade Pictures Writer's Couch pitching competition, first prize in the Poetry Book Society Student Poetry Competition, the Miracle Poetry Competition, Best Photography Book Award from POYi (Pictures of the Year international), the Editors Prize from the Poetry Foundation, the Hippocrates Prize, and the Yeovil Literary Prize for Poetry. Two alumni have won the Oxford University's DL Chapman Memorial Prize, another was a finalist in the 2013 Writers at Work Fellowship Competition, and another won the London Fringe Festival's Short Fiction Award. Alumni have been awarded a Toshiba Studentship, a Hawthornden Fellowship, and funded residencies at the Banff Centre, Canada, and at the Expansionists Project, Whitstable. One of our alumni won the Waterstones Children's Book Prize 2017.
Students and alumni have had their work shortlisted across the genres for, among others, the British Library's Michael Marks Poetry Award, the Asham Award, the Bridport Prize, the Bridport Prize for Flash Fiction, the Fish Flash Fiction prize, the Yeoville Literary Prize, the Oxonian poetry prize, the Fish Short Story Prize 2013, the Big Issue in the North's New Writing Award, the Oxonian review, and the Aesthetica Creative Writing Competition. A 2010 graduate was short-listed for the Crime Writers' Association Debut Dagger award 2011. Two alumni were longlisted for the Dylan Thomas Prize, and one was shortlisted. An alumnus' debut novel also made the longlist for the Not the Booker Prize. A recent graduate was shortlisted for the Sunday Times/EFL short story prize 2017.
Destinations
Many of our graduate students have signed with agents, and each year a number go on to undertake doctoral study in creative writing or English Literature. Our graduates have obtained positions in publishing, media and the creative arts industries, as well as teaching positions in tertiary education.
The MSt has enjoyed a very strong application field since its inception, attracting record interest in recent years from a global constituency of writers. The course`s emphasis on critical analysis as well as on writerly and creative excellence attracts students of commensurately strong academic potential as well as of significant creative promise. This combination of academic rigour and creativity is a central distinctive feature of the course. The resulting emphasis on exploration and the development of an individual writerly voice serve to attract particularly talented students from around the world as well as a strongly diverse group of UK students of varied backgrounds and ethnicity.
Continuing education and life-long learning in Oxford have been formally linked to the collegiate system of the University since 1990, when Kellogg College, the University's 36th college, was established.
Programme details
How is the course structured?
Course Dates Year 1, 2019-2020
Residence 1: Saturday 21 September 2019 to Tuesday 24 September 2019
Residence 2: Friday 17 January 2020 to Monday 20 January 2020
Residence 3: Sunday 26 April 2020 to Wednesday 29 April 2020
Guided Retreat: Sunday 28 June 2020 to Tuesday 30 June 2020
2020-21 course dates to be confirmed.
How is the course assessed?
The MSt is by course work assessment. In year 1, four Assignments (two creative, two critical), one Creative Writing Portfolio and one Critical Essay are submitted. Work is set during each Residence and handed in for assessment before the next meeting. Feedback on work submitted is given during tutorials within the Residence or Retreat. In year 2, submissions comprise one research Placement Report, one Extended Critical Essay, and a Final Project – a substantial body of creative work in the genre of choice. You will be allocated a Supervisor to guide and advise you on your creative and critical work throughout the second year.
Course submission requirements
Students are set specific creative and critical work to be completed between Residences and handed in to set deadlines (see How is the Course Structured? Above). Year 1 creative submissions must be in more than one genre. In Year 2, submitted work focuses around genre of choice (see What Does the Course Cover? Above).
During Year 1:
4 x 2500-word assignments, 2 creative writing and 2 critical analysis
1 x 7000-word portfolio of creative writing
1 x 4000-word extended critical essay
During Year 2:
1 x 2500-word report of Research Placement
1 x final creative writing project amounting to:
approximately 25,000 words of prose fiction
or approximately 25,000 words of narrative non-fiction
or a piece or pieces of radio drama totalling approximately 90 minutes' duration or up to 18,000 words)
or stage play of 90 minute's duration (23,000 – 25,000 words)
or TV play of 90 minute's duration (approx 18,000 words)
or screenplay (entire, c. 110 to 120pp; approx 25,000 words)
or a collection of poetry of between 40 and 60 pages AND between 600 and 1200 lines
AND
1 x 5000-word extended essay on a genre-related critical approach of own choice
Who should apply?
We are looking for writers with a proven record of commitment to their craft. You should be a keen reader, and bring an open-minded, questioning approach to both reading and writing. You will not necessarily have yet achieved publication, but you will have written regularly and read widely over a sustained period. You will be keen to dedicate time and energy and staying-power to harnessing your talent, enlarging your skills, and aiming your writerly production at consistently professional standards. It is likely you will have a first degree, or equivalent, although in some cases other evidence of suitability may be acceptable.
For applicants with a degree from the USA, the minimum GPA we normally seek is 3.6 out of 4.0. We do not seek a Graduate Record Examination (GRE) or GMAT score. Although a GRE or GMAT score is not a formal requirement, if one is available it should be supplied.
The high number of contact hours are concentrated into Residences and Retreats. Students should be at a stage in their writing where, with appropriate guidance, they can undertake agreed assignments, projects and essays between meetings. There is a dedicated Course Website for provision of up-to-date information; contact and exchange between students; and contact between students and tutors. The course, however, is not a 'distance-learning' course, and tutors, while being happy to help with questions or problems, do not offer regular weekly 'office hours'.
The M.St is unlikely to be suitable for those who are just starting out on their writerly and critical development.
If you have any doubts about whether the M.St is right for your stage of development, please take a look at our Undergraduate Diploma in Creative Writing.
Staff
M.St staff profiles.
Course aims:
What does the course cover?
The first year concentrates equally on prose (fiction and narrative non-fiction), poetry and drama. There is a significant critical reading and analysis component, which is linked to the writerly considerations explored in each of the three genres. Students are expected to engage fully with all three genres, in a spirit of exploration and with the aim of discovering what impact and relevance unaccustomed genres have for the development of their individual writerly voice. This necessarily involves undertaking assignments and exercises in areas that are new to students, and do not relate directly to any work they may have in progress. Students may be able to continue with their own longer term pieces-in-progress but the concentration of year 1 teaching is on producing new work, and the exercises and assignments, which should take priority, reflect this emphasis.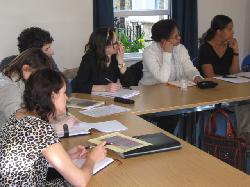 The second year offers specialisation in a single genre, again accompanied by a significant critical element focused around issues of interest to the individual student and related to the genre of choice.
Your specialisation choices are as follows:
The novel
Short fiction
Radio drama
TV drama
Screenwriting
Stage drama
Poetry
Narrative non-fiction
In year 2, the specialisation in the genre of students' choice provides an opportunity for significant concentration on either new work, or, subject to consultation with supervisor, on existing work-in-progress.
IT requirements
This course uses the Department's online assignment submission system. In order to prepare and submit your course assignments you will need access to the Internet and a computer meeting our recommended minimum computer specification. Students of this course may use the student computing facilities provided in Departmental buildings.
Scholarships
The level of tuition fees you pay (home-EU or non-EU) depends on your residential category. For a detailed classification of home-EU/non-EU status, please refer to the fees and funding website. As a postgraduate student studying on this course at OUDCE you may be able to gain assistance through Career Development Loans or Educational Trusts and Charities.
The Clarendon Fund
The aim of the Clarendon Fund is to assist the very best students who obtain places to study for postgraduate degrees in the University. The main criterion for the awards is academic ability.
Application Form and supporting materials
The University requires online applications. Paper applications are only acceptable in exceptional cases where it is not possible for you to apply online.
For entry requirements, selection criteria and how to apply, please visit the Oxford University Graduate Admissions website.
Paper applications
If it is not possible for you to apply online, a paper application form can be requested from the Graduate Admissions Office. Please contact the Graduate Admissions Office at:
Graduate Admissions
University Offices
Wellington Square
Oxford OX1 2JD
Tel: 01865 270059
Please note that in order to submit a paper application you must be able to pay the application fee by credit or debit card using our online store. If this is not possible, you may pay by cheque or bankers draft drawn on a UK bank account.
You will need to submit the application form and all supporting materials:
Three references
Note: If you anticipate having difficulty providing three referees who have an informed view of your academic ability and suitability for this Programme of Study, please contact the Programme Administrator for advice.
Transcripts of previous higher education results.
Current CV/resume
A statement (see application form) of your reasons for applying to the course. This should include what you feel the course would offer you and your writing, and what you feel you could bring to the course.
A portfolio of creative writing for assessment. This can be in any of the three genres, or in more than one, and should consist of approximately 2000 words of prose (fiction, or narrative non-fiction) or 10 short poems or fifteen minutes equivalent of drama.
Please note that supporting materials cannot be returned. Please also note that no correspondence can be entered into, should your application be unsuccessful.
English Language ability
Prospective students whose first language is not English should note that English language certification at the higher level is required, and any offer of a place will be conditional on the receipt of an original certificate (see the 'Notes of Guidance').
Visas
International applicants from outside the EEA please note that it is not possible to be resident in the UK on the basis of this course. As the MSt is a two-year, part-time course, it does not have the number of teaching hours per week required for a Tier 4 student visa.
Non-EU students must get an appropriate visa to cover their time in England before coming to the UK. Many international students on the course apply for student visitor visas to enable them to come to England for the periods required over the duration of the programme. For information on this please visit the UKCISA website.
Application deadlines
Applications for September 2019 entry will open in September 2018. There are two application deadlines, 25 January and 1 March 2019. The University will accept applications on deadline days until 12 noon UK time.
If you have any questions about the progress of your application, please contact the Graduate Admissions Office (tel: 01865 270059; Query facility); or the Course Administrator, Rebecca Rue (tel: +44 (0)1865 280145; email: rebecca.rue@conted.ox.ac.uk ).
Fees
Please visit the Creative Writing page on the University of Oxford Graduate Admissions website for details of course fees and costs.
Residency category
The level of tuition fees you pay (home/EU or non-EU) depends on your residential category.
If you are a non-European national with indefinite leave to remain in the UK, you may qualify for the home student fee, so long as you (or your spouse or parent) have been resident in the UK for the last three years for purposes other than full-time education.
Please note that UK/EU citizenship is not sufficient to be granted Home status, without also fulfilling the residence requirement. Students who have not been resident in the UK/EU for the last three years may be liable for the non-EU student fee. For a detailed classification of home-EU/non-EU status, please contact the OUDCE Student Adviser on 01865 280355 if you have any queries.
Finance
An offer of a place on the course will be conditional upon your demonstrating that you are able to meet the course fees.
Please visit our 'sources of funding' page for information on student loans, bursaries and Professional and Career Development Loans as well as details of external sources of funding. For further information on funding, see the Oxford Funding Search.



Further information