The department today

The 21st century has seen sweeping changes to adult education, and the Department has risen to meet many challenges.
The Department of today
The turn of this current century, like that of the previous one, has been a time of great innovation and expansion for the Department. Advances in technology, and a rise overall in the number of people wanting to pursue some form of higher education, are just two of the factors which have shaped us into today's Department for Continuing Education.
In and around Oxford
Our programmes in and around Oxford - such as our weekly classes, day and weekend events, and summer schools - now number approximately 700 courses per year. We teach an extensive programme at the University of Reading, and in smaller towns such as Maidenhead, Newbury and Milton Keynes.
We also attract a large number of international students to our programmes. Two examples are our Foreign Service Programme and our International Human Rights Law programme, which are designed expressly with a worldwide audience in mind.
..and across the globe
Online courses are the direct descendent of our original extension mission. In the 19th and early 20th centuries it was the rail network which let us bring Oxford education to places outside the University; today it's the Internet.
Students from around the world participate in large numbers on our online short courses - currently we offer more than 90 short courses in the humanties and sciences – including modules in a range of science subjects as part of our professional development offerings.
Our provision of online learning was made possible by the creation of our Technology Assisted Lifelong Learning (TALL) team in 1996. Our first online course was offered in 1999 – some of the first fully online learning available in the UK. TALL has since created a wide portfolio of courses for the Department, as well as for other departments of the University and other institutions.
Oxford qualifications and professional development at the Department
The academic year 1992/3 was a milestone for the Department: it was the year we were first able to 'matriculate' students - in other words, to admit students to our own part-time Oxford degree programmes.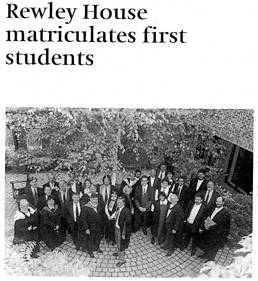 These award programmes have been designed from the beginning to cater to the needs of part-time adult learners. Today we offer a range of courses at all levels -- from undergraduate certificates, diplomas and advanced diplomas (equivalent to the first, second or third year of study at University level), postgraduate certificates and diplomas, master's programmes and DPhils.
And we are able to offer world-class education for continuing professional development, partnering with experts from wider University, research councils, industry, and government agencies.
Change and challenge
Over 135+ years we've seen many changes in the world around us - in society, politics and technology, to name just a few factors.
A serious challenge we've faced in recent years has been the withdrawal of state funding for education, particularly as it affects students who already have a university qualification but wish to continue their studies. It is a tribute to the desire of the public to have access to the University that enrolment on our courses remains buoyant despite the increases in fees that have been necessary.
The funding gap is starting to be filled by donations and partnerships. This support is vital, as it makes attendance possible for students who would otherwise struggle to participate. (Learn more about our work in this area by visiting our support the Department pages.)
Putting students first
Our founders gave us a strong and simple guiding principle - one which we adhere to passionatly: put the needs of students first.
We strive always to provide the best in education and resources to our students, and we do very much value feedback on any aspect of what we do. We look forward into the 21st century with eagerness, and we hope to hear from you.
---------
The text in these 'History of the Department' pages is to be found in the book 'Dons and Workers: Oxford and Adult Education Since 1850', by Dr Lawrence Goldman, Fellow and Tutor in Modern History at St Peter's College, Oxford, and a former member of the Department for Continuing Education.
---


Students
Information for prospective and current students on facilities, funding, assessments and student representation