The post-war years

The last half of the 20th century was a time of wider inclusion and expansion of adult education, as a growing number of people of all ages and backgrounds wished to have university-level educational opportunities.
The post-war years
The decades following World War II saw a gradual waning of established working-class communities and organisations nationwide; the emphasis on adult education began to broaden beyond its working-class antecedents to include all adults, of all ages and from all backgrounds.
The 1980s saw a much-needed expansion of Rewley House; the existing gardens behind the old St Anne's Rewley school were re-purposed, and new construction added many new features which are familiar to today's students: our attractive sunken courtyard garden, the Geoffrey Thomas Lecture Theatre, the Common Room, the Continuing Education Library, the Mawby Pavilion, and our Dining and Acland rooms.
The following decade saw a further development, in the establishment by the Department of what was shortly to become Kellogg College.
The birth of a college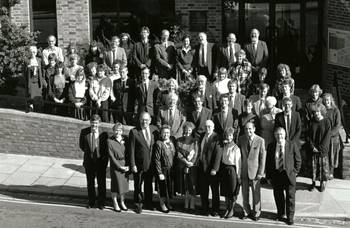 In May 1990, Rewley House became a 'society of entitlement'. What this meant was that Rewley House (as an entity in itself, co-existing with the Department) was incorporated into the Collegiate University, and was able to matriculate students; and the academic staff of the Department were able to form a 'society of Fellows'. The first cohort of twenty five students, pursuing a two year, part-time course leading to an MSc in Educational Studies, were matriculated in October of 1992.
This fledgeling collegiate entity was renamed Kellogg College in October of 1994, in recognition of benefactions from the WF Kellogg Foundation in the United States. Kellogg College moved from Rewley House to its current location on the Banbury Road in 2006; Kellogg is (and always was) a completely separate administrative entity from the Department - albeit one with strong ties to us. Most of the University Lecturers attached to the Department are also Fellows of Kellogg College.
Next: read how Harper Lee found a springboard for her literary ambitions at one of our summer schools.
---------
The text in these 'History of the Department' pages is to be found in the book 'Dons and Workers: Oxford and Adult Education Since 1850', by Dr Lawrence Goldman, Fellow and Tutor in Modern History at St Peter's College, Oxford, and a former member of the Department for Continuing Education.


Students
Information for prospective and current students on facilities, funding, assessments and student representation