Advanced Project Management

Overview
Course registration starts soon.
Be the first to know about registration and new course dates – click 'Notify me' in the right-hand sidebar.
This intensive one-day Advanced Project Management course will explore the nature of managing projects.
The day focuses on the "three Cs": challenges, causes and cures. Major projects are inherently risky due to long planning horizons, complex interfaces and multi-actor processes, and non-standard technologies and designs.
One of the main challenges in project management is inadequate benefit, cost, and time forecasts.
Consequently, benefit shortfalls, cost overruns, and delays are common during project implementation and often projects are challenged from the beginning.
This course can be taken separately or as part of a weekly discount fee package.
Programme details
This course was designed and developed by the CPD Centre in conjunction with staff from the University of Oxford's Saïd Business School.
The course starts with looking at characteristics and challenges in project management.
The course then looks at causes of risk and three types of explanations of causes are addressed: technical explanations, psychological explanations, and political-economic explanations.
Finally, the course discusses cures, and in particular how to de-bias projects through reference class forecasting; and how to avoid projects running out of control, so called Black Swans, through reducing social and technical complexities of projects.
The course offers a condensed, yet comprehensive, overview of current and emerging best-practice methodologies and techniques for meeting the challenges of managing multiple, complex science and technology projects.
We also offer a course for those new to project management, Essentials of Project Management.
As organisations seek to increase efficiency and cut costs in the increasingly challenging business climate, a focus on selecting, prioritizing and delivering the right projects that directly support the strategy of the organisation is more important than ever.
Key to this strategic objective is effective Project Management, a framework to ensure that investments in projects, resource allocation, monitoring and evaluation is optimised throughout project life-cycles and through to delivery and close-out.
In short, Project Management ensures organisations do the right projects the right way.
Certification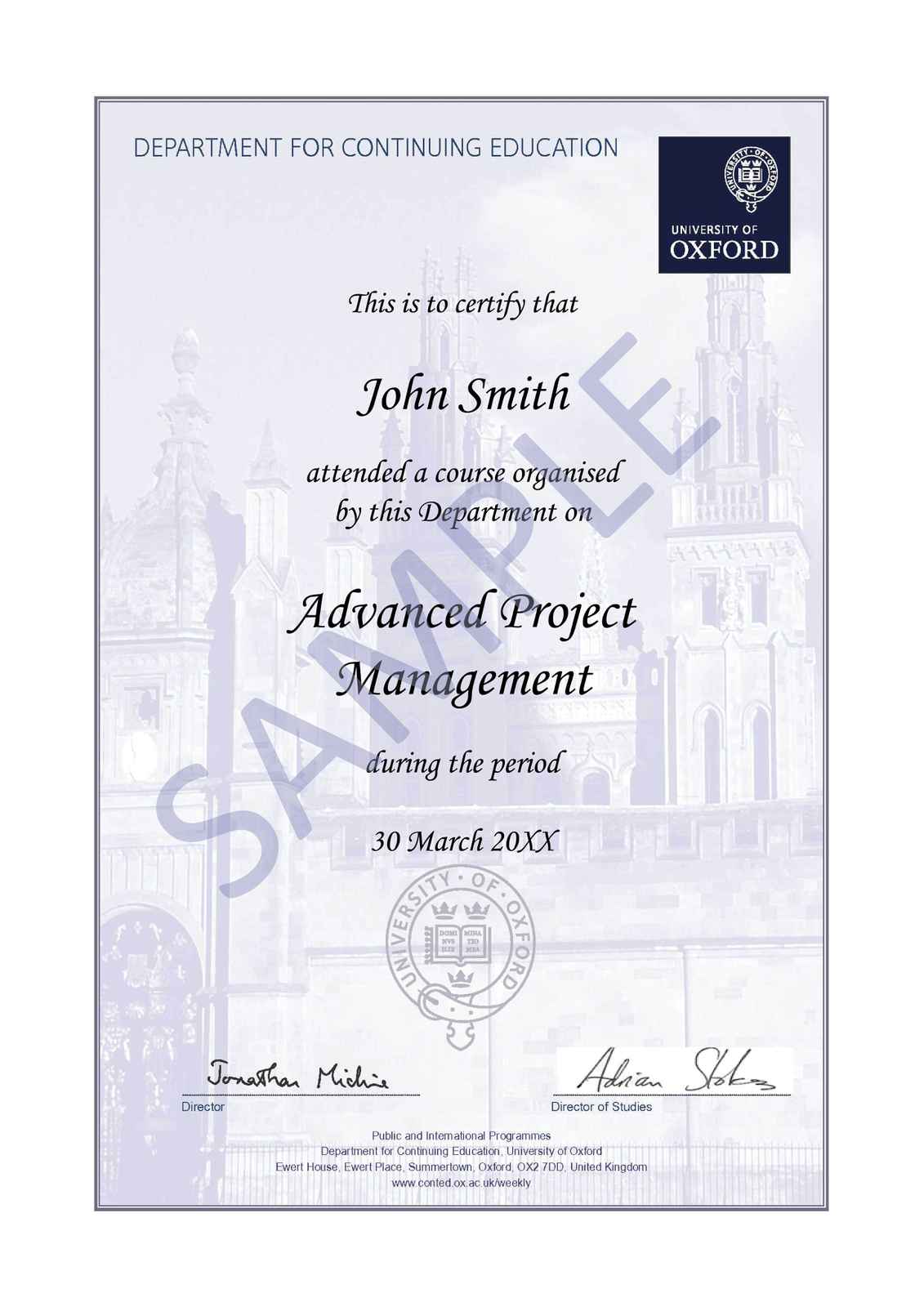 Participants who attend the full course will receive a Certificate of Attendance. The sample shown is an illustration only and the wording will reflect the course and dates attended.
Accommodation
Accommodation is available at the Rewley House Residential Centre, within the Department for Continuing Education, in central Oxford. The comfortable, en-suite, study-bedrooms and come with tea- and coffee-making facilities, free Wi-Fi access and Freeview TV. Guests can take advantage of the excellent dining facilities and common room bar, where they may relax and network with others on the programme.
Fees
Standard course fee: £470.00

Payment
Pay immediately online by credit or debit card
Click the "book now" button on this webpage to pay online with a credit or debit card
Pay later with your preferred payment method
Send a completed application form to the course administrator by e-mail or post, and choose:
Request an invoice
BACS payment
Cheque payment
Credit or debit card payment. Please do not send card details via email
Fees include course materials, tuition, refreshments and lunches. The price does not include accommodation.
All courses are VAT exempt.
Tutor
Course Tutor
Founder of Oxford Major Programmes
Benedict is involved in a number of research projects with world leading academics from Oxford University, and advises Oxford University Press on their global change initiatives. A graduate from the first cohort of the MSc degree in Major Programme Management at Saïd Business School, he is also active with voluntary work focussed on bridging the worlds of project management practice and academia. Prior to setting up his own company in 2011, Benedict was a programme management contractor for twenty years and led programmes in the public and private sector, both in the UK and overseas.
Benedict is Managing Director and Founder of Oxford Major Programmes; a company dedicated to revolutionising the management of major projects and programmes. His team develop software that combines elements of social media, benefits tracking and a holistic approach to status reporting in order to produce innovative visualisations to aid the decision-making of programme directors and sponsors.
Application
If you would like to discuss your application or any part of the application process before applying for this Advanced Project Management course, please contact:
Course Administrator
Tel: +44 (0)1865 286958
Email: business@conted.ox.ac.uk
Level and demands
This course is ideal for Scientists and Engineers who have responsibility for project and programme management in large or small, public or private sector organisations and who wish to enhance their knowledge of the latest developments in this area of management. Some prior experience of the essentials of Project Management is expected.
If you're uncertain whether this course is suitable for your requirements, please email us with any questions you may have.