Artificial Intelligence De-mystified: Opportunities and Value in Your Business

Sign up for course news to hear about future course dates.
Overview
This one-day course sets out to de-mystify Artificial Intelligence (AI) and Machine Learning (ML).
It is for business managers and those who want a practical, 'business oriented' introduction to AI and ML to help unlock value from this powerful, emerging technology.
The course takes a 'vertical slice' approach - from strategy to implementation - to help you understand the threats and opportunities at a strategic level and shows you how they relate to your business.
The course will show you how to find the specific opportunities and applications for AI/ML in your business.
What is AI/ML good at?
What can it be used for?
How can you match those capabilities to the needs of your business?
What could your business be doing in the future that it is not doing now by leveraging the power of AI/ML?
What new areas of business might be open to you?
What are the factors that would allow you to build a competitive advantage for your business using this technology?
We will demonstrate how to approach the task of finding the best opportunities within your business to leverage AI/ML.
The latter part of the course focuses on real applications.
Have you ever wondered what AI 'is'?
What does it look like in practice?
How is AI/ML created?
How does it differ from traditional software programming?
Using the techniques of AI/ML shown, you will create 'real' AI/ML models using one of the most popular software tools used in this area.
The 'hands-on' session does not require expertise in programming or software development. However, we will be typing 'real' software code using a popular programming language in this area, 'Python'. This computer language is popular in many sectors because of its ease of learning.
Programme details
The language of Artificial Intelligence and Machine Learning - what do the 'buzz words' mean?
Why is AI/ML different to traditional software programming?
AI/ML is already out there:

A view on the rapid emergence of this powerful technology
a broad view of current applications

Strategic analysis for your business : How could AI/ML impact your business - good and bad?
How can you leverage AI/ML? : Reviewing your business processes to identify AI/ML opportunities and threats
Innovation and competitive advantage : What new things could your business be doing by leveraging this technology?
What kinds of skills / knowledge / support will your business need to use AI/ML
Develop or buy-in? What factors should you consider in deciding between buying 'off the shelf' solutions Vs development of your own company-specific solutions?
Practical AI/ML:

What does AI/ML look like?
How do we do it 'for real'?
Building working AI/ML applications
Certification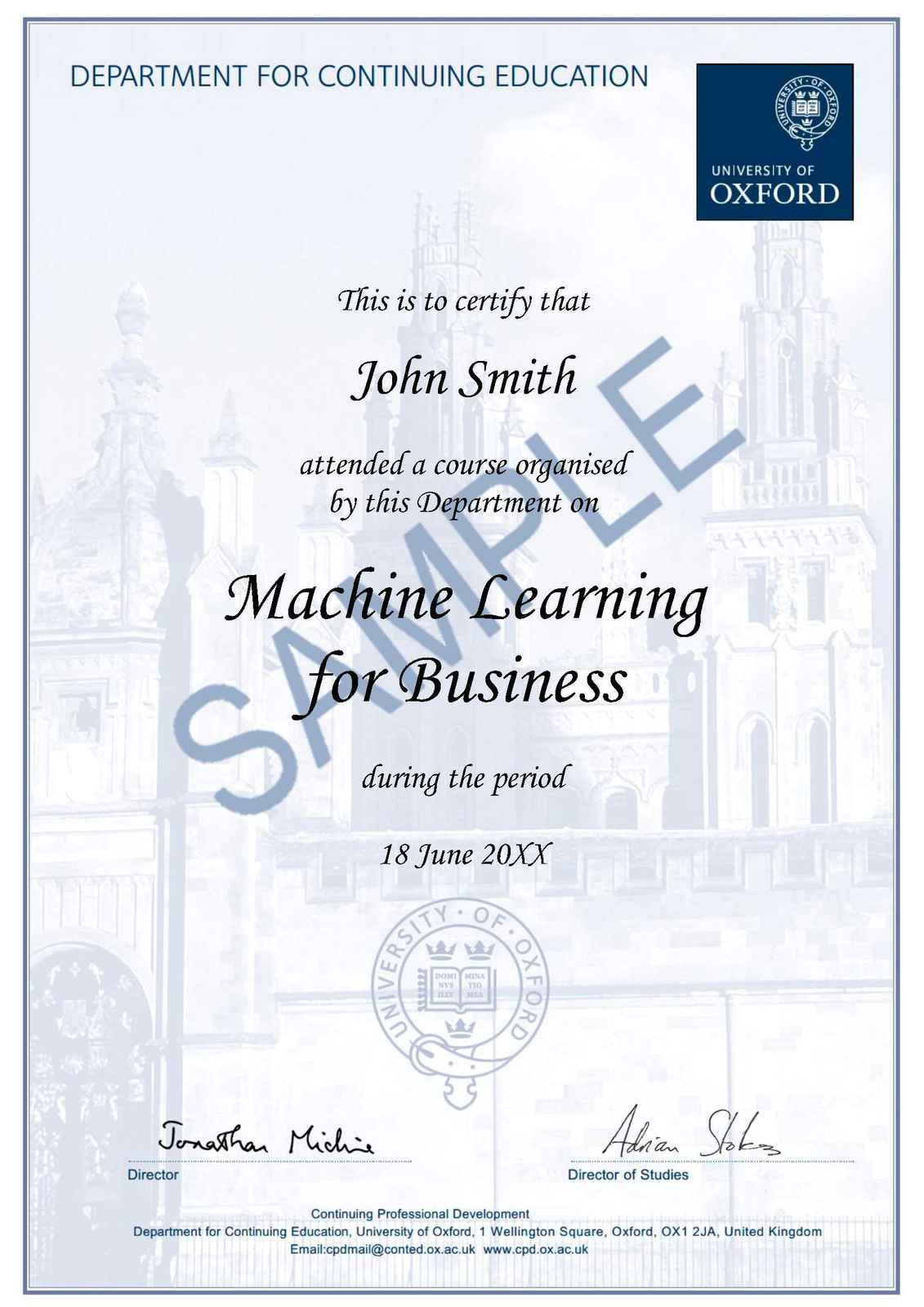 Participants who attend the full course will receive a Certificate of Attendance. The sample shown is an illustration only and the wording will reflect the course and dates attended.
Accommodation
Although not included in the course fee, accommodation may be available at our on-site Rewley House Residential Centre. All bedrooms are en suite and decorated to a high standard, and come with tea- and coffee-making facilities, free Wi-Fi access and Freeview TV. Guests can take advantage of the excellent dining facilities and common room bar, where they may relax and network with others on the programme.
To check prices, availability and to book rooms please visit the Rewley House Residential Centre website.
Fees
Course fee: £470.00

Payment
Fees include course materials, tuition, refreshments and lunches. The price does not include accommodation.
All courses are VAT exempt.
Register immediately online
Click the "book now" button on this webpage. Payment by credit or debit card is required.
Request an invoice
Send a completed application form to the course administrator by email or post. Please do not send card details via email.
Tutor

Visiting Fellow
Department of Computer Science, University of Oxford
Dr Rob Collins is a visiting fellow of Kellogg College Oxford and regularly teaches courses at the University – both through Continuing Professional Development and through the Computing Laboratory.
As well as his academic teaching work Dr Collins regularly provides consultancy to industry in the area of Business Process Excellence and Systems Engineering. He gained his Black Belt Certification in Lean Six Sigma from Lockheed Martin – the world's largest Systems Engineering company and a world-leader in advanced technology.
As well as his undergraduate degree in Physics and Computing, Dr Collins holds a PhD completed within a Psychology Department. Dr Collins' PhD focussed on training, psychology and processes for introducing complex technology into learning environments. Dr Collins' completed an MBA in 2012 at Henley Business School. He thus has a strategic business view as well as deep understanding and practical experience of hands-on process improvement in technology and service.
Application
If you would like to discuss your application or any part of the application process before applying, please click Contact Us at the top of this page.
Selection criteria
Who should attend?
This course is suitable for:
Managers and business leaders who need to understand the opportunities and threats to their business
Entrepreneurs and investors who want to learn how this technology might be leveraged for competitive advantage
Consultants and technologists who want to understand the capabilities of this technology and learn what it can do for them
Anybody who wants a succinct 'vertical slice' view of Artificial Intelligence from high-level strategy, through business processes and down to the level of real applications.
The 'hands-on' session does not require expertise in programming or software development. However, we will be typing 'real' software code using a popular programming language in this area, 'Python'. This computer language is popular in schools because of its ease of learning.
We will not be 'teaching programming' in this session, but rather entering relatively short (15-20 lines) of instructions to demonstrate the use of these tools. Anybody who has experience of using Macros (VBA) in Word or Excel, or has some experience of another computer language should find this activity familiar. If you have never seen or created software code, then this task will be unfamiliar - but not impossible. There will be opportunities to be a 'spectator only' if you can't bring yourself to writing computer code!
If you are unsure, please contact us for further details.