Branding and Marketing

Sign up for course news to hear about future course dates.
Overview
This intensive one-day course focuses on initiating an optimal outlook and professional skillset to:
create, maintain, and grow a brand
put your product or service in its best light
identify, access, and augment your optimal customer base
The course will address issues including brand planning, brand value, branding in the context of competitive advantage, the evolution of brand strategies over time, brand management, and measuring performance in branding activity.
These business-critical branding activities will be considered in the marketing contexts of defining and describing your offering, identifying your compelling value proposition, and penetrating your addressable market.
Traditional, digital, and omnichannel approaches to marketing will be covered and, naturally, metrics to recognise, evidence, and continuously improve marketing activities will be explored.
Please note that the coverage on this one-day course is intentionally broad. The limited time available to cover the diverse range of topics will mean that many issues will be merely touched upon or otherwise treated only briefly. The goal is to provide at least some insight into the many issues facing those seeking to operate effectively in branding and marketing.
This course can be taken separately or as part of a weekly discount fee package.
Programme details
Brand Identity
Understanding brand identity and its critical role in facilitating business growth

Brand values and how they affect written, spoken and visual communication

Brand voice: what it is and how it acts as a vital differentiator

Resources and their implications for brand identity

Building a brand based on the above considerations
Creating Physical and Digital Marketing Presences
Websites

Types of marketing website

Agreeing the website that is best suited your business (e.g. products, services, agencies, advertising)

Website templates & tools (if you wish to do it yourself)

Working with designers / web developers

Starting small but being scalable
Content

Content Marketing: what it is and how it works

Types of content (e.g. blogs, newsletters, videos, social media posts)

The publisher mindset and the power frequency

How to build content libraries

Copyright and GDPR (the EU General Data Protection Regulation)

The entrepreneur who is the content (personality marketing)
Communication Channels

The channels that are available and the kind of results they can deliver

Discovering the channel where the majority of your audience resides

Managing one channel well as opposed to managing several channels poorly

The connection between communication channels and brand identity/brand voice

Skills, Resources & Automation

Writing skills, production skills and design skills

Specific skills budding that marketeers should consider developing

Digital time management and automation

Developing in-house resources

Working with external experts and contractors
Generating Awareness & Converting Market Interest into Sales
Search Engine Optimisation (SEO)

Paid Advertising including Google, Twitter, Linkedin, and Instagram

Influencer marketing

Publishing frequency

Perceived high-value offers to encourage sign-ups

Webinars

Free consultations and calls

Support tools i.e. booking calendars, chatbots

Sales conversions
Measuring Results to Enhance Business Success
Defining the right metrics for you

Traditional marketing campaign metrics

Website measurement tools

Social Media measurements

Video measurements

Harnessing your metrics for better branding and marketing
Certification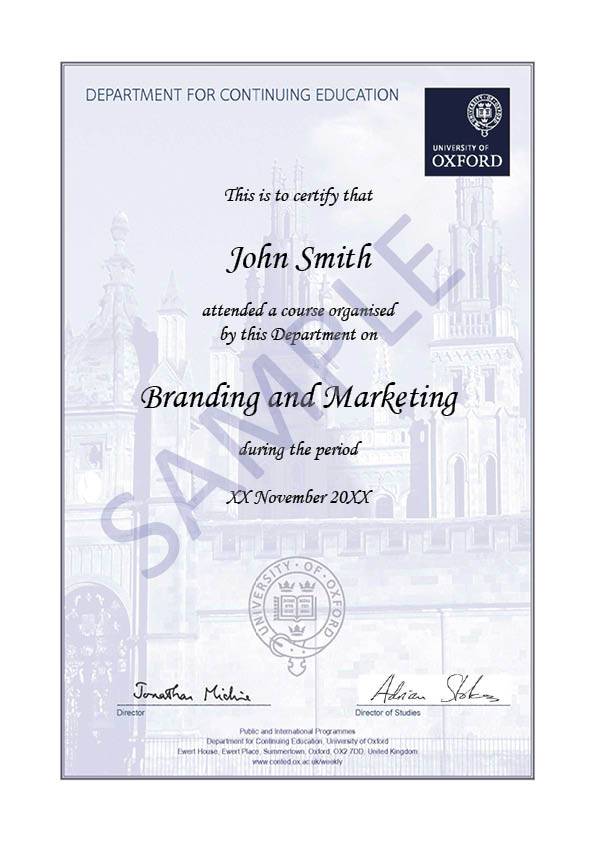 Participants who attend the full course will receive a Certificate of Attendance. The sample shown is an illustration only and the wording will reflect the course and dates attended.
Accommodation
Although not included in the course fee, accommodation may be available at our on-site Rewley House Residential Centre. All bedrooms are en suite and decorated to a high standard, and come with tea- and coffee-making facilities, free Wi-Fi access and Freeview TV. Guests can take advantage of the excellent dining facilities and common room bar, where they may relax and network with others on the programme.
To check prices, availability and to book rooms please visit the Rewley House Residential Centre website.
Fees
Standard course fee: £495.00

Payment
Fees include course materials, tuition, refreshments and lunches. The price does not include accommodation.
All courses are VAT exempt.
Register immediately online
Click the "book now" button on this webpage. Payment by credit or debit card is required.
Request an invoice
Send a completed application form to the course administrator by email or post. Please do not send card details via email.
Tutor
Tutor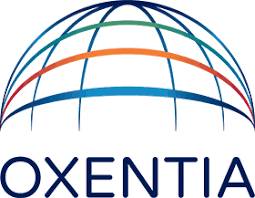 The Oxentia Team
Oxentia is the global innovation management and technology commercialisation consultancy that started its life as an operating division within the world-leading technology transfer company of the University of Oxford, Oxford University Innovation.
Oxentia is a key component of Oxford's thriving innovation ecosystem.
Since 2004, Oxentia has delivered innovation services to a worldwide customer base of public and private sector clients in over 80 countries.
Application
If you would like to discuss your application or any part of the application process before applying, please click Contact Us at the top of this page.
Level and demands
If you're uncertain whether this course is suitable for your requirements, please contact us with any questions you may have.