Business and Technology Valuation and Marketing

Sign up for course news to hear about future course dates.
Overview
Be the first to know about new course dates – click 'Notify me' in the right-hand sidebar.
This one day course introduces methodologies in valuation and marketing appropriate for the early stages of business growth and technology commercialisation. These subjects are core to business success and consequently have attracted numerous studies. This course is an introduction to the fundamentals and a practical guide to how and when these approaches can be applied.
This course can be taken separately or as part of a weekly discount fee package.
Details of the discount registration for Week 1
Details of the discount registration for Week 2
Programme details
The course combines Oxentia's expertise with industry best practice. You will leave this course with an understanding of how and when to use appropriate valuation and marketing methodologies for your technology, service or business.
This course was developed in conjunction with Oxentia, Oxford's Global Innovation Consultancy, and utilises Oxentia's experience of helping clients commercialise technology and IP in over fifty countries around the world.
Valuation
As your technology/service develops different valuation methodologies can be applied. We will present and discuss different valuation methodologies appropriate to the stages of technology development and use interactive exercises to embed key learning points. The course will:
Present valuation methodologies
Cost method
Value method
Comparables method
Discounted Cash Flow (DCF)
Examine the pros and cons associated with each methodology and determine when they should be used
Use relevant exercises throughout
Marketing
Effective valuation can only be achieved through interacting with customers and competitors. This part of the course explores the marketing collateral required to present your technology and gather market intelligence; to inform your valuation and promote your technology, service, or business. The course will:
Present key materials required in a pack of marketing collateral
Non-confidential marketing descriptions, and the use of digital channels
Non-Disclosure Agreements (NDAs)
Confidential marketing descriptions
Guidelines on developing relationship with potential customers via marketing materials
One-page profiles
Collecting feedback from marketing efforts that will inform our valuation and business model
Use relevant interactive case studies throughout
Certification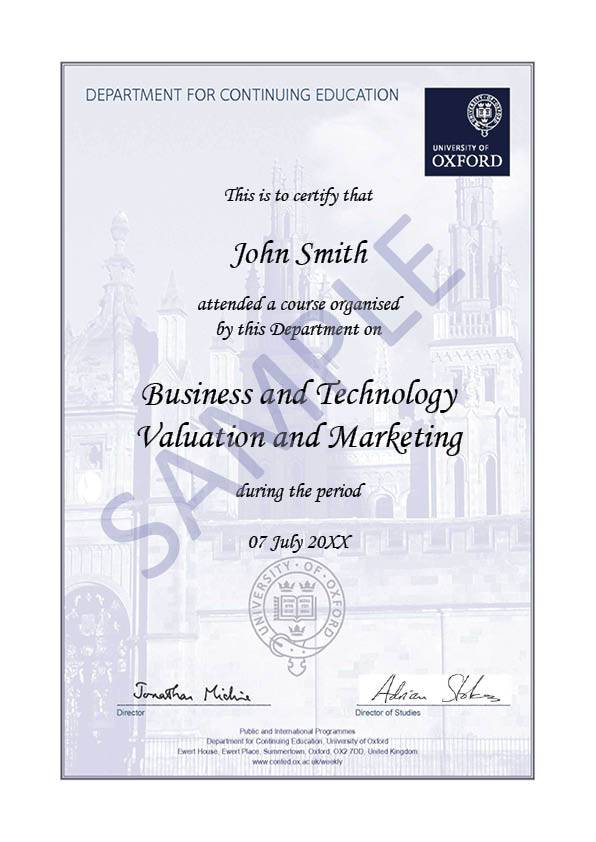 Participants who attend the full course will receive a Certificate of Attendance. The sample shown is an illustration only and the wording will reflect the course and dates attended.
Accommodation
Although not included in the course fee, accommodation may be available at our on-site Rewley House Residential Centre.
To enquire about a vacancy, about room charges or to make a booking, please contact the Residential Centre directly:
+44 (0)1856 270362
res-ctr@conted.ox.ac.uk
Fees
Standard course fee: £495.00

Payment
Fees include course materials, tuition, refreshments and lunches. The price does not include accommodation.
All courses are VAT exempt.
Register immediately online
Click the "book now" button on this webpage. Payment by credit or debit card is required.
Request an invoice
Send a completed application form to the course administrator by email or post. Please do not send card details via email.
Tutor
Oxford's Global Innovation Consultancy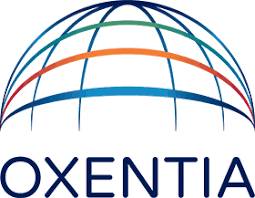 The Oxentia Team
Oxentia is the global innovation management and technology commercialisation consultancy that started its life as an operating division within the world-leading technology transfer company of the University of Oxford, Oxford University Innovation.
Oxentia is a key component of Oxford's thriving innovation ecosystem.
Since 2004, Oxentia has delivered innovation services to a worldwide customer base of public and private sector clients in over 80 countries.
Application
If you would like to discuss your application or any part of the application process before applying, please click Contact Us at the top of this page.
Level and demands
This course focuses on approaches to valuation and marketing of early stage technologies and is agnostic to technology and industry sector. As such, the intended audience includes academics and entrepreneurs who are considering, or have recently started commercialising their; inventions, technologies, or services. The course is not intended for professionals in the financial sector who focus on late stage valuation and investment.