Effective Online Course Design (Online)

Sign up for course news to hear about future course dates.
Overview
This eight-week, online course is designed to help you plan and design your own online course.
The course is practical, focussing on your own context and drawing upon the Department's experience of designing high quality online course delivery.
It is suited to teachers, academics, staff developers, designers of online learning materials and support staff new to, or considering a career in, learning technology.
Some previous experience of teaching and supporting learning would be beneficial, but is not essential.
The programme is tutor-led for six weeks, providing you with expert advice, support and guidance as you plan an online course.
Topics covered include:
Design models and approaches for planning your course
The range of technologies available to you for hosting your course
Designing for your online students
Designing engaging online activities
Online assessment
Evaluating your online course
Your own ongoing professional development
The study time of the course will be 35-56 hours to study the core content (5-8 hours per week for each of weeks 1-7) plus any additional time students spend reflecting on the course in week 7.
Learning by doing is a key concept of this course. You will:
have lots of opportunities to try out new skills and techniques and share your experience with other professionals from a range of contexts
give and receive feedback on work, so there is an emphasis on collaboration and learning together online
work on your own online course outline, planning engaging student activities and considering key issues such as appropriate assessment of your online students
Is this course right for you? See the video for more information.
Programme details
Week 1 Unit 0: Getting Started (self directed)
Week 2 Unit 1: Preliminary work (tutor led)
Week 3 Unit 2: Next steps in the design process (tutor led)
Week 4 Unit 3: Designing engaging online activities (tutor led)
Week 5 Unit 3: Designing engaging online activities cont'd…(tutor led)
Week 6 Unit 4: Assessment and feedback (tutor led)
Week 7 Unit 5: Refining your course: Consolidation and reflection (tutor led)
Week 8 Unit 5: Refining your course: Consolidation and reflection cont'd… (self directed)
The course remains open and the materials are available to you for four additional weeks after the end of the course.
Course delivery and numbers
This course is delivered entirely online and no attendance at Oxford University is required.
There is usually a maximum of 16 participants on this course.
IT Support
At the start of the course you will receive a personal password so you can access all the course materials and discussion forums and contact your tutor. An IT helpdesk is available online through the TALL (Technology-Assisted Lifelong Learning) unit at the University of Oxford.
Certification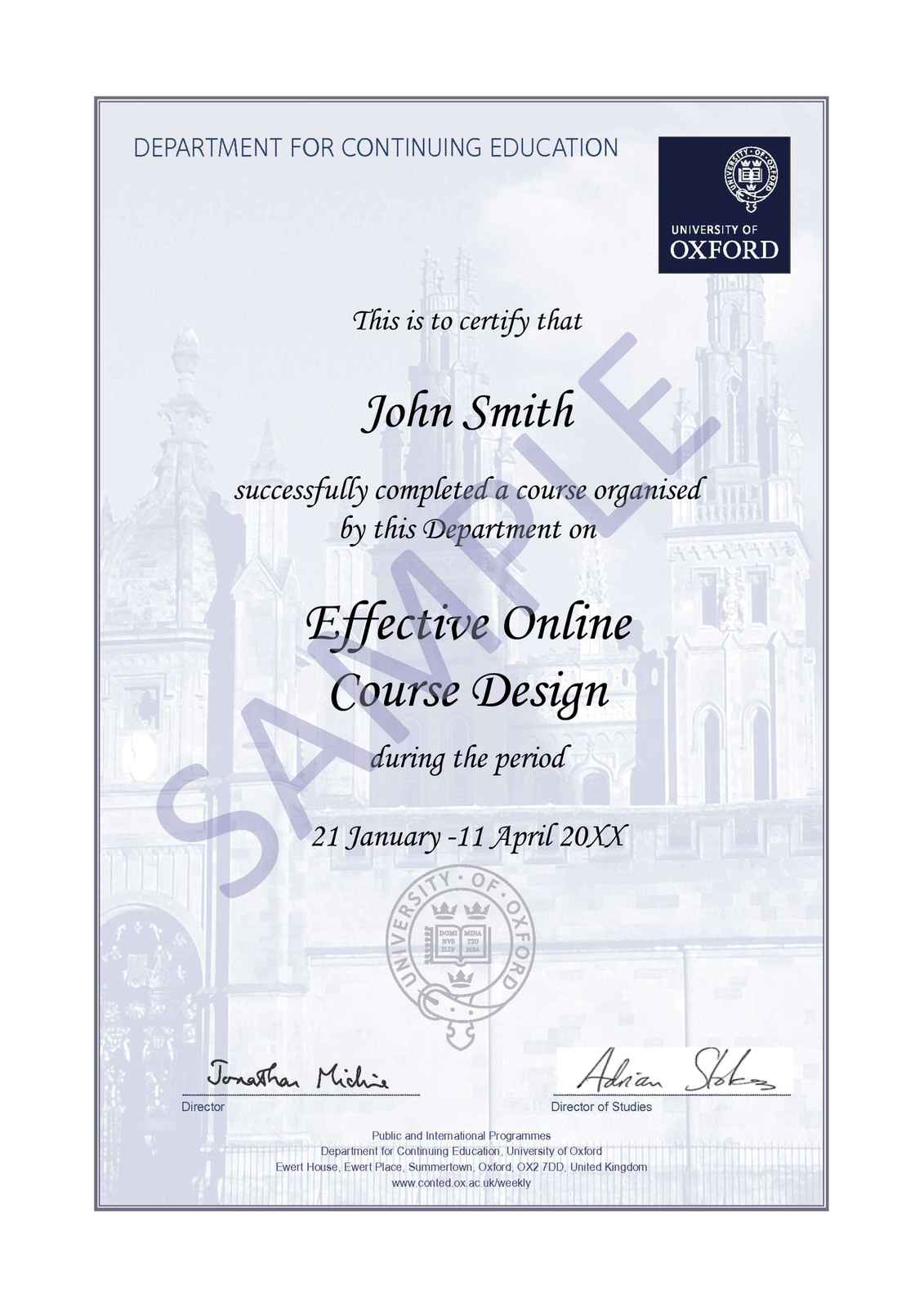 Participants who satisfy the course requirements will receive a University of Oxford certificate of completion. The sample is an illustration only, and the wording will reflect the course and dates attended.
In order to complete this course and receive a certificate of completion, you will need to:
Actively take part in the group activities and make at least one substantive posting to the majority of the discussion topics initiated by your tutor;
Provide constructive feedback on your peers' work when asked to do so;
Complete the two tutor-marked assignments;
Participate & share your work in at least one Unit 3 Adobe Connect tutorial
Participate in a minimum of two of the other online tutorials delivered during the course.

All the Department's Online Short Courses are developed by our Technology-Assisted Lifelong Learning (TALL) unit. To learn more, please see the TALL website.
There is no requirement for attendance at the University of Oxford at any stage of the course.
Fees
Early booking course fee (until 6 December 2019): £845.00
Standard course fee: £935.00

Payment
All courses are VAT exempt.
Register immediately online
Click the "book now" button on this webpage. Payment by credit or debit card is required.
Request an invoice
Send a completed application form to the course administrator by email or post. Please do not send card details via email.
Tutor
Course Tutor
Jeremy Benson is an independent e-learning consultant who works with a number of UK higher education institutions. He has worked in e-Learning since 2001, and has an MA in Online & Distance Education from the Open University. Prior to moving into consultancy Jeremy led the Academic Development and Learning Technology teams at the University of Cumbria in the UK. Jeremy is currently researching online approaches to transformative learning and mentoring.
Course aims
Learning Outcomes
By the end of the course you will have gained:
Knowledge of:
Approaches available to help plan an online course
Online course navigation principles
Understanding of:
Your students' needs
The planning process that includes addressing learning outcomes and aligning these with activities and assessment
Usability issues, including writing clear guidance and consistent navigation
Skills to:
Plan an effective online course
Design engaging, interactive online activities
Evaluate the effectiveness of an online course
Assessment methods
There will be no formal assessment for this course, but there are two tutor marked assignments. Each assignment is practical, focussing on your own context. Each assignment requires you to start planning your own online course. You will receive constructive tutor feedback on each assignment.
Assignments are due half way into Unit 3 and at the end of Unit 5.
Application
If you would like to discuss your application or any part of the application process before applying for this course, please click 'Contact Us' at the top right of this page.
Level and demands
Computing Skills
In order to participate in this course you must have basic IT skills and be confident using a computer for purposes such as word processing, preparing presentations, e-mail and searching the Internet.
This course involves using the synchronous online conferencing tool Adobe Connect Learning*. Such software is more technically demanding on the IT infrastructure than many other e-learning tools, so you should be prepared to spend some time at the start of the course getting your PC set up to use this software. For example, you might need to install a browser plug-in; install new hardware, such as a webcam; or adjust the settings on your PC. An IT Helpdesk is available to provide advice if you encounter any technical difficulties.
Please also note that as part of this course you will be required to prepare some slides and give a short online presentation.
Those with limited IT skills may find that some extra time is required for setup at the beginning of the course (IT support is provided free of charge as part of the course).
*You will not be required to purchase this software.
Computer specifications
This course is delivered online; to participate you will need regular access to the Internet and a computer meeting our recommended Minimum computer specification.
Computer specification queries
If you have queries about your computer facilities, please contact the TALL (Technology-Assisted Lifelong Learning) programme by email: tallithelp@conted.ox.ac.uk or telephone +44 (0)1865 280990.
If you intend to access the course on a public computer, such as in a public library or internet café, we recommend that you contact TALL before applying.
We use a learning management system called Moodle to host the course including:
The introduction and learning outcomes: Each unit starts with a summary of the topics to be covered and includes a list of learning outcomes for the unit.
The topics and content with a range of activities (some individual and some group) to explore the topic in more detail and start planning your own online course.
The course study: The course discussion forums are open 24 hours per day during the course so you can access these and the course materials anytime. Much of your learning will be done via discussion boards where you will share your work for feedback. You and the other participants will support each other to provide constructive feedback.
Summary and reflections: Each unit includes a summary providing an overview of the key points and includes a 'reflections' discussion forum to encourage you to reflect on your experiences and what you have learnt so far.
Further reading: Most units conclude with a list of further reading for those who have time for additional study.
We use Adobe Connect Learning for synchronous tutorials (which enables the simultaneous delivery of voice, video and presentation documents to imitate a traditional tutorial environment).
The only fixed times during the course are the online synchronous tutorials using the Adobe Connect Learning software where you will see and hear the course tutor and other students via webcam. Note: these tutorials are at a time which tries to accommodate all the various time zones of the students on the course. The tutor will try to vary the times throughout the course but you may have late or early sessions depending on your time zone. Later in the course you will have the opportunity to set up and run your own tutorials with other students on the course using this software and this can be done at a time to suit you. Click here for more information about the timing of the synchronous tutorials.