Lean Six Sigma Leadership Yellow Belt

Sign up for course news to hear about future course dates.
Overview
This intensive one-day course has been developed to give a solid introduction to the fundamentals of Lean Six Sigma methodology.
The course will open the door to improving your business processes, smoothing your service delivery and increasing the effectiveness and efficiency of your organisation.
It provides a leadership introduction to the renowned Lean Six Sigma methodology. Historically, this method has provided huge benefits to manufacturing organisations in terms of improved quality, shorter delivery times and reduced cost.
More recently it has been adopted with huge success in banks, health organisations, financial services and government departments.
The course will be of interest to you if:
You have an interest in improving the effectiveness and efficiency in your organisation
You want to reduce delivery times and increase the quality of services and products
You are a leader in an organisation considering implementing a business improvement activity
You are considering becoming a practitioner in Lean Six Sigma and want to fast-track your route into this exciting area
This first, one-day Lean Six Sigma Yellow Belt course assumes no pre-requisites or knowledge of Lean Six Sigma or other business process improvement methodologies.
This course is aimed at leaders and future practitioners who may have little or no experience of business improvement methodologies.
At the end of the day, you will be able to answer the following questions:
What is LSS?
Is LSS right for me and my organisation?
What is involved in becoming a LSS practitioner?
What is involved in introducing LSS into an organisation?
This course is presented from a practical standpoint by experienced practitioners working in the field. The course does not require any specialist prior knowledge and is presented in a 'jargon busting' manner. The course is designed to get you up to speed quickly and efficiently.
Read more about this course here on The Process Improvement Blog.
This course can be taken separately or as part of a weekly discount fee package.
Programme details
The end result: What will people know at the end of the day?
Why should you be interested? (Benefits)
What is 'Lean'? What is 'Six Sigma'? And how do they work together?
LSS as a 'scientific method'
LSS as a human, practical, team-working method
Key ideas of LSS
Improvement projects – practice, management and governance
Awareness of main-tools of LSS
LSS training and certification
Deploying LSS into an organisation
Reminder of key benefits
References
Further resources
Certification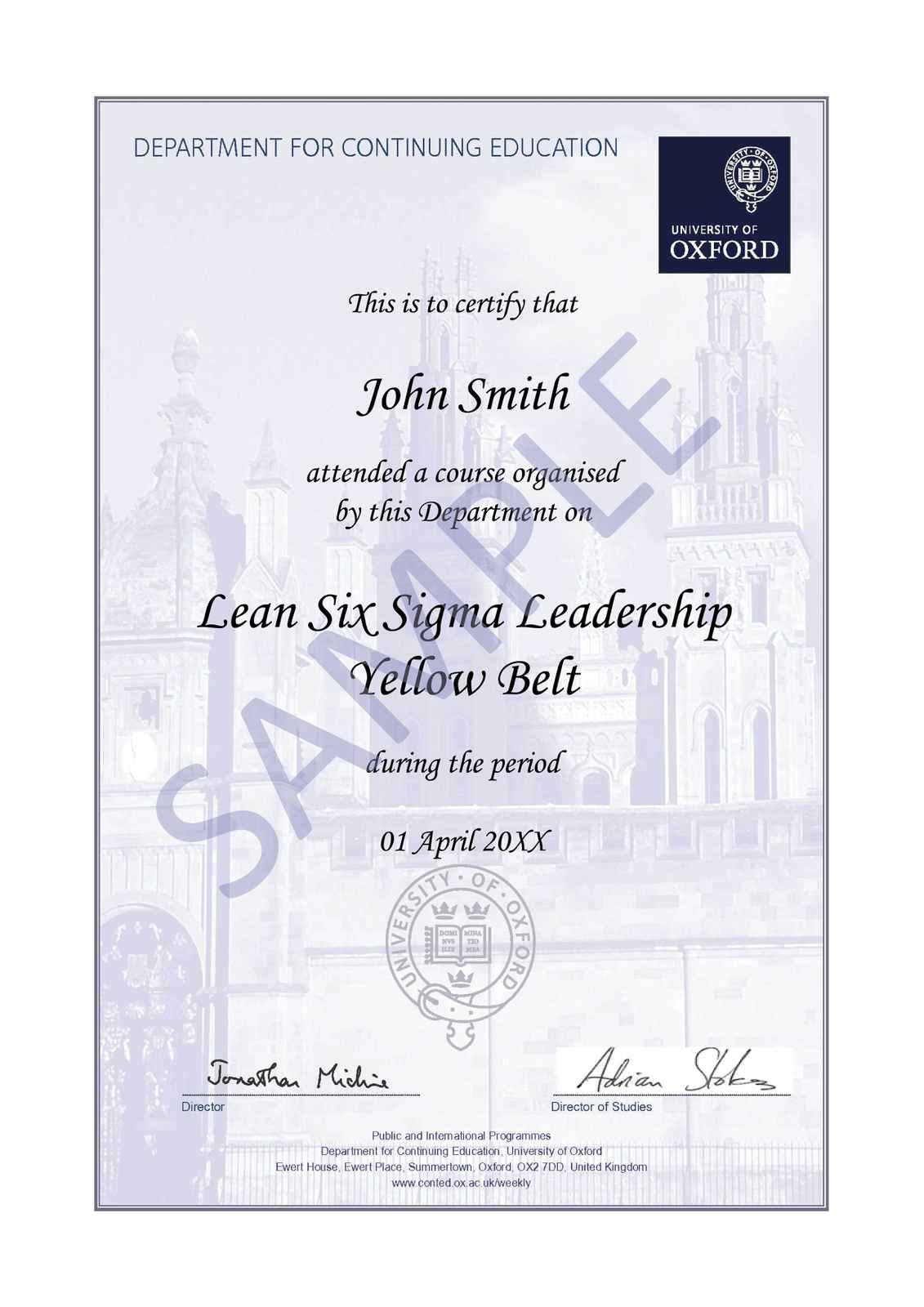 Participants who attend the full course will receive a Certificate of Attendance. The sample shown is an illustration only and the wording will reflect the course and dates attended.
Accommodation
Although not included in the course fee, accommodation may be available at our on-site Rewley House Residential Centre. All bedrooms are en suite and decorated to a high standard, and come with tea- and coffee-making facilities, free Wi-Fi access and Freeview TV. Guests can take advantage of the excellent dining facilities and common room bar, where they may relax and network with others on the programme.
To check prices, availability and to book rooms please visit the Rewley House Residential Centre website.
Fees
Standard course fee: £470.00

Payment
Fees include course materials, tuition, refreshments and lunches. The price does not include accommodation.
All courses are VAT exempt.
Register immediately online
Click the "book now" button on this webpage. Payment by credit or debit card is required.
Request an invoice
Send a completed application form to the course administrator by email or post. Please do not send card details via email.
Tutor
Speaker

Visiting Fellow
Department of Computer Science, University of Oxford
Dr Rob Collins is a visiting fellow of Kellogg College Oxford and regularly teaches courses at the University – both through Continuing Professional Development and through the Computing Laboratory.
As well as his academic teaching work Dr Collins regularly provides consultancy to industry in the area of Business Process Excellence and Systems Engineering. He gained his Black Belt Certification in Lean Six Sigma from Lockheed Martin – the world's largest Systems Engineering company and a world-leader in advanced technology.
As well as his undergraduate degree in Physics and Computing, Dr Collins holds a PhD completed within a Psychology Department. Dr Collins' PhD focussed on training, psychology and processes for introducing complex technology into learning environments. Dr Collins' completed an MBA in 2012 at Henley Business School. He thus has a strategic business view as well as deep understanding and practical experience of hands-on process improvement in technology and service.
Application
If you would like to discuss your application or any part of the application process before applying, please click Contact Us at the top of this page.
Level and demands
The intended audience for this course includes:
Managers and leaders of organisations who may be considering the introduction of Lean Six Sigma practices and what a good overview before committing further resources
Future practitioners of Lean Six Sigma. These people will come from a variety of backgrounds but are likely to currently be project managers, business analysts, staff involved in service re-design in the NHS and functional managers within organisations
Business consultants who want to extend their work into the area of Lean Six Sigma
Senior staff who are new to organisations employing Lean Six Sigma and who need to 'get up to speed' quickly and efficiently