Project Risk Management

Overview
Manage the risks associated with projects so they are delivered on time, on cost and whilst meeting their requirements.
Learn how your business can avoid obstacles, show-stoppers and major disasters!
Risk management is a well-recognised set of tools and methods that enables you to systematically identify project risks and then to respond appropriately. Responding to risks may mean reducing the chances that a specific risk will turn into an Issue that would hurt your project. It may mean putting recovery plans in place so that you can deal with outcomes effectively when risks do turn into real problems.
A planned and controlled approach to project risk is an essential tool for modern programme and project management. The methods of project risk management are a hugely important capability both for individual project managers and also the organisations within which they work.
Developing skills, knowledge and organisational processes in this area is likely to have a significant return on investment (ROI) for any organisation that runs projects either internally or for their customers.
This course can be taken separately or as part of a weekly discount fee package.
Programme details
This course presents industry best-practice in a clear and understandable manner. You will leave the course with the knowledge and understanding to enable you to manage risk on your project. The course draws on the PRAM guide developed by the Association of Project Management and on practical project experience from real projects.
The course includes:
An overview of project risk management – why it matters and how it works.
Planning for risk management
Identification of risks in resources, scope and schedule
Taking advantage of opportunities – the positive side of chance events
Information gathering for Risk
How to assess, quantify and prioritise risks
Strategies to respond to risk – reduction, mitigation and avoidance
Managing and communicating risk Information
The human face of risk – why do people and projects get it wrong?
Intended Audience
Project risk management is employed by small businesses and large, in both the private and public sectors. This course is relevant for both new and experienced project managers who need to update their skills in project risk management. Additionally this course will be of interest to organisational leaders and customers of larger projects who want to understand how their organisations can effectively manage project risks.
Certification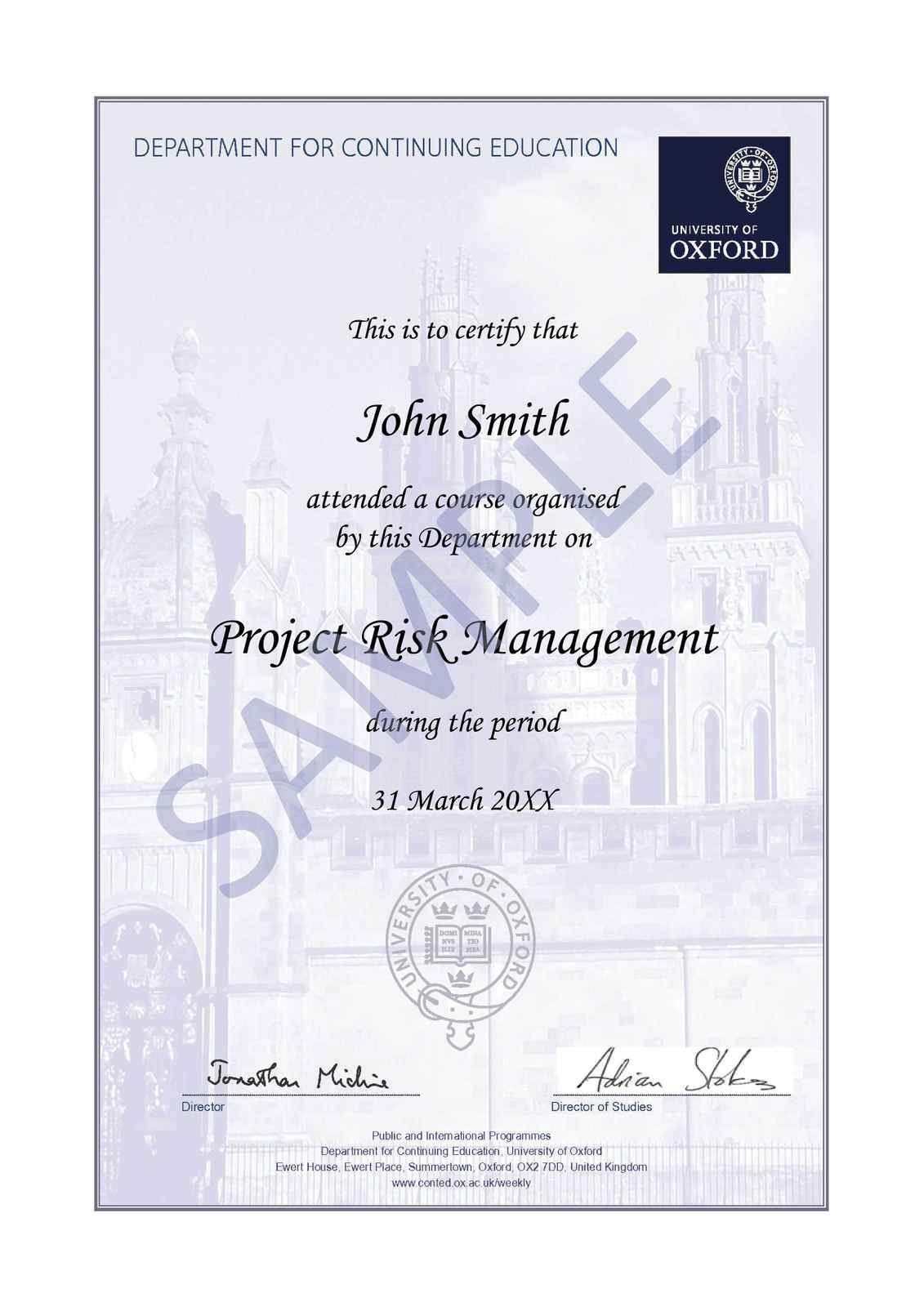 Participants who attend the full course will receive a Certificate of Attendance. The sample shown is an illustration only and the wording will reflect the course and dates attended.
Accommodation
Accommodation is available at the Rewley House Residential Centre, within the Department for Continuing Education, in central Oxford. The comfortable, en-suite, study-bedrooms come with tea- and coffee-making facilities, free Wi-Fi access and Freeview TV. Guests can take advantage of the excellent dining facilities and common room bar, where they may relax and network with others on the programme.
Fees
Standard course fee: £425.00

Payment
Pay immediately online by credit or debit card
Click the "book now" button on this webpage to pay online with a credit or debit card
Pay later with your preferred payment method
Send a completed application form to the course administrator by e-mail or post, and choose:
Request an invoice
BACS payment
Credit or debit card payment. Please do not send card details via email
Fees include course materials, tuition, refreshments and lunches. The price does not include accommodation.
All courses are VAT exempt.
Discounts
This course can be taken separately or as part of a weekly discount fee package.
Tutor
Speaker

Visiting Fellow
Department of Computer Science, University of Oxford
Dr Rob Collins is a visiting fellow of Kellogg College Oxford and regularly teaches courses at the University – both through Continuing Professional Development and through the Computing Laboratory. As well as his academic teaching work Dr Collins regularly provides consultancy to industry in the area of Business Process Excellence and Systems Engineering. He gained his Black Belt Certification in Lean Six Sigma from Lockheed Martin – the world's largest Systems Engineering company and a world-leader in advanced technology.
As well as his undergraduate degree in Physics and Computing, Dr Collins holds a PhD completed within a Psychology Department. Dr Collins' PhD focussed on training, psychology and processes for introducing complex technology into learning environments. Dr Collins' completed an MBA in 2012 at Henley Business School. He thus has a strategic business view as well as deep understanding and practical experience of hands-on process improvement in technology and service.
Teaching methods
This course is rich in content – but presented in a friendly and relaxed style. As well as explaining the methods and tools in this area there will be plenty of time for discussion and question asking. The course includes practical activities to help you think about risks on your project to enable you to leave the course 'ready to run' with managing your own project risks.
Application
If you would like to discuss your application or any part of the application process before applying, please contact:
Course Administrator
Tel: +44 (0)1865 286958
Email: business@conted.ox.ac.uk
Level and demands
If you're uncertain whether this course is suitable for your requirements, please email us with any questions you may have.