Alice Jolly wins 2014 V.S.Pritchett Prize

Alice Jolly, a tutor on our Master's in Creative Writing, has won the £1,000 Royal Society of Literature V.S. Pritchett Memorial Prize 2014 with her short story 'Ray the Rottweiler'.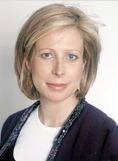 Judges Dame Margaret Drabble, Tibor Fischer and Helen Oyeyemi selected the winning short story. The prize, now in its fourteenth year, is awarded for the year's best unpublished short story.
Alice's story, Ray the Rottweiler, was praised by Margaret Drabble as a 'haunting but wholly convincing story about people on the margins of society, coping as best they can with difficult lives. It is authentic, offbeat and touching, with a strongly individual narrative voice. 'Tibor Fischer thought it 'a poignant tale', and Helen Oyeyemi felt the story was 'engaging, affecting, speaking vividly of the unexpected sympathies that emerge between people.'
Jolly, on winning, said: 'I am honoured to have been awarded this prestigious prize and I would like to thank the RSL and V.S. Pritchett's family for creating this opportunity for writers. This prize comes at an important moment as I am crowd funding for my memoir Dead Babies and Seaside Towns which will be published by Unbound in 2015. In my rural childhood there were many odd and difficult people like Ray who lived at the end of long country lanes. I suppose my question is - now that traditional rural life has all but evaporated, what place can there be for people like him?'
Alice is also publishing a memoir called Dead Babies and Seaside Towns about her experiences of stillbirth and surrogacy. The memoir will be published by new independent publishing company Unbound and Alice has already raised 75% of the funds she needs for the book. If you would like to subscribe the details are here: unbound.co.uk/books/dead-babies-and-seaside-towns
The V.S. Pritchett Memorial Prize was founded by the Royal Society of Literature at the beginning of the new millennium to commemorate the centenary of an author widely regarded as the finest English short story writer of the 20th century, and to preserve a tradition encompassing Pritchett's mastery of narrative.
In addition to her £1,000 prize, Alice also appeared at an RSL event with author A.L. Kennedy on Tuesday 11 November. The winning story will appear in the RSL Review and will be published in Prospect Magazine.
For more about the Royal Society of Literature and the V.S. Pritchett Memorial Prize, please see: rslit.org/v-s-pritchett
For more about Alice Jolly, please see: www.alicejolly.com, and to read about her upcoming memoir Dead Babies and Seaside Towns, which is being published through crowd-sourcing, please see unbound.co.uk/books/dead-babies-and-seaside-towns
Our Master's in Creative Writing programme is structured as a clustered learning format of five residences, two guided retreats and one placement over two years, and it attracts students from around the world. For more information, please see: www.conted.ox.ac.uk/mstcw
Published 17 November 2014