Celebrating Open Education Week

This week (5-10 March 2012) is Open Education Week - a global event which seeks to raise awareness worldwide about the benefits of free and open sharing in education, especially Open Educational Resources (OER). OER are high-quality, free and openly licensed educational materials that offer opportunities for people anywhere in the world to learn, share, use and reuse.
To help you immerse yourself in the week's festivities, we are highlighting some of the open education initiatives of the Department, the University and others, with links for you to follow and learn more.
What is 'Open Education'?
Open education is all about reducing barriers and increasing access to learning, through the sharing of free and open resources. These can be anything that helps learning - open access textbooks, videos, podcasts and course materials - to research and assessment tools. In a nutshell, open education aims to widen access to learning opportunities to everyone.
Explore Open Education

Two of the most well-known initiatives in open education are the Massachusetts Institute of Technology's MIT OpenCourseWare (OCW) project and the UK Open University's OpenLearn project, both of which make hundreds of course resources freely available.
The University of Oxford has also been a leader in this area, launching its podcasts site on iTunes U in 2008 to make freely available public lectures, teaching materials, interviews with leading academics, information about applying to the University and more.
What we've been doing in the Department
The Department for Continuing Education was one of the first departments to contribute to Oxford's iTunes U site and Marianne Talbot, the Department's Director of Studies in Philosophy, has had her lectures downloaded more than three million times with two of her podcasts - 'A Romp Through the History of Philosophy', and 'The Nature of Arguments' - being global number one on iTunes U. You can listen to Marianne's lectures and other podcasts from the Department's podcasts site.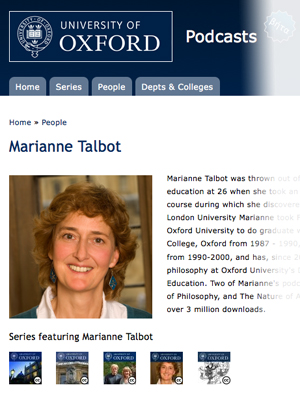 As well as contributing to the University's open education initiatives, the Department has undertaken research into the use of open educational resources by tutors and students and, where possible, releases the outputs of its teaching and learning projects as OER.
One example is the Course Design Moodle, which highlights examples from some of the Department's online courses and aims to help teachers worldwide to develop their own high-quality online learning resources.
The Department is also embedding open practices across its work and has just started an exciting new project to create OER as part of the Weekly Classes programme. So far, the project has made available more than 150 online resources from 11 weekly classes and will be openly licensing these resources in the future. For a preview of the sort of material we hope to release see: open.conted.ox.ac.uk/.
We hope this small selection of open resources has inspired you to explore further. With Open Education Week taking place online this week, what better opportunity to discover more.
Visit the Open Education Week website for a number of introductory documents and videos about OER or attend one of the many free online events and webinars that are taking place this week. Enjoy!