Continuing Education is Sustainable

The Department is pleased to announce a 35% decrease in CO2 emissions over the past two years, along with a 69.7% reduction in the amount of heating gas we consume. And the good work continues.

A room-by-room energy conservation survey of Rewley House, carried out by the University's Estates Directorate in 2010, resulted in the replacement of an obsolete heating system with a new, energy efficient one. Refurbishment of many of our windows has taken place before the onset of cold weather.
Recycling
The Department recycles all the usual items (paper products, glass, toner cartridges), plus a more unusual item: postage stamps.
Postage stamps are collected on behalf of the Royal National Institute of Blind People (RNIB) who sell them on to dealers or collectors. (Read more at: http://www.rnib.org.uk/getinvolved/fundraising/recycle/Pages/used_stamps.aspx.)
The Department's used but still viable computers are donated to schools in Oxfordshire and the Midlands. Equipment which can't be reused or repurposed is recycled in accordance with Waste Electrical and Electronic Equipment (WEEE) Regulations.
From the garden
This year, Rewley House menus will feature quince from our own tree in the Rewley House garden. Head Chef John Wilmot and his staff picked the fruit this autumn and prepared it as jam and chutney, to be served with entrees in the Rewley House dining room.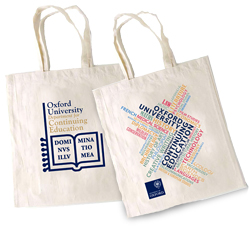 Pedal power
The University has a Green Transport Initiative under which staff may purchase bicycles via salary deduction. To encourage use of this scheme the Department schedules bike maintenance days, in which staff members' bikes are repaired on site at reduced rates.
Bags for life
Over the summer we created our own Fairtrade cotton 'bags for life', in two designs. These are now on sale at Rewley House reception, and are also available online at the Oxford University Shop: www.oushop.com/conted.
Sustainable operations help us to reduce costs and improve our service levels; we look forward to further green efforts in the year ahead!
Published 2 November 2011