Lifelong learning continues to be one of the core skills required by companies globally


Over the next five years, lifelong learning will continue to be a core skill for the future workforce
The World Economic Forum (WEF) has just released its fourth 'Future of Jobs Report'. The 2023 report is based on a survey of 803 companies, collectively employing 11.3 million workers, across 27 industry clusters and 45 economies represented in all world regions.
Survey findings indicated that analytical thinking and creative thinking remain the most important skills for workers in 2023. However, three self-efficacy skills, based on belief and confidence in abilities, are the second most important set of skills required of employees and are growing in importance most quickly. These cover curiosity and lifelong learning; resilience, flexibility and agility; motivation and self-awareness. This reflects the importance of today's workforce being able to adapt to disrupted workplaces.
Saadia Zahidi, WEF Managing Director, said: 'We hope the outlook provided in this report will contribute to an ambitious multi-stakeholder agenda to better prepare workers, businesses, governments, educators and civil society for the disruptions and opportunities to come, and empower them to navigate these social, environmental and technological transitions.'
The evolving skills landscape 2023 – 2027
Showing the probability of an organization surveyed evaluating a skill to be a core skill for its workers in 2023 versus the probability of the skill appearing in its reskilling and upskilling initiative in the next five years. Lifelong learning appears fourth most important.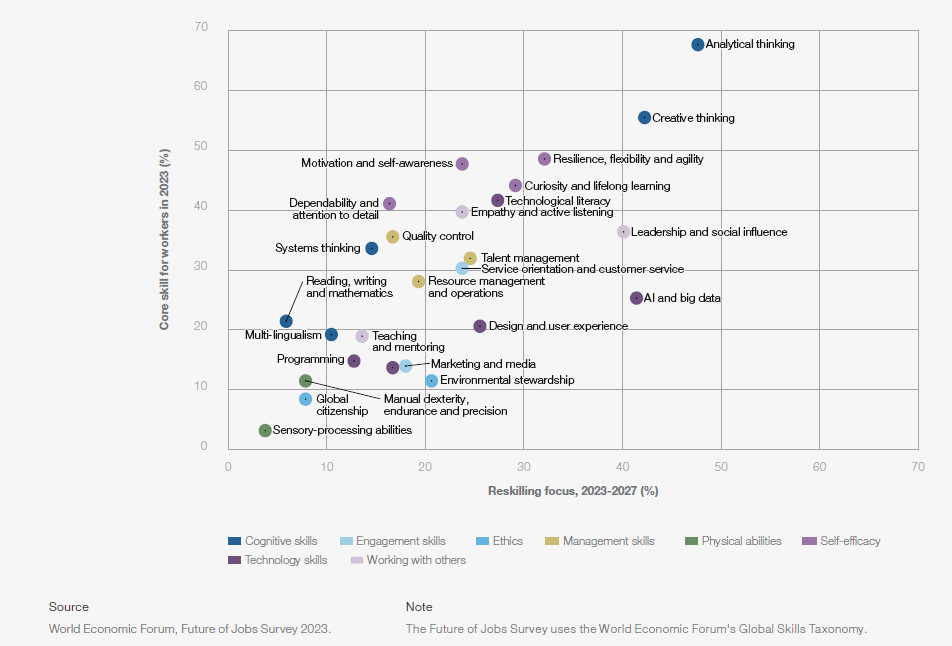 The Lifelong Loan Entitlement (LLE), part of the UK Government's reforms to post-18 education and training, will, from 2025, offer students a loan equivalent to four years' worth of tuition fees (currently £37,000), which can be used flexibly over their working lives. This can be used to pay for short courses, modules or full courses at colleges or universities.
Professor Matthew Weait, Director of the Department, said: 'The Lifelong Loan Entitlement will enable people to train, retrain and upskill in response to changes in labour markets and the needs of companies in a globally disrupted business environment. The findings in the WEF report emphasise the imperative to keep skills updated and it is encouraging to see that companies globally continue to recognise this in order to achieve their own strategic goals.'
The Department hopes that the LLE encourages people from as diverse a range of cultural and socio-economic backgrounds as possible to take up the opportunity to gain new skills and knowledge, so enhancing the opportunities open to them.
Continuing Education at Oxford University
The Department for Continuing Education has one of the world's oldest and largest communities of part-time learners worldwide. Whether for personal interest, academic progression or professional development, learners can create solutions, innovate and gain new perspectives within a diverse, vibrant community of learners who are passionate about education and its potential to change the world for the better.
Embedded in an 800-year-old world-class university, the Department has provided courses, events and programmes developed from the University's rich and unique resources for nearly 150 years. Learners share knowledge at a global and local level, transforming individuals, organisations, business practice, and society.
Useful links