Long Wittenham: 2000 Years of Stories Unearthed


'The lives and experiences of everyone who lived in the past'. That is what archaeology reveals, says Tutor in Archaeology and Research Associate Dr Jane Harrison.
Dr Harrison has excavated all over England and Scotland as part of her research into Viking and medieval archaeology, but finds her local stamping ground of Oxfordshire one of the most rewarding places to dig - and a recent excavation she led with Continuing Education students and local volunteers threw up artefacts which have a lot to tell us about the people who lived here more than 2000 years ago.
Back to the Iron Age
Oxfordshire was a popular, thriving area during the Iron Age, the period from roughly 800BC to 43AD, when the Romans arrived. We know 'a good deal', says Dr Harrison, about the Oxfordshire Iron Age - in particular there were significant hillforts on Wittenham Clumps and White Horse Hill, and farms every couple of kilometres along the Thames – but she's keen to discover more.
So, this September, Dr Harrison led students from the Undergraduate Certificate and Diploma in Archaeology, and the Certificate of Higher Education, on a dig at an Iron Age roundhouse at the important site of Long Wittenham, an area of land with a rich Iron Age, Roman and Anglo-Saxon history, and now owned by the Sylva Foundation.
A roundhouse was a circular wooden, wattle and daub-built house, often with an inner circle of posts to help support a roof of thatch or reeds. The houses were surrounded by narrow ditches which drained water dripping off the roof - and it's these ditches and any construction post-holes or pits which survive, along with the objects left there.
Dr Harrison knew where to excavate, having seen cropmarks on an aerial photograph. 'Cropmarks happen when crops grow over buried ditches - they grow better and ripen later there and so the ditches are revealed as a darker mark in an otherwise ripe crop,' she explains. With the help of geophysics techniques like soil x–rays and specialist GPS, the team knew exactly where to dig to explore the roundhouse, which had remained untouched for so long.
After using a digger to remove the top 20 or so centimetres of soil where no archaeology survived, it was time to dig by hand and with small trowels – 'tough going, bent over and on your knees,' Dr Harrison acknowledges. With all hands on deck, 'only the passing dogs keen to help dig were not welcome.'
The effort was rewarded with excellent finds - large amounts of Iron Age pottery, animal bone and metal artefacts lay in the ditch surrounding the roundhouse. 'The pottery was concentrated in the ends of the ditch at the entrance – some came from near-complete pots – and had been piled up there before the ditch was filled in. In the Iron Age, part of the routine of leaving a house seems to have been to close the ditch, but not before things – as offerings perhaps – had been placed in it,' says Dr Harrison.
Unfortunately, later ploughing had removed the interior floors of the roundhouse, but the diggers were able to investigate some of the pits and postholes which, like the ditch, survived at least in part. 'One of the postholes that had held central roof supports for the house had also been ceremonially closed after a large post had been taken out – presumably for re-use elsewhere,' says Dr Harrison. 'In this case, the empty post-hole had been packed with animal bones. Another pit may have been used for rubbish-clearance, but as well as charcoal, bone and pottery, it also contained copper objects and material that suggested the inhabitants may have been working metal nearby, if not in the house.'
A day in the life of the roundhouse resident
When this house was lived in, people would also have been weaving, spinning, and doing other domestic work and crafts such as wood-working around the central hearth, used for heat, light and cooking. There would have been areas for sleeping and eating, too, and, says Dr Harrison, 'much use would have been made of hides and furs for beds and seats.'
She and colleagues are still scientifically analysing the finds which bring us a little closer to 'what the roundhouse people in the shadow of the hillfort were eating, the animals they were keeping and the objects they were making and using'.
The pottery will tell us about trade links, and also about the sorts of vessels people needed for the things they were carrying and the food and drink they favoured. And the animal bones will tell us which animals people were keeping and eating – as well as which wild animals like deer and wildfowl lived in the area.
What interests Dr Harrison particularly is how the artefacts point at still-mysterious Iron Age ceremonies for closing up a house. Also, 'finding copper objects in a pit linked to a roundhouse is more unusual and suggests this was maybe a more important house,' adds Dr Harrison. 'We can't tell what the objects are yet, as they are so corroded and patinated.'
To find things no one has seen or touched for millennia is a joy. 'I haven't lost the thrill after many years of digging,' says Dr Harrison – 'and it's a great pleasure to help students make their first finds, and witness local people digging up things that the people who lived on the land before them handled all those centuries ago.'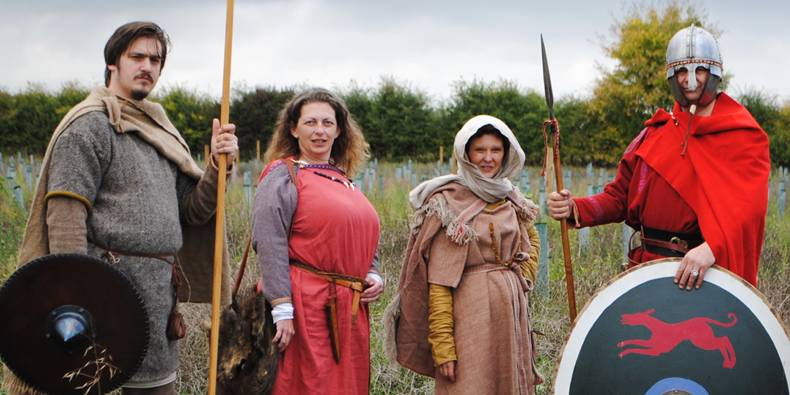 Published 30 January 2018