MSc student awarded NAIOP 2015 Developing Leaders Award

NAIOP, the Commercial Real Estate Development Association, has recognised MSc in Sustainable Urban Development student Jonathan Lachance with its 2015 Developing Leaders Award.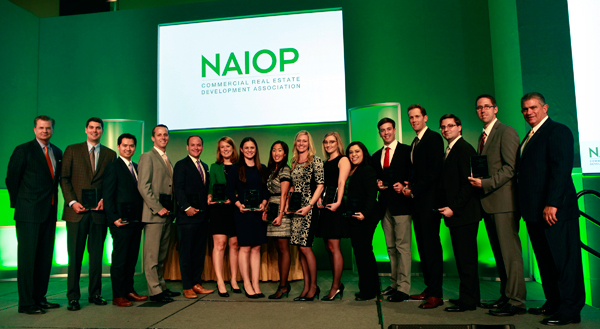 Jonathan (pictured above, third from right), is general manager at Equim Group Inc., and has been selected along with 14 others to receive NAIOP's prestigious award. This annual award honours up-and-coming professionals under the age of 35 for their exemplary professional accomplishments, strong leadership and community involvement.
'We are proud to recognize these forward-thinking individuals for their exceptional achievements and leadership in NAIOP, their communities and the industry,' said Thomas J. Bisacquino, president and CEO of NAIOP. 'Each award winner brings diverse strengths and passion to commercial real estate, and their drive and innovative approaches to emerging trends and economic opportunities will position the industry for success both now and in the future.'
Jonathan has now completed his MSc and is expected to graduate from Kellogg College in 2016.
The MSc in Sustainable Urban Development is taught part-time across eight intensive teaching weeks to enable professionals to continue to work while they study. The course attracts individuals from a wide range of backgrounds including real estate, urban design and architecture.
For further information on the Master's in Sustainable Urban Development, please visit www.conted.ox.ac.uk/msud.
Published 1 February 2016