New Writing, Hilary Term 2017

Facing the Strange by SB Sweeney
Facing the Strange is an unconventional boy meets girl story, set mainly in 1992 and told from multiple points of view. A rock musician on the brink, his drunken father and the grieving widow of a murder victim. It's a tale of three lives in free-fall at the end of the analogue age – the lives of three characters that hold the key to one another's redemption.
Come to the launch party for Facing the Strange on Thursday 16th March. Drinks, music and video readings from 7pm, at Blackwell's, Broad Street, Oxford. All are welcome to attend – RSVP frank@streetbooks.co.uk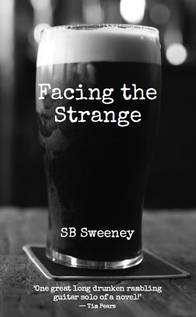 Author SB Sweeney, who is both alumnus of our Diploma in Creative Writing and staff member of the Department, knows his subject. He left school at sixteen, wound up in London and lied about his age to get a bar job – at Tim Martin's first two pubs in Muswell Hill and Crouch End. The rest of the eighties were spent squatting and couch dwelling across Hackney, playing in pub bands, going to demos and festivals, criss-crossing the country by thumbing it.
'The book began as an homage to two post-war subcultures – the hard drinking, jazz club culture of the 50s/60s and the sex, drugs and squat rock scene of the 70s/80s,' said Sweeney. 'Its intention is to spin and shove the reader through an intoxicated world – with the use of flashbacks, dream sequences and fragmented scenes.'
Published by Streetbooks, Facing the Strange is Sweeney's first novel. It is one of three themed novels documenting the last days of twentieth century UK counter culture and the triumph of a media-addicted consumer consensus.
Deb Googe (My Bloody Valentine and The Thurston Moore Group) said, 'SB Sweeney writes with a clarity and wit that brings to life the less glossy side of the eighties: a world of squats, bedroom bands and cheap drugs, where a CV most likely meant a pint of cider and Vimto. The intriguing and intertwining tales make an addictive read.'
And author Tim Pears endorsed it as 'One great long drunken rambling guitar solo of a novel!'
The Occupant, by Jane Draycott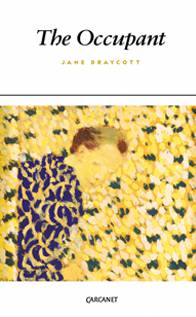 In galleries and living rooms, on trains and trams and buses, mysterious scenes are briefly illuminated, their occupants caught in 'some small act' or dream. The Occupant, published by Carcanet, is the fourth poetry collection by Jane Draycott, tutor on the MSt in Creative Writing. It is a Poetry Book Society Recommendation.
'I watch you sweat,
I watch you sleep. Some far and submarine light
keeps you swimming. In the blueberry bloom
lungs loosen, the pulse is in retreat,
speech is unlearned and falls in spools
of oil-shine tape along the mineshaft floor.'
In the National Gallery a gardener steals part of a still-life canvas to replant in his own garden; on a winter train a commuter invokes their braver, doppelganger self as a fire-fighter; in an abandoned sanatorium the grand piano dreams of former days and waits for a returning patient.
At the heart of these imagined scenes the long title poem 'The Occupant' draws on settings proposed but left unwritten by Dutch poet Martinus Nijhoff in his great 1934 modernist narrative 'Awater'. (See and hear Jane's exploration of this work on the Poetry Society website.)
Further congratulations are due to Jane: her poem Uses of the Thames was one of the Poems on the Underground, and her poem 'Italy to Lord' (from The Occupant) was a Guardian Poem of the Week in January.
My Bermuda Books by Richard Leigh Harris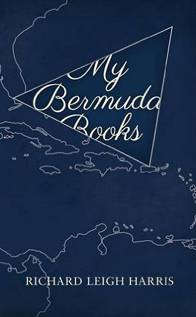 Longtime music tutor Richard Leigh Harris's new book is described thus:
'Humorous, controversial, passionate, satirical and thoughtful, My Bermuda Books can be seen as an oblique continuation of Harris's memoir The Days of Our Vanity. Woven throughout this miscellany are autobiographical threads, plus his extended quasi Desert Island Discs style selection of not only musical choices, but of writers, artists, places and influences; in short, everything that has helped to form who he is.'
Richard's next 10-week course, The Great English Hymn Writers, begins 10 April 2017. Look for My Bermuda Books on Amazon.
God: a brief philosophical introduction by Karim Esmail
Religion and Theology tutor Karim Esmail offers 'a clear and original investigation of God's nature and existence', published by Vernon Press. Students of the Department are offered a discount of 12% of the price of the book, purchased online. Details on this flyer.
Says Karim of his book: 'It will be of interest to advanced students and specialists in Philosophy, Religious Studies and Theology. Given its explanation of key terms, its jargon-free language, its clarity and brevity, it will be of interest to others, too.'
Many will know Karim Esmail, who has taught at the Department for many years. His upcoming Trinity Term courses, all starting in April 2017, are Contemporary Society and Great Moral Issues, Great Modern Philosophers and Foundations of Islam and Islamic Philosophy.
End Notes:
Published 9 February 2017