Oxford Teaching Award for Archaeology

The Department's Archaeology team, Dr David Griffiths and Dr Alison MacDonald, have won a teaching award of £5,000 which will be used to modify and re-launch the Undergraduate Certificate in Archaeology in October 2016.
The aim of the teaching award is to provide the opportunity to look at new and innovative ways of teaching and enhancing knowledge exchange. Current Certificate tutor Jane Harrison will begin this work in October 2014.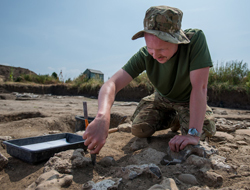 The Certificate in Archaeology is the Department's 'flagship' undergraduate entry-level award in Archaeology. Its current format is a two-year part-time course consisting of regular weekday evening teaching sessions, plus some weekend field visits and a summer training excavation week.
We now propose to move towards a more flexible, blended learning basis, with class meetings, practical sessions and fieldwork (including the training excavation week), supplemented by a considerably enhanced content of online-based work. Instead of studying separately, Year 1 and 2 cohorts will study together for several modular elements of the course across the two years.
We anticipate that students will welcome the new developments which will provide more opportunities for fieldwork and, by means of increased online provision, will make it possible for more students from further afield to attend.
For more information on the Certificate in Archaeology, please see: www.conted.ox.ac.uk/V400-60. To see the Department's course offerings in Archaeology, please see: www.conted.ox.ac.uk/archaeology