Trevor Rowley: 48 years at Rewley House


In a career that spans almost half a century at the Department for Continuing Education, archaeologist Trevor Rowley has taught, administered, excavated, travelled and written as part of his work. He has been a fixture in the world of archaeology, and at Rewley House, since the late 1960s.
Now in his forty-eighth year of teaching, Trevor has announced that two events in the coming 2017-18 academic year – a lecture series, The Landscapes of the Norman Conquest, and a February 2018 day school on Norman Oxford, will likely be the finishing touches to his career.
A second retirement?
Trevor officially retired from the Department in 2000 – but since then has taught on more than one hundred of our courses: weekly classes, award courses, day and weekend events and summer schools. In addition to teaching, he has written four books, and has a fifth book currently underway.
'In Michaelmas term 2017, I am giving a lecture series on 'The Landscapes of the Norman Conquest', which will bring together the two great loves of my academic life – landscape history and the Normans,' said Trevor. 'In many ways, I see this as the finishing touch to my career, although hopefully not the actual end.'
His most recent books include The English Landscape in the 20th Century, Hambledon (2006), Norman England, Shire Publications (2010), The Man Behind the Bayeux Tapestry, Tempus (2013) and An Archaeological Study of the Bayeux Tapestry, Pen and Sword (2016). His forthcoming book, on the landscapes of the Norman Conquest, will also be published by Pen and Sword.
Given how active he's been since his retirement, the Department is taking Trevor's announcement that he'll be winding down his teaching with a grain of salt – but also as an opportunity to celebrate his long career.
'A day school on 'Norman Oxford' (Saturday 17 February 2018) will provide an opportunity to focus on Trevor's contribution to Archaeology and the Department,' said long-time colleague Dr Alison MacDonald and Lecturer in Archaeology. 'Trevor is the Course Director and speakers will include Anne Dodd, Tom Hassall, Julian Munby, John McNeill and Dan Poore.'
The professional archaeologist
Trevor trained as a geographer at University College London, but as a postgraduate he moved into the study of landscape history under the tuition of WG Hoskins at Oxford. After leaving university he maintained his interest in landscape history, but also began to direct archaeological excavations starting with the investigation of the deserted medieval village of Abdon, in his home county of Shropshire. After moving back to Oxford he soon became deeply involved in the local archaeological scene.
In the 1970's he directed work along the line of the M40 prior to its construction, with extra mural students undertaking much of the research. The project demonstrated that roughly there were many previously unknown archaeological sites along the motorway route, roughly one every half mile.
He also ran a departmental training excavation at Middleton Stoney for many years, where trainee students worked on a medieval castle as well as unexpectedly uncovering a Roman farmstead. He later organised another training excavation at Cogges Manor Farm.
Trevor also undertook major rescue excavations within the walled Roman town of Dorchester on Thames. In 1994, together with his Rewley House colleague, Gary Lock, he conducted a rescue excavation in part of the pauper's cemetery.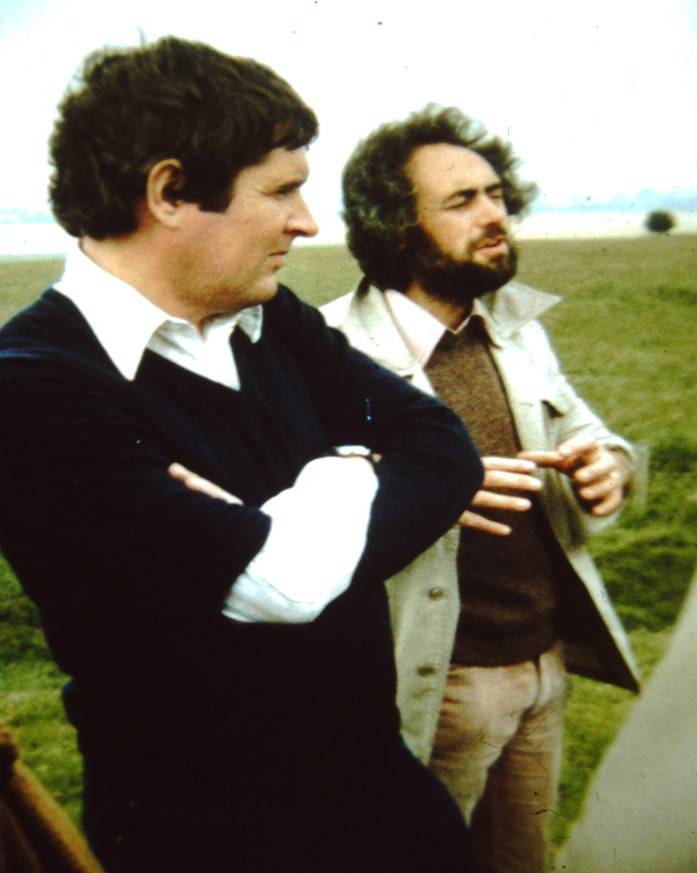 Although Trevor no longer directs major excavations he is helping to manage a community archaeology project in his home village of Appleton. The Appleton Area Archaeological Research Project (aaarp.co.uk) is directed by Jane Harrison from the department and is a long term investigation involving continuing education students as well as local residents,
Earlier Writing and Publishing
Trevor's other main area of research has been in deciphering the historic landscape, and he has written several books on the subject. The Shropshire Landscape (Hodder and Stoughton 1972), was followed by a book on landscape interpretation methods Landscape Archaeology (David and Charles) with his long-time colleague and later star of Channel Four's, Time Team, Mick Aston (pictured, right).
Interpreting historic villages was the subject of a later book, Villages in the Landscape (JM Dent 1978). Assessing the Norman impact on the British landscape was explored in The Norman Heritage (Routledge 1982).
While at Rewley House he wrote The High Middle Ages (Routledge 1986), The Landscape of the Welsh Marches (Michael Joseph 1986) and Norman England (Batsford 1997).
He has also edited and co-edited a number of Rewley House conference proceedings, including, The Origins of Open Field Agriculture, (Croom Helm 1981) and The Archaeology of the Oxford Region (with Jean Cook and Grace Briggs), published by the department in 1986.
Wearing many hats for Continuing Education
In addition to his teaching, Trevor Rowley played an active role in forming the Department we know today.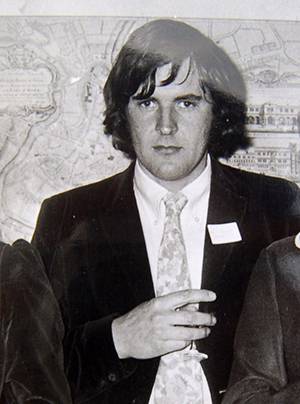 'I was first employed by the Delegacy for Extra-Mural Studies, as the Department was then called, as Staff Tutor in Archaeology and Local Studies in October 1969,' said Trevor. 'I served as Director of Public Programmes from 1990 -2000, and in the 1990s I was Acting Director of the Department and Acting President of Kellogg College on two occasions.'
In the Department's earlier days, most of the teaching was done on location in cities and towns across England. This arrangement was still in place when Trevor arrived.
'When I joined the extra-mural department in the late 1960s it was still operating very much as it had done in the 1930s. Oxford University had what was known as 'Responsible Body' status – meaning that it was mandated to oversee courses for, and receive grants in aid of, liberal adult education in Oxfordshire, Berkshire, Buckinghamshire, Kent and Sussex. With the Worker's Educational Association, we ran classes at various locations in those counties.'
At that time, only a few classes were offered at Rewley House, including our summer school of long standing, the Oxford University Summer School for Adults (OUSSA). OUSSA was established in 1888 and was held at various Oxford colleges until the acquisition of Rewley House in the late 1920s.
Bringing it home to Oxford
Trevor came to us with new ideas for teaching his subject. He also contributed to a larger effort to bring teaching back to Oxford, and to Rewley House becoming the base for Oxford adult learning that we know today.
'I had been working closely with the extra-mural department of Birmingham University, where there were 3 or 4 full time archaeologists. Birmingham organised archaeology teaching throughout the Midlands with day and weekend programmes, a wide range of weekly classes, summer schools, training excavations and publications. I tried to replicate this pattern at the Department.'
He introduced an in-service programme of training for professional archaeologists (supported by English Heritage), weekly classes held in Oxford, and study tours which visited exotic destinations including Sicily, Syria, Santiago de Compostela and many parts of France.
In his time as Director of Public Programmes he was involved with the negotiations which acquired Ewert House as a teaching centre for the Department, and with the creation of the Oxford Experience Summer School at Christ Church, which is now one of the Department's largest summer programmes. The profile of the Department was raised in the local community, and the public programmes newspaper, which today is delivered twice a year through every door in Oxfordshire, began in the 1990s on his watch.
Having spent a portion of his professional career being the archaeologist-on-site for major constructions and roadworks in the Oxford region, Trevor also took part in a very intriguing, very local archaeological excavation: the discovery of human remains at Rewley House in 1994.
More enduringly, Trevor helped to open new pathways for student progression.
'I was particularly proud of forging links with the Open University, which allowed the Department to offer transferable credit for some of its certificate courses, paving the way for the introduction of our part-time degree programmes at postgraduate level.
Looking back
Dr Alison MacDonald, Director of Studies for the Archaeology weekly class and day & weekend programmes, has worked with Trevor Rowley since she joined the Department in 1994.
'Trevor has had a phenomenal impact as an archaeologist, educator, researcher and instigator of new developments at the Department for Continuing Education,' she said, 'and he's a generous and warm-hearted colleague, always willing to share ideas and impart knowledge.'
Trevor himself reflects on his time at Rewley House with pleasure.
'I have been exceptionally lucky to be associated with Rewley House for almost half a century. I have found generous friendship and support from colleagues and students of a rare variety. To spend one's life doing what one loves is everyone's dream and I have been immensely fortunate in being able to realise that dream through Rewley House.'
For more information: