Weekly class yields unexpected result

Professor Gary Lock got a bonus when he ran a 2010 weekly class in archaeology, and one of his students announced that he and his wife had a hillfort on their land in North Wales.
The weekly class was Understanding Iron Age Hillforts, a general introduction to the Iron Age hillforts, their characteristics and possible uses, with field trips to local sites on and around the Ridgeway. The surprise came when one of the students revelaed that he and his wife had a hillfort on their land.
Upon investigation the site turned out to be very close to an area where a major project on hillforts had been running for several years. This was the Heather and Hillforts Project focussing on the Clwydian Mountains in Denbighshire where six hillforts had been surveyed and studied.
The site on the student's land, Moel-y-Gaer Bodfari, is just on the edge of this very rich project area and both landowners and the Denbighshire County Archaeologist were eager for fieldwork to be done there. Funding was raised, and in the summer of 2011 a small team started work.
The site is spectacular with views over the Clwydian Mountains, across the Vale of Clwyd to Snowdonia and northwards to the coast and the Great Orme.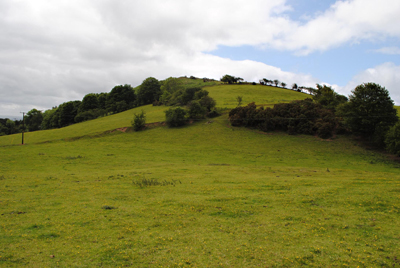 The season of 2011 concentrated on surveying the site, both geophysical and earthwork survey, followed by two seasons of excavation in 2012 and 2013. Results have been very interesting and of some importance with the digging so far concentrating on a roundhouse and sections through the ramparts.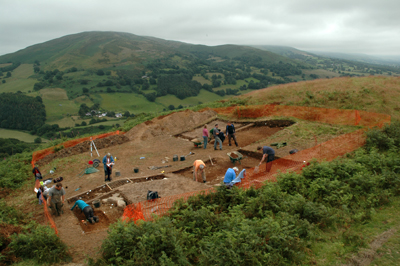 For the first two seasons the team was small, only 12 people including ex-Continuing Education archaeology students, so that a feel for the potential of the site could be established. Community involvement was limited to guided walks around the site and an Open Day each year but in 2013 the excavation was opened to local volunteers with more than 30 people taking part. A surprising and very rewarding response for such a remote place. The teams received a very warm welcome.
'The landowners' hospitality is tremendous,' said Professor Lock. 'We stay in and around their farmhouse at the foot of the hill. As all archaeologists know, having supportive landowners is crucial to the success of any fieldwork project. The climb to work every morning is challenging but the rewards are well worth it!'
The results of this excavation are feeding into the wider understanding of the Iron Age in North Wales. The project is of national importance as Welsh hillforts pose many questions of understanding and study, hence it is planned to continue for several more years.
Said Professor Lock, 'One lesson learnt from this is the power and potential of Departmental weekly classes, for both students and tutors within an environment of mutual learning. You never know what unforeseen consequences might be.'
See our courses in Archaeology at www.conted.ox.ac.uk/archaeology
Published 3 November 2013