Poetry and structure in the Coronavirus era: for more on this topic, see our new blog: poetrystructurecorona.blogspot.com
Poetry in the 'Coronavirus era'. (How) can it help?
Since the Coronavirus epidemic began impacting on our lives, and as it continues to do so, we wanted to make this page a place for poetry and visual art to engage with our new, uncertain ways of living. Every couple of weeks will we choose a poem to discuss, and J. D. Haigh will provide an image (or images) that comments on the poem in some way. We hope that this will give you springboards for thoughts, ideas, or reflections in these unprecedented times.
April 2, 2020: Patrick Kavanagh's 'The Hospital' (1955), and J. D. Haigh's 'Shard' photographs.
You can access the poem here: https://www.tcd.ie/English/patrickkavanagh/thehospital.html
The Irish poet Patrick Kavanagh wrote a series of sonnets in 1955 after his treatment for lung cancer at St. James's Hospital, Dublin, during which he had a lung removed. This poem unashamedly celebrates the feeling of new life an operation can give one, but it is arguably more memorable still for its unabashed delight in 'the habitual, the banal' (rhyming gorgeously with 'canal'), and in 'the inexhaustible adventure of a gravelled yard'. This is what love does to things, Kavanagh's speaker claims, yet what survives here is hope within the mundane, love within the banal, optimism amongst the everyday. It is not a misuse of the grand sonnet form that takes place here, but rather a re-working of its associations with love, with romance, and with celebration, in order to 'snatch out of time the passionate transitory'. We know that life, and love, change all the time; but we must record our moments of love with care - wherever and whenever they happen.
J. D. Haigh's visual response to Kavanagh's sonnet is her photography piece, 'Shard', images of a broken shed but with shards of light peeping through as symbols of hope despite the challenges and fears of the present day. For her, both 'The Hospital' and her photographs suggest a way of thinking through pain and challenges to glimpse at a more optimistic future.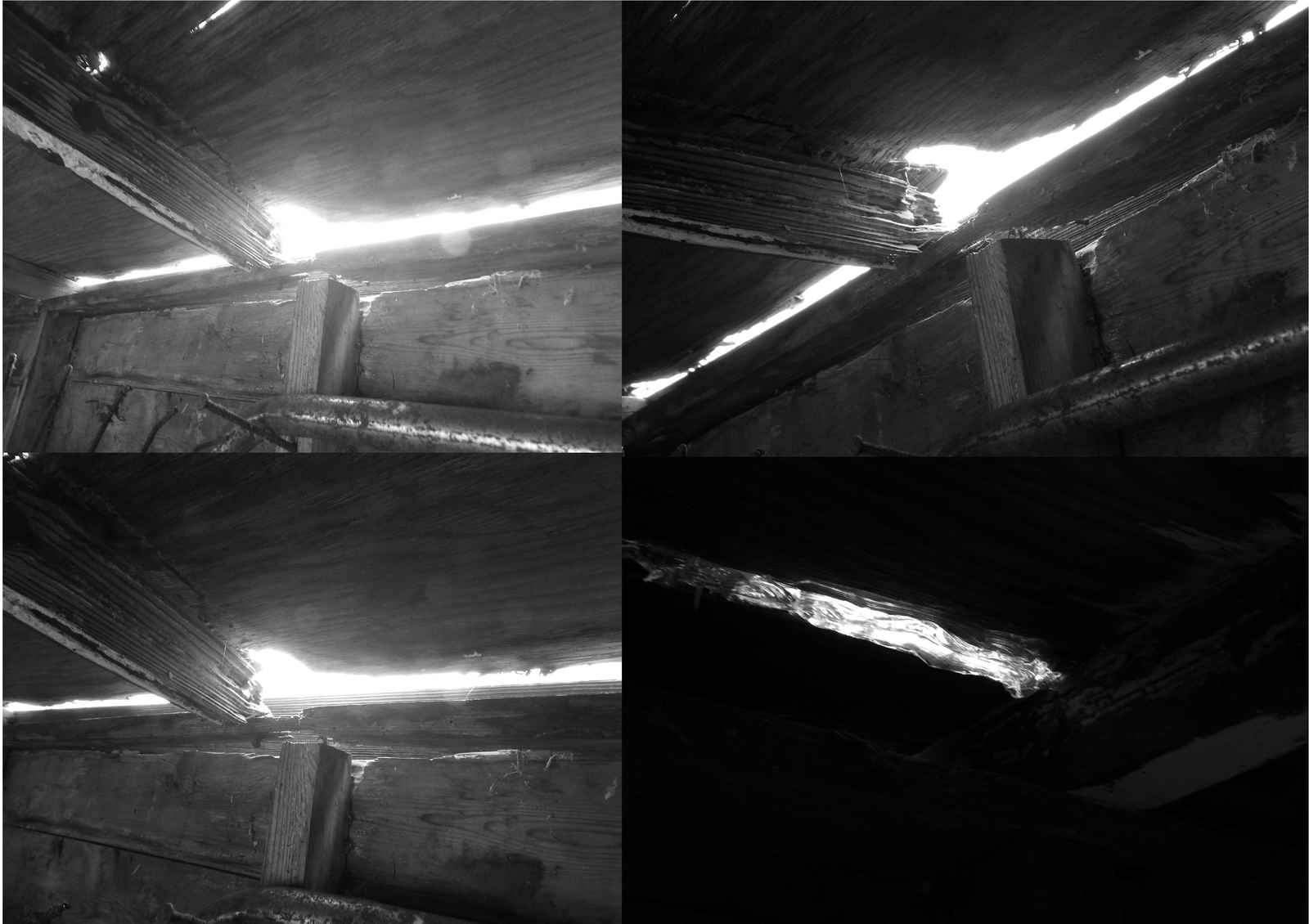 Some people say that poetry is inaccessible, and that it has nothing useful to say. We disagree! In this collaboration we want to show that if you can turn a poem into a piece of artwork, or into a 3D shape, then you can begin to see how it might interact with the everyday world.
With the support of the University of Oxford's PER Seed Fund, we are running a series of workshops with local groups in Oxfordshire to show the possibilities of poetry. Each workshop will begin with a poem and use it as a springboard to think about connections between the internal structure of a poem and structures in the outside world. What is the relationship between the two, and what can we build from this understanding? Participants will be encouraged to come up with their own designs, poems or other responses and therefore to think more deeply about the ways in which poetry might interact with the world beyond the page.
We are Dr. Tara Stubbs (OUDCE), an Oxford-based Lecturer in English and J. D. Haigh, a Visual Artist, working on the relations between poetry, structure and visual art.
We want to listen to the public about what they think poetry is and what its relationship is with other forms of artistic expression, such as photography or sculpture.
Are you a school group working on a set poem from a syllabus; do you have students who you want to inspire about poetry; or are you a writing group working on a particular form (such as a ballad or a sonnet)? If so, then we will come to you!
We will run a 90-minute workshop and discussion based around your group's chosen poem or poems, during which we will encourage the participants to create their own structures, design art-works, or write poetry responding to the chosen poem(s). In so doing, we hope to demystify people's fears about the relationships between poetry, art, and everyday life.
If you're interested, email tara.stubbs@conted.ox.ac.uk to discuss your ideas and arrange a workshop with your group.