Applying Knowledge Management: Principles and Practices

Overview
Be the first to know about future course dates - click the 'Notify me' button on the right of this page.
The purpose of knowledge management is to harness, develop and direct the expertise of the organisation and to apply it effectively to achieve strategic objectives. Its purpose is also to encourage learning and innovation as sources of competitive advantage.
This Applying Knowledge Management course will be an intensive day filled with a wide range of strategies and tactics for achieving higher levels of performance from existing resources. It will systematically consider each of the stages of the KM cycle (vision and search, generation, acquisition, capture, transformation, transfer, application) and assess how they relate to the organisational performance.
The new ISO 9001: 2015 Quality Management Standard now contains a clause which specifies, for the first time, that all 1.1 million organisations which are certified must "determine the knowledge necessary for the operation of the quality management system."
The course tutor, Dr John Wilson, is a member of the British Standards Institute Knowledge Management Systems Committee which is contributing to the development of ISO knowledge management standards.
The management of knowledge applies in all sectors of the economy including primary industries, manufacturing, technology and the service sector. It represents an increased focus on identifying knowledge and intellectual resources so that instead of 'not knowing what they know', organisations can bring together and make accessible all the skills and knowledge and apply them to increase operational and individual performance.
This course is full for the current intake, but a few places are still available as part of a weekly discount fee package:
Programme details
Vision and Search
Vision and gap analysis
Identify new sources of technology and ideas
Explore creativity, innovation and idea mapping
Generation, Acquisition and Capture
Investigate the nature of communication throughout the organisation
Understand the nature of tangible and intangible assets
Protect and secure knowledge
Use information and communication technologies to facilitate the Knowledge Management process
Use customer relationship management processes to enhance strategic learning
Use the supply chain as a source of innovation and creativity
Transformation and Transfer
Develop communities of practice
Mine tacit / hidden skills and make them explicit so that they can be applied throughout the organisation
Develop hard and soft skills to enhance Knowledge Management
Develop a climate of trust in the organisation
Application
Develop a checklist which can be used to assess the extent and quality of knowledge management within your organisation
Develop individual, group and organisational Knowledge Management strategies
Develop a Knowledge Management framework to be implemented in your organisation
Certification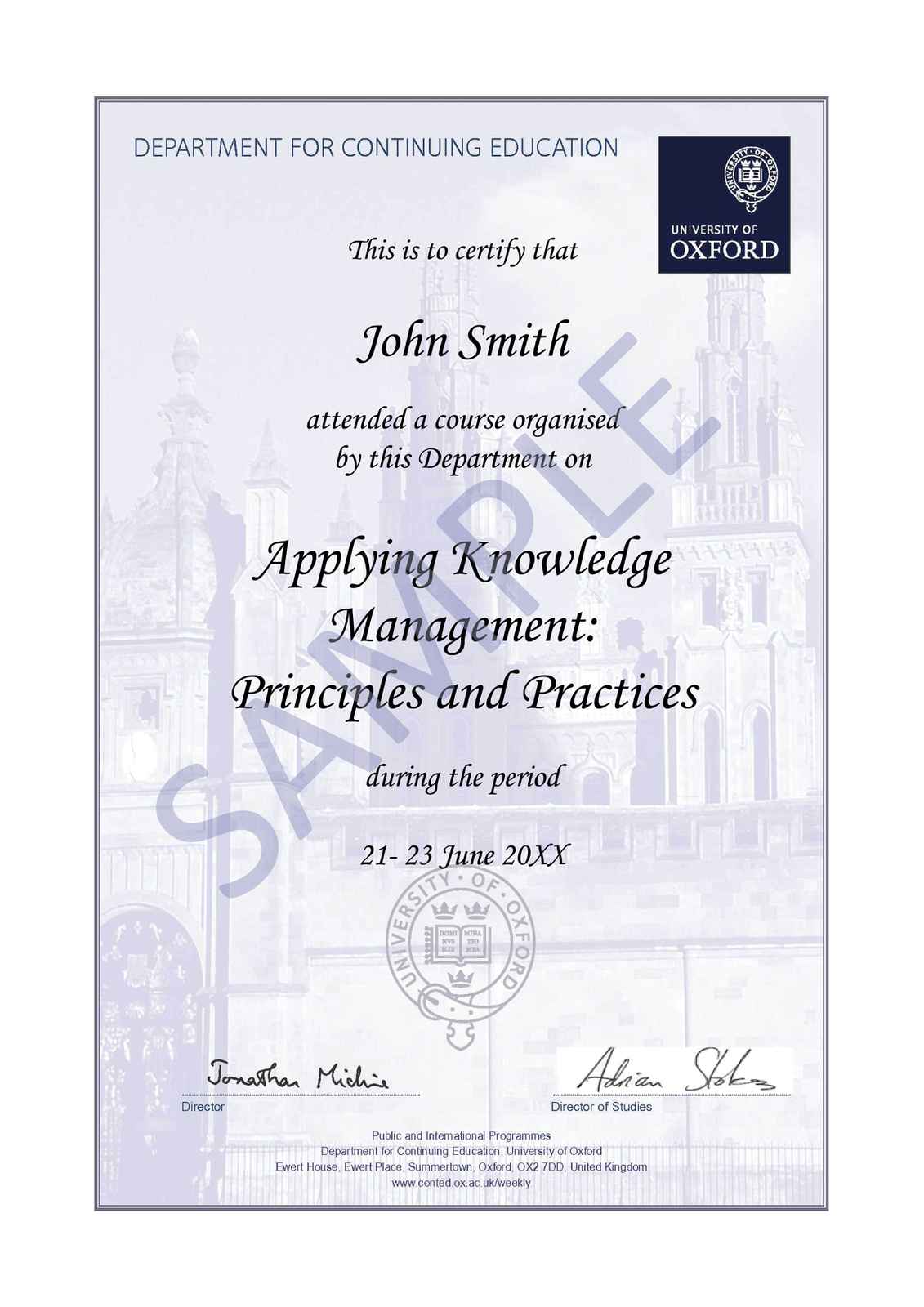 Participants who attend the full course will receive a Certificate of Attendance. The sample shown is an illustration only and the wording will reflect the course and dates attended.
Accommodation
Although not included in the course fee, accommodation may be available at our on-site Rewley House Residential Centre.
To enquire about a vacancy, about room charges or to make a booking, please contact the Residential Centre directly:
+44 (0)1856 270362
res-ctr@conted.ox.ac.uk
Fees
Standard course fee: £470.00

Payment
Fees include course materials, tuition, refreshments and lunches. The price does not include accommodation.
All courses are VAT exempt.
Register immediately online
Click the "book now" button on this webpage. Payment by credit or debit card is required.
Request an invoice
Send a completed application form to the course administrator by email or post. Please do not send card details via email.
Discounts
We have two discount registration packages available:
Tutors
Course Director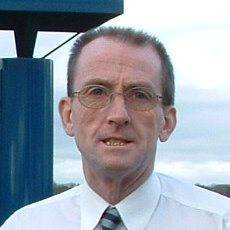 Independent Consultant and Researcher
John P. Wilson is an independent consultant and researcher with wide experience of change in both the academic and private sectors. He has worked as a consultant with a wide range of organisations and has spent two years working in Sweden, and four years in Saudi Arabia for an oil company. He has directed an MEd in Training and Development which ran in the UK, Ireland and Singapore.
John was previously the HEIF (Higher Education Innovation Fund) Programme Manager for Continuing Professional Development at the University of Oxford, supporting existing qualification and short courses, as well as developing new programmes which encourage knowledge transfer between the University and external organisations.
He has published widely and has edited International Human Resource Development: Learning, Education and Training for Individuals and Organizations, compiled the Routledge Encyclopaedia of UK Education, Training and Employment, and authored, Dream: Your Life, Your Future.
John is a member of the British Standards Institute Knowledge Management Systems Committee which is contributing to the development of ISO knowledge management standards.
Books written/edited by Dr John Wilson:
Experiential Learning: A Handbook for Education, Training and Coaching, 3rd edition. London, Kogan Page. Beard, C. M. and Wilson, J. P. (2013)
International Human Resource Development: Learning, Education and Training for Individuals and Organizations London: Kogan Page. Wilson, J. P. (2012)
The Routledge Encyclopaedia of UK Education, Training and Employment. Milton Park: Routledge Falmer. Wilson, J. P. (2010).
The Call Centre Training Handbook: A Complete Guide to Learning and Development in Contact Centres. London: Kogan Page. Wilson, J. P. (2009).
Speaker

Larry Campbell, Partner, KPMG China
Larry works in KPMG's China partnership based in Hong Kong. He runs business development with KPMG's biggest bank clients and is also responsible for articulating the firm's financial services sector strategy in close collaboration with the firm's senior partners.
Larry has more than 25 years experience in media, communications, knowledge management and information technology. He founded Manage With Knowledge, his own knowledge management consultancy, in 2015 after a successful 14-year career with global bank HSBC where he most recently was Group Chief Knowledge Officer.
Larry was the founding editor of the South China Morning Post's Technology Post section in the early 1990s and foresaw the impending commercial success of the Internet and World-Wide Web early in his career. He became an independent digital publisher and dot.com entrepreneur in the mid 1990s. He joined HSBC in 2001 to develop and market the bank's first foreign exchange trading platform and spent his career there developing a variety of ground-breaking internal businesses and driving innovation through knowledge management.
He is passionate about the use of innovative knowledge management and publishing solutions to support targeted, customised learning and development among both adults and children.
Larry has a Masters Degree in Strategic Knowledge Management, specialising in work-based learning.
Application
If you would like to discuss your application or any part of the application process before applying for this course, please click 'Contact Us' at the top right of this page.
Level and demands
The intended audience for this course is Engineers, Scientists, Managers and other staff in hi-tech companies and organisations. In particular it is aimed at those who would like develop a comprehensive insight into the main aspects of knowledge management and to equip themselves with the practical skills to build or begin the introduction of knowledge management interventions within their organisation.
Previous course attendees have come from:
HSBC, Arthur D. Little, Colgate Palmolive, Intel Corporation, Datong Electronics, University of Luxembourg, ZTE Corporation, Whirlpool/Polar S.A, University of Cambridge, Westadex Technologies Limited, ATOS Origin Netherlands, Euro Car Parks, Nexen Petroleum UK Limited, HMGCC, Cancer Research UK, S.O.R. Internacional S.A., Graham & Brown Inc., Ipsen Pharmaceutical Limited, GlaxoSmithKline and more.
If you're uncertain whether this course is suitable for your requirements, please email us with any questions you may have.