Leadership and Entrepreneurship

Sign up for course news to hear about future course dates.
Overview
Understanding the blueprint of a leader and translating vision into reality. Identifying and applying methods to help aspiring leaders find common ground with their teams and peers and establish rapport. Bridging communication gaps and exerting leadership from the inside out. How to foster a culture of innovation to help your business stay ahead.
This course is aimed at entrepreneurs, mid-level management, teachers, coaches, counsellors. Anyone who feels they have potential to lead but are unsure of where to begin and how to cultivate the right qualities.
Programme details
This course will explore:
Psychology of a leader - what are the psychological traits of effective leaders and how to implement them.
Impact of verbal and non-verbal communication - how our language and body language limits us and propels us. Especially beneficial to insecure public speakers.
Team building - how to identify and put to practice the practices used to enhance social relations in your team. How to motivate independent work while creating synergy among your employees.
Practical exercise - the culmination of the course. Group work to encourage attendees to apply the information gained to practice.
This course can be taken separately or as part of a weekly discount fee package.
Details of the discount registration for Week 1
Details of the discount registration for Week 2
Details of the discount registration for Week 3
Certification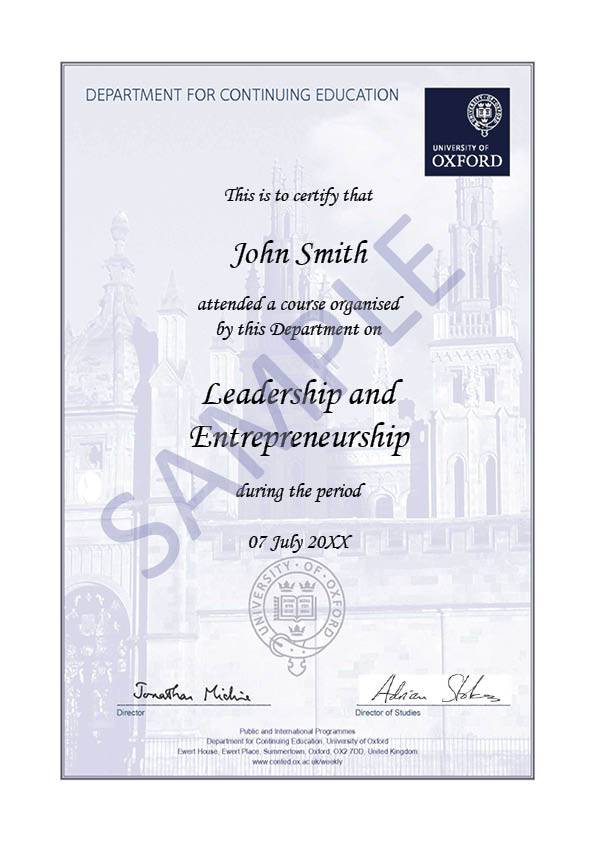 Participants who attend the full course will receive a Certificate of Attendance. The sample shown is an illustration only and the wording will reflect the course and dates attended.
Accommodation
Although not included in the course fee, accommodation may be available at our on-site Rewley House Residential Centre. All bedrooms are en suite and decorated to a high standard, and come with tea- and coffee-making facilities, free Wi-Fi access and Freeview TV. Guests can take advantage of the excellent dining facilities and common room bar, where they may relax and network with others on the programme.
To check prices, availability and to book rooms please visit the Rewley House Residential Centre website.
Fees
Course fee: £470.00

Payment
Fees include course materials, tuition, refreshments and lunches. The price does not include accommodation.
All courses are VAT exempt.
Register immediately online
Click the "book now" button on this webpage. Payment by credit or debit card is required.
Request an invoice
Send a completed application form to the course administrator by email or post. Please do not send card details via email.
Tutor
Speaker
CEO, Johnson Research Limited
Alexander Johnson is an internationally renowned businessman, thought leader and keynote speaker.
Born in the UK, Alexander grew up in both London, England and Kitzbühel, Austria. After an education that spanned England and Switzerland, he completed his undergraduate studies at business school and began his career with various entrepreneurial endeavours.
Serving as a board director of waste-to-energy company Worldwide Natural Resources PLC, Alexander was cited as the youngest CEO on the London Stock Exchange. It represented the first step into one of Alexander's passions: progressive world-changing technologies.
Alexander has served as an IPO, acquisitions and Venture Capital consultant. Working with the Frankfurt Stock Exchange and a number of US markets has given him in-depth knowledge of early to mid stage project delivery, particularly in the technology sector.
Alexander currently serves as chairman and majority shareholder at Lochwood Capital, a boutique financial services company with a longstanding base of high net worth clients.
He is also the chairman and majority shareholder of Viderium Ltd, a fast expanding data centre company with operations in the UK, the Netherlands, and Latvia. Additionally Alexander has interests in the health and fitness, entertainment and food and beverage industries.
A regular keynote speaker across a range of events, Alexander offers a new angle on leadership from an experienced and innovative businessman.
Alexander is a supporter of a number of humanitarian causes. He has worked with the Royal Marines Charity to help with resocialisation programmes for Marines looking to find new careers after combat.
Most recently Alexander has established The London Film and Media Company, a film production company in London looking to make an immediate impact in the British film industry.
His website is at www.alexanderjohnson.com
Learning outcomes
Students will be equipped with the knowledge to create positive and enduring change in themselves and others. As aspiring leaders, they will understand what inspires individuals and how to tackle the energy of impact in themselves as well as other people to accomplish more prominent results. This course helps attendees achieve the know-how behind negotiation and team building. In the midst of change and instability, talented leaders are needed more than ever.
Application
If you would like to discuss your application or any part of the application process before applying, please click Contact Us at the top of this page.