Managing Innovative Technology

Overview
This Managing Innovative Technology course is aimed at those in translation or innovation roles in technology and research orientated organisations.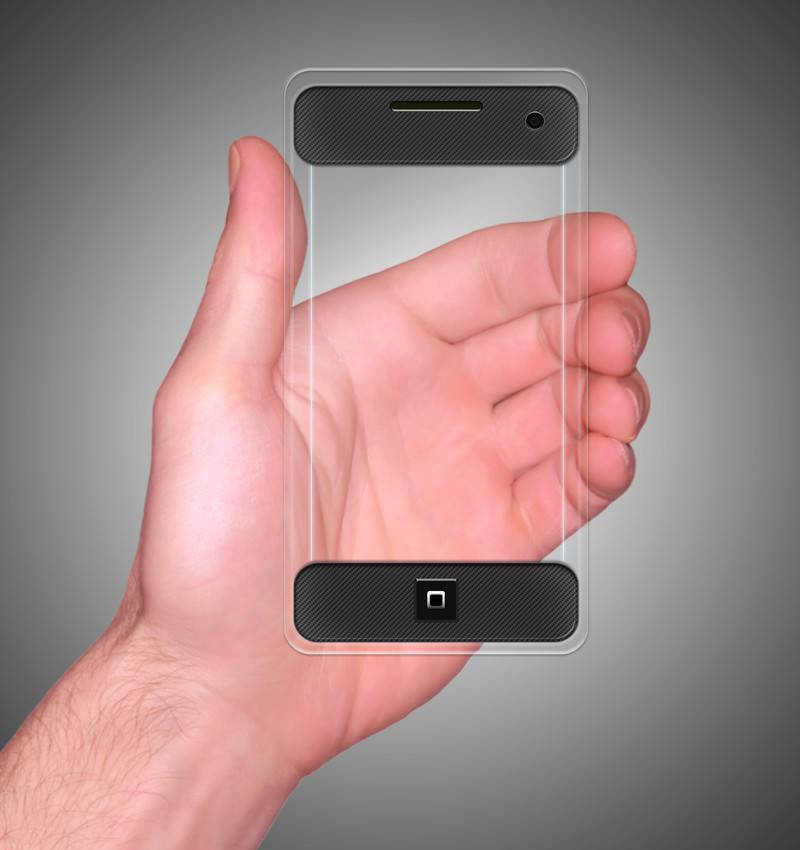 Learn how organisations most effectively find, evaluate and process innovative technologies to realise their commercial value.
Discover the systems and context behind open innovation, licensing, accessing markets and patent/ IP strategy.
This course was developed in conjunction with Oxentia, Oxford's Global Innovation Consultancy, and utilises Oxentia's experience of helping clients commercialise technology and IP in over fifty countries around the world.
Oxentia is the biggest technology transfer unit in Europe and has created over 100 companies. It is the highest university patent filer in the UK and currently manages a portfolio of over 1,500 patents.
This course can be taken separately or as part of a weekly discount fee package.
Programme details
This one-day course covers the essential knowledge for technology commercialisation.
It provides an overview of the organisational dynamics in acquiring and transferring technologies to the market. Participants will also develop their legal, technical and negotiating skills to build innovation capacity in their organisation.
Open innovation vs traditional approaches
Organisational and process factors
Licensing technology and negotiation
Intellectual property strategy
Exploring technology markets
Innovation Management & Entrepreneurship
Purpose:
To define Innovation
To go through models of innovation
Understand disruptive innovation
Outcomes:
Understand the link between competitiveness and innovation
Understand how disruptive innovation is creating new markets
IP Management
Purpose:
What is IP?
Can you and should you protect using IPR?
What are the evaluation tools to help decision making
Outcomes:
Appreciate the complexity of the patenting process
Be aware of the resource and strategic implications of patenting
Ability to evaluate beyond the technical evaluation criteria
Introduction to Licensing
Purpose:
An overview of the licensing process
Decisions around the circumstances in which licenses are appropriate
What is required of licensor and licensee
Outcomes:
Understanding of the purpose of licensing
Nature and dynamics of partnerships that support licensing
Knowledge of partner needs in the license process
Finding Markets
Purpose:
Market research techniques
Functional analysis of technologies
End user and customer needs
Market research processes for radical technologies
Outcomes:
Be able to analyse technologies in context of finding customers
Gain practical experience of analysing end user needs
Understand the difference between market data and market research
Be able to manage the specific needs of disruptive or innovative technologies that are creating new markets
Open Innovation
Purpose:
The knowledge economy argument for Open Innovation
How does it work?
Principle v practice: barriers and constraints in implementation
Legal structuring around the deal
How to establish connectivity to enable Open Innovation
Outcomes:
Understand the differing organisational needs for those involved
Become literate in the types of frameworks and agreements that commonly support Open Innovation
Gain knowledge of how to implement an open innovation strategy
Be aware of the expectations and performance measures that work across multiples interests
Certification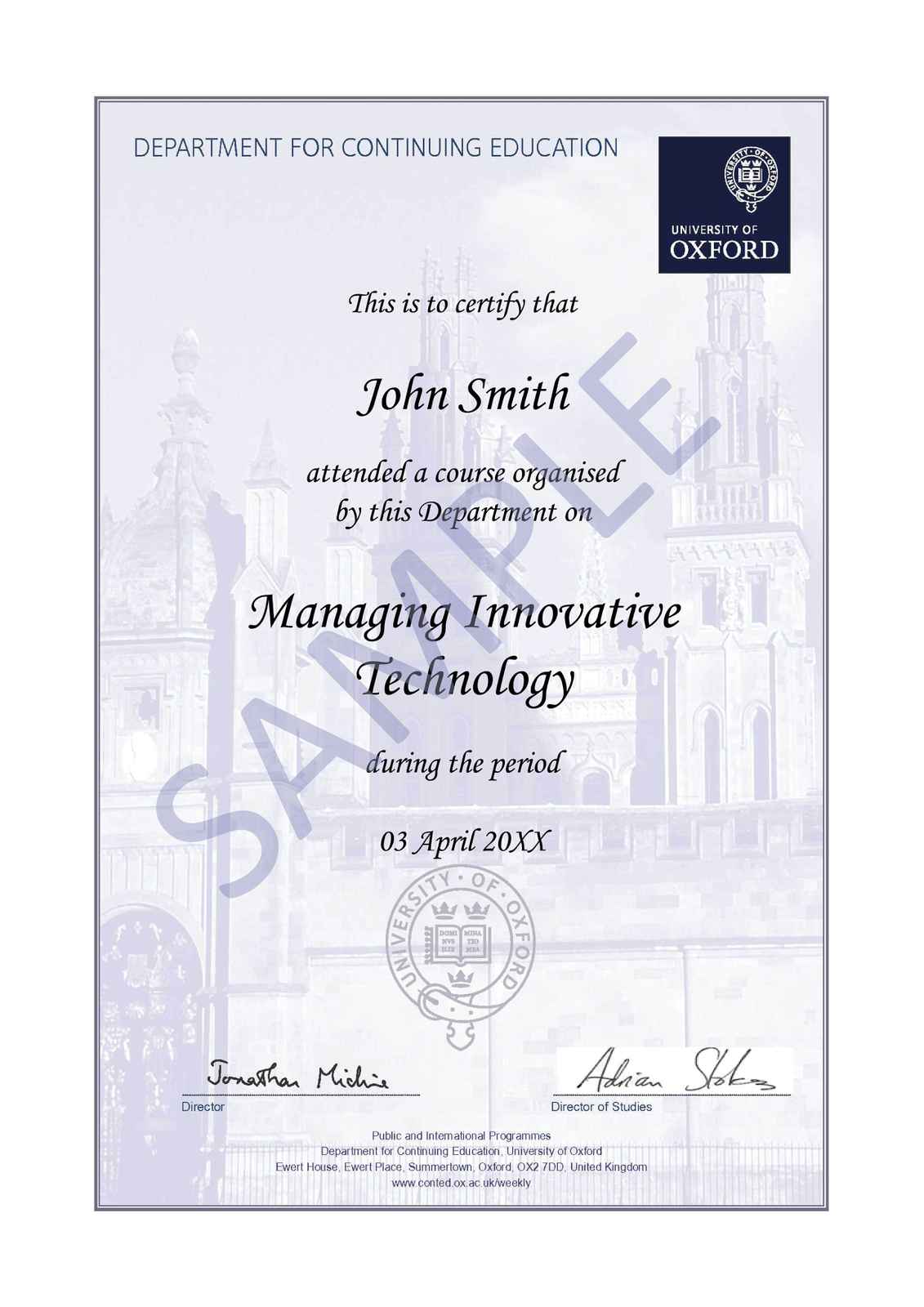 Participants who attend the full course will receive a Certificate of Attendance. The sample shown is an illustration only and the wording will reflect the course and dates attended.
Accommodation
Accommodation is available at the Rewley House Residential Centre, within the Department for Continuing Education, in central Oxford. The comfortable, en-suite, study-bedrooms come with tea- and coffee-making facilities, free Wi-Fi access and Freeview TV. Guests can take advantage of the excellent dining facilities and common room bar, where they may relax and network with others on the programme.
Fees
Standard course fee: £495.00

Payment
Pay immediately online by credit or debit card
Click the "book now" button on this webpage to pay online with a credit or debit card
Pay later with your preferred payment method
Send a completed application form to the course administrator by e-mail or post, and choose:
Request an invoice
BACS payment
Credit or debit card payment. Please do not send card details via email
Fees include course materials, tuition, refreshments and lunches. The price does not include accommodation.
All courses are VAT exempt.
Discounts
This course can be taken separately or as part of a weekly discount fee package.
Tutors
Speaker
Operations Director, Oxentia Ltd
Sarah has 20 years' experience in innovation consultancy, research and development, and commercialisation of technologies. At Oxentia since 2006, she has focused on: technology commercialisation for R&D clients including Cranfield University, University of Westminster and the Natural Environment Research Council (NERC); innovation policy and strategy development for clients such as ETPL (Singapore's main commercialisation support body), Public Sector funding organisations and Universities (e.g. The South African Government, Cyprus RPF, University of Westminster and Cranfield); interim management (for the Waste & Resources Action Programme (WRAP); and on the development and delivery of commercialisation training programmes for universities worldwide.
Sarah's PhD was in Microbial Ecology at the University of Newcastle in 1992. After three years in post-doctoral research at Newcastle she became the senior researcher at a US environmental analysis business.
Following this she joined the Centre for Environmental Biotechnology at the University of Tennessee before moving back to the UK in 2000 to join AEA Technology Environment. At AEA Technology Sarah worked on a number of projects including: Strategy Development for the Environment Research Funders' Forum, regional management for the UK's Knowledge Transfer Partnerships programme, research into bioremediation, and management of a UK site for contaminated land research.
Speaker
Director of Training, Oxentia Ltd
Nathan is a biological scientist by training with extensive experience in research, teaching and administration in Higher Education. Before joining Oxentia Ltd, he held the national role of Discipline Lead for Biological Sciences with the Higher Education Academy, undertaking consulting, training, and advisory work with large and diverse HE communities from across the disciplines within Science, Technology, Engineering and Mathematics. Nathan has a wealth of consultancy and training experience within Higher Education (HE) both in the UK and abroad. He previously worked for a number of years in academic and degree leadership capacities within the Department of Zoology at the University of Oxford. Earlier research roles included substantive posts at the École Normale Supérieure (Paris) and the University of Paris VI (Université Pierre et Marie Curie).
He is broadly interested in Higher Education in international contexts and has particular interests in delivering effective training and development to support institutions to foster innovation and entrepreneurship whilst also optimising technology transfer processes. Nathan has a formal teaching qualification (PGDip Learning and Teaching in Higher Education) from the University of Oxford, a PhD degree from the University of Cambridge, and graduate and undergraduate degrees from the University of Sydney. He is a Principal Fellow of the Higher Education Academy and a Fellow of the Society of Biology.
Application
If you would like to discuss your application or any part of the application process before applying for this Managing Innovative Technology course, please contact:
Course Administrator
Tel: +44 (0)1865 286958
Email: business@conted.ox.ac.uk
Level and demands
If you're uncertain whether this course is suitable for your requirements, please email us with any questions you may have.