Developing Artificial Intelligence Applications using Python and TensorFlow is for developers who know Python or coding in other languages and want to enhance their skills to learn AI applications development using machine learning and deep learning.
We are pleased to announce an exciting new development: this course will now also include GPT-3/LLM(large language models).
The course will look at the workflow and development of a chatbot end-to-end, from being given a set of resources in an enterprise, and exploring how you would train a chatbot using those resources.
The session will explore OpenAI integration with PowerBI, Copilot and AI Builder. We will also cover building and training a GPT based chatbot using Python and the Open AI and chatGPT APIs.
This course offers a concise way for developers to transition their careers towards artificial intelligence (AI) through development in Python and TensorFlow. The course takes a practical approach to applying AI to solve business problems. We work with AI problems in financial services (both for business and data/code). Note that the choice of financial services as an application domain for AI is illustrative, i.e. the approach outlined can apply to any business-related application of AI.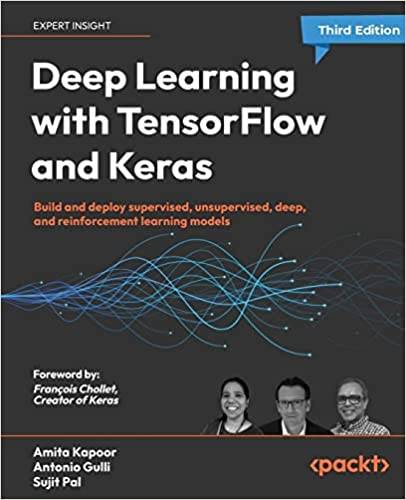 Led by Ajit Jaokar and supported by a number of other AI and coding specialists, the course is based on the book Deep Learning with TensorFlow and Keras: Build and deploy supervised, unsupervised, deep, and reinforcement learning models, 3rd Edition (Packt Publishing, 2022).
A free e-copy of this book is included in the course fees.
After completing the course, you should be able to understand the workings of the algorithms explored in the course and how they can solve specific business problems.
Dates, Times and Delivery
You should allow for around 8 - 12 hours study time per week.
The taught course will run over six weeks.
Tutorials will be delivered live on Saturdays via Microsoft Teams, as two sessions each week.
Course times: 09:30 - 14:00 UK time.
There will be a thirty-minute break between the sessions.
A world clock, and time zone converter can be found here: https://bit.ly/3bSPu6D
The tutorials will be recorded and published on the VLE (virtual learning environment), where you can also view and download the course materials and submit assignments. Please note your attendance at all live sessions is still required for certification of attendance.
Hands-on coding exercises, to demonstrate and reinforce learning, will be set during the week via Microsoft Teams, with full support provided by the tutors. These will be both individual and group projects.
Dedicated channels within MS Teams will be used for discussion forums, peer support and collaborative/group projects.
The course remains open and the materials are available to you for six additional weeks after the end of the taught course.
Assignment deadlines may be up to four weeks after the end date of the taught course.
Accessing Your Online Course
Details about accessing the private MS Teams course site will be emailed to you during the week prior to the course commencing.
Please get in touch if you have not received this information within three working days of the course start date.