Summer schools

Oxford: for more than 140 years, Oxford has been a summer destination for learning. The first of our 'Summer Meetings' (as they were called then) took place in 1888.
What was summer school like in the 19th century?
Things were run a little differently back then: Continuing Education didn't have a permanent home, for one thing, as we only acquired Rewley House in 1927. Students of the 19th century took lodgings around the city (there were many boarding houses right here on Wellington Square, in fact) and attended lectures in the colleges. Many students opted to stay on for a number of weeks of private study after the Summer Meeting was over.
The pictures speak a thousand words
A look at the photographs from the first Summer Meetings tells us much about these early summer students.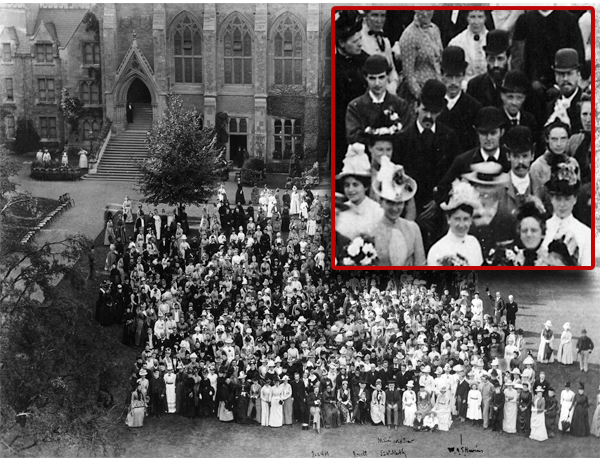 More than nine hundred people attended that first 1888 Summer Meeting, and over a thousand came for 1889 (pictured, photo taken on the grounds of Balliol College).
One of the early lecturer, Michael Sadler (who served as our Director in the late 19th century) estimated that two-thirds of extension students were women. These were days in which opportunities for women to pursue higher education were limited: the University opened its first women's colleges - Somerville and St Hilda's in 1879.
Oxford Extension was a series of weekly lectures that were delivered across England, starting in 1878 - the name 'Extension' is derived from the idea that the teaching is 'extended' beyond the University. The Summer Meetings drew students from the broader Extension programme
A glance at the clothes people are wearing in these old photographs tells us much about their social standing, and this also mirrors Sadler's observations of the Extension programme. The women, with their elegant dresses and rather elaborate hats, are clearly middle and upper-middle class.
The men, on the other hand, are more modestly dressed, and are likely a mix of clerks and working class. Sadler, writing of the Extension programme, notes 'one man employed as a mason... [who] walked sixteen miles rather than miss one lecture'. The Department's programmes filled an eductational void for many.
As for age of these students: the youngest might be in his or her 20s. At the upper end, we can only hazard a guess; but many appear to be in their 60s or perhaps even 70s.
Learning and socialising
Summer Meetings offered an opportunity to meet and mingle with people from all over the country.
Considering that towns and villages were likely more self-sufficient (and therefore more insular) back then; and given that forms of mass media were limited to the newspaper and stereo view cards, it's fair to say that the Summer Meetings offered participants a breadth of information and social interaction that was unavailable to them at home.
Add to this the opportunity of visiting Oxford's renowned colleges and environs and you have the perfect holiday: learn new things, meet new people and explore new places.
And today?
As anyone who knows our summer schools has already guessed, there is a reassuringly strong thread of continuity between the students and summer schools of the past and those of today.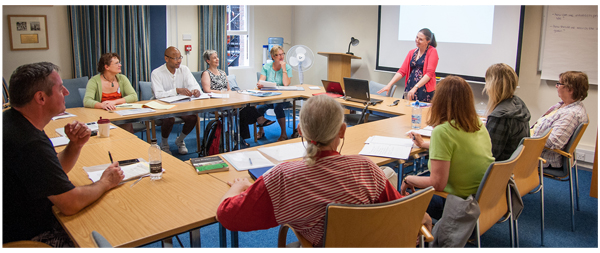 People still come to Oxford in large numbers each year - upwards of 1000 every summer.
The structure of our summer schools remains largely unchanged. Most are one week in duration, with lectures in the mornings, afternoons left free for study, tutorials and for exploring the wonders of Oxford and the surrounding region.
Additionally, these days we offer several longer, more intensive summer schools for those students who want to specialise in a single subject. Specialist summer schools in English Literature, History, Politics and Society, Creative Writing, International Politics, English Language Teaching, Human Rights Law and Theology last two or three weeks. Student on these programmes live, eat and study in an Oxford college, as do students on our Oxford Experience Summer School.
Our ratio of women to men is about the same as it was back in the 19th century - and the age range is still extremely broad. Thanks to improved medicine and lifestyle options, the top end of the age range is quite a lot higher these days.
Probably the biggest change is that our student cohort has become extremely international. The 19th century Summer Meetings attracted their students from all over the UK, and a few students from Europe; last year's 2014 summer schools drew students from more than 55 countries around the world.
Students in the late 19th century arrived in Oxford primarily by train, a significant number of them having travelled many hours, or even days to reach us. Today's students may arrive by air, sea, car, train or bus - and the distances they travel to join us have certainly increased, though it could be argued that the amount of time spent getting to us may be about the same. A half day spent on a train in the 19th century coming from Carlisle? Its equivalent may well be the half day it takes to travel from New York.
We may see fewer long gowns, high collars and bowler hats on today's summer school participants - but the spark that created those early summer schools endures. Bringing people of all ages and all backgrounds together, and providing a little fuel to fire their common interest in learning and their abiding curiosity and energy: it's an alchemy that turns the weeks of summer into the rarest pleasure.
For more information about our many summer programmes, please see: www.conted.ox.ac.uk/summerschools
Published 18 February 2015