Strategic Planning and Foresight: Learning from and Managing for the Future

Overview
This course is now full. To be notified when we announce course dates for Spring 2018, please click the Notify Me button in the right hand sidebar.
The workshop considers the nature of the future, and the extent to which strategy, planning and forecasting can be used at individual and organisational levels. It looks at futures strategies, visioning and the application of imagination which allow us to learn from the future.
It is abundantly clear that accurately predicting and planning for an uncertain future are fraught with problems and no little amount of hubris. The causes of these difficulties have been summarised as volatility, uncertainty, complexity and ambiguity (VUCA). As a result of these failures planning has become something of a relative backwater from a practical and academic perspective. Indeed this crisis of confidence in planning was highlighted by Minzberg (1994) in The Rise and Fall of Strategic Planning. Moreover, the extent to which experts are able to predict events has been closely researched and found to be largely inaccurate (Tetlock, 2005; Tetlock and Gardner, 2015).
Yet planning is essential for all activities, and Dennison (in Newman, 1951: 56) stated, "Almost all work, in order to be done at all, must be planned, at the least informally and a few minutes ahead." Planning may have declined in popularity but it still needs to be considered at individual, organisational, national and global levels.
So what is to be done? If the future cannot be accurately predicted then organisations should make more effective use of foresight techniques including trend analysis and scenario planning, and build competencies for real-time responsiveness and shaping the future through action, as in the aphorism, "If you want to predict the future you have to create it."
The aims of the workshop are to help participants:
Examine the importance and limitations of strategic planning.
Understand the difficulties of predicting the future in a turbulent world.
Explore how short-term thinking has endangered the wealth and health of many countries.
Take the long view to develop more enduring capability.
Consider destiny and fate.
Examine the distinctions between risk, chance and luck
Create the foundations for organisational strategic thinking.
Explore futures strategies.
Examine forecasting methods and tools.
Undertake visioning strategies to see further into the darkness than other organisations.
Ensure that planning is effective and efficient.
Develop resilience capabilities to address unpredictable events.
Examine the neurological basis of daydreaming.
Encourage a culture of imagination, invention, innovation and creativity.
The workshop will provide a toolbox of ideas and strategies which can be applied in the workplace.
Programme details
This course will cover:
The fundamental principles of strategic planning.
Developing strategic foresight.
Volatility, uncertainty, complexity and ambiguity.
Chaos, black swans, randomness, and weak signals.
Risk, chance and luck.
Mapping the system.
Futures strategies
Visioning.
Scenarios.
The neuroscience of imagination and daydreaming.
Learning from the future.
Invention, innovation and creativity.
Environmental scanning.
Forecasting and back-casting.
Target Audience
Organisations, strategists, researchers, managers, designers, architects and students wishing to construct their own and their organisation's future.
Certification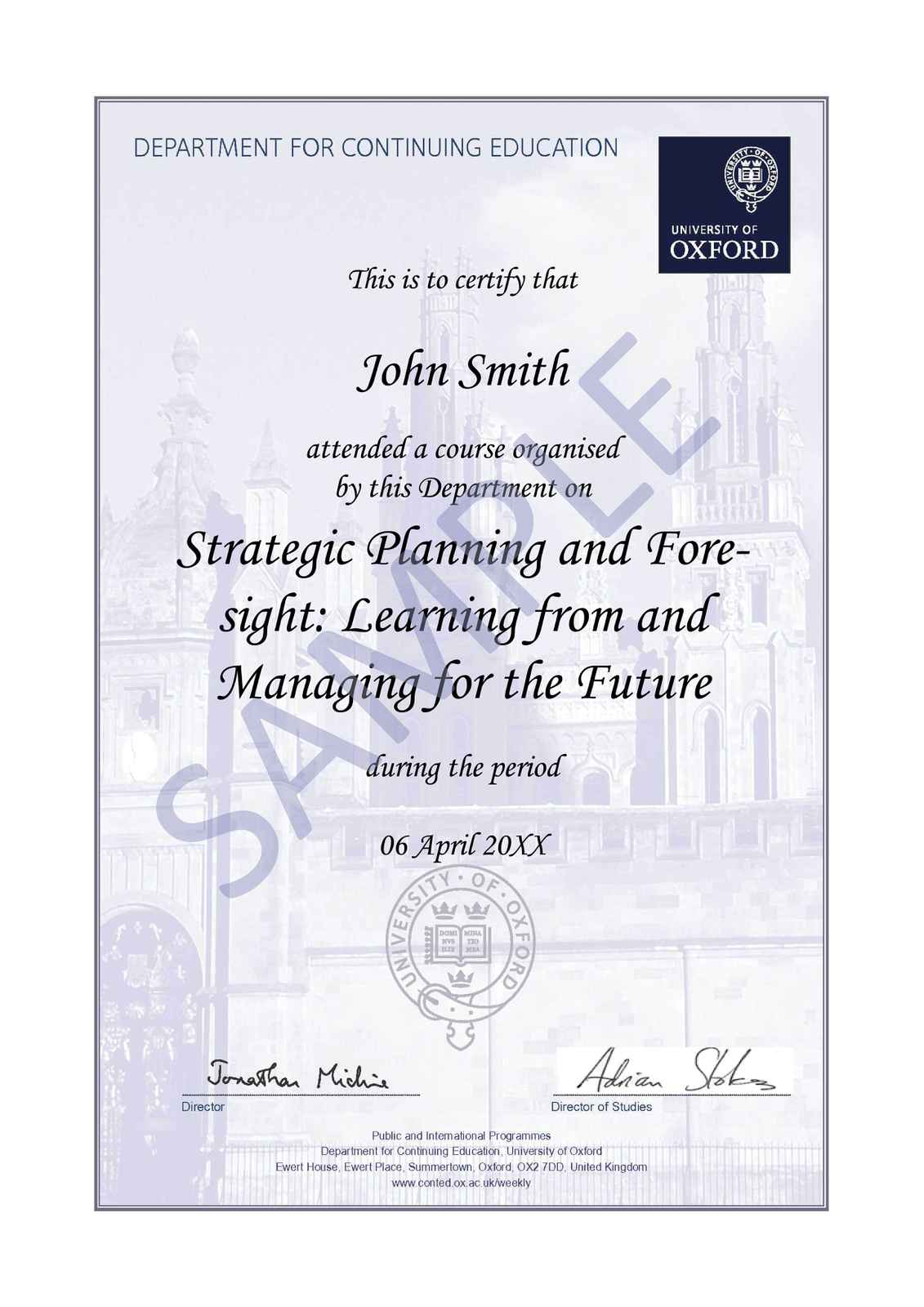 Participants who attend the full course will receive a Certificate of Attendance. The sample shown is an illustration only and the wording will reflect the course and dates attended.
Accommodation
Accommodation is available at the Rewley House Residential Centre, within the Department for Continuing Education, in central Oxford. The comfortable, en-suite, study-bedrooms have been rated as 4-Star Campus accommodation under the Quality In Tourism scheme, and come with tea- and coffee-making facilities, free Wi-Fi access and Freeview TV. Guests can take advantage of the excellent dining facilities and common room bar, where they may relax and network with others on the programme.
Fees
Standard course fee: £425.00

Payment
We offer several payment options:
Pay immediately online by credit or debit card
Click the "book now" button on this webpage to pay online with a credit or debit card
Pay later with your preferred payment method
Send a completed application form to the course administrator by e-mail or post, and choose:
Request an invoice
BACS payment
Cheque payment
Credit or debit card payment. Please do not send card details via email
Fees include course materials, tuition, refreshments and lunches. The price does not include accommodation.
All courses are VAT exempt.
Discounts
These courses can be taken separately or together as part of a discount fee package.
Tutor
Dr John Wilson
Speaker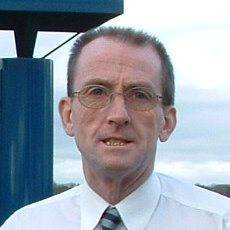 Independent Consultant and Researcher
John P. Wilson is an independent consultant and researcher with wide experience of change in both the academic and private sectors. He has worked as a consultant with a wide range of organisations and has spent two years working in Sweden, and four years in Saudi Arabia for an oil company. He has directed an MEd in Training and Development which ran in the UK, Ireland and Singapore.
John was previously the HEIF (Higher Education Innovation Fund) Programme Manager for Continuing Professional Development at the University of Oxford, supporting existing qualification and short courses, as well as developing new programmes which encourage knowledge transfer between the University and external organisations.
He has published widely and has edited International Human Resource Development: Learning, Education and Training for Individuals and Organizations, compiled the Routledge Encyclopaedia of UK Education, Training and Employment, and authored, Dream: Your Life, Your Future.
John is a member of the British Standards Institute Knowledge Management Systems Committee which is contributing to the development of ISO knowledge management standards.
Books written/edited by Dr John Wilson:
Experiential Learning: A Handbook for Education, Training and Coaching, 3rd edition. London, Kogan Page. Beard, C. M. and Wilson, J. P. (2013)
International Human Resource Development: Learning, Education and Training for Individuals and Organizations London: Kogan Page. Wilson, J. P. (2012)
The Routledge Encyclopaedia of UK Education, Training and Employment. Milton Park: Routledge Falmer. Wilson, J. P. (2010).
The Call Centre Training Handbook: A Complete Guide to Learning and Development in Contact Centres. London: Kogan Page. Wilson, J. P. (2009).
Application
If you would like to discuss your application or any part of the application process before applying, please contact:
Course Administrator
Tel: +44 (0)1865 286958
Email: business@conted.ox.ac.uk
Level and demands
If you're uncertain whether this course is suitable for your requirements, please email us with any questions you may have.